Zeepin GalaBox G1 Crowdfunding on Way
Own mining machine for distributed encryption storage
This is a Press Release edited by StorageNewsletter.com on 2018.08.10
Zeepin Foundation introduced the GalaCloud distributed storage network, and have released the GalaCloud whitepaper.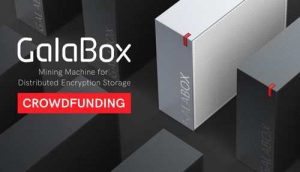 Compared to conventional centralized storage services, a distributed storage network has the features of decentralization, high autonomy, security and anonymity, tamper-resistance, low operating cost, fast speed, etc. GalaBox is an important node in the distributed storage network, which provides storage space for encrypted file strips. A network of numerous distributed GalaBoxes ensures the security and stability of stored files.
GalaBox G1 rear and front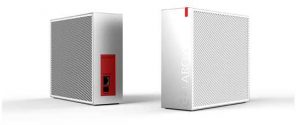 Zeepin Foundation presents the GalaBox G1, a mining machine for distributed encryption storage. The crowdfunding will start through ZeeFund on August 8.
Safe and worry-free, distributed encryption storage
Designed by team BrandSky from the community and launched by Zeepin Chain, GalaBox G1 is a mining machine for distributed encryption storage, specially designed for the distributed storage of digital assets and files.
Click to enlarge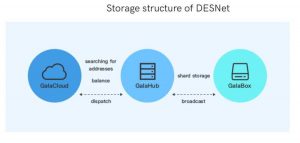 As a node of the data storage cluster, each GalaBox is an encrypted data storage device. The system segments and encrypts files and distributes them into numerous GalaBoxes. Encrypted file strips uploaded by GalaBox storage users are stored in directories according to certain rules. Furthermore, GalaBox offers the function of file backup. Based on instructions from GalaHub, GalaBox determines the necessity of local file backups and ensures the file security and usability.
Share hard drive space, earn gala by mining
Each GalaBox is a data node that obtains Gala rewards distributed through smart contracts by contributing hard disk space to store GalaCloud data. Inversely, Gala can be used for storage space expansion.
All GalaBox virtual mining machines acquired through crowdfunding can join the GalaBox node cluster. By inserting the hard disks, users join the distributed storage network and start storage mining. Sharing hard disk space through mining machines, storage miners obtain the Gala mining right, which is settled weekly according to the optimization coefficient of the mining machine. It is also possible to form a cluster by bundling multiple GalaBoxes on a single client, which simplifies the management and increases the revenue.
Click to enlarge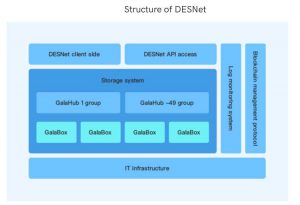 GalaCloud DESNet will calculate the parameters of each GalaBox node, such as the total online time, weekly online time, total shared space, used space, total uploaded amount, total downloaded amount, 24-hour download rate, 24-hour upload rate, etc. The network will issue Gala based on each GalaBox's weekly contribution coefficient and its respective contribution percentage in the entire network.
Product features of mining machine
The GalaBox G1 mining machine for distributed encryption storage is compatible with the home environment while retaining the attributes of a technology product. It features a detachable design, device status reminder, smart file labeling, upgrade maintenance, and real-time monitoring on the mobile phone. To satisfy users all over the world, GalaBox is linked with its mobile app, equipped with a customized UI system, and it supports various languages. Through real-time monitoring from the mobile phone client, users can monitor the GalaBox mining machine's working status, revenue updates, and the latest blockchain information anytime and anywhere. To ensure stable operation, there will also be regular system updates. In addition, all mining machines have a one-year warranty and long-term after-sale service.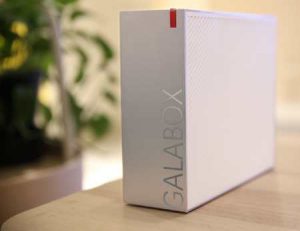 Watch out for limited crowdfunding for GalaBox Mining machine
The crowdfunding for GalaBox G1 Mining machine for Distributed Encryption Storage is scheduled on ZeeFund through several phases. The first phase will be officially launched on August 8. Approximately 60,000 GalaBox units will be issued in the first year. More units will be gradually issued according to the storage space demand.
Interested? To express its gratitude, the company will give a special offer to all ZPT holders for longstanding support. To seize the future, lock-up 5000 ZPT for 18 months and claim your free and limited editioned GalaBox G1. You can then experience the freedom of distributed encryption storage.
At the scheduled time, we will release the crowdfunding link on the GalaCloud official website as well as our social media platfoms.
Resources:
How to apply for GalaHub node
GalaCloud White paper