Secure Log Reporting for QuantaStor SDS From OSNexus
Ensures all user log data is scrubbed of Personally Identifiable Information before leaving organization for analysis.
This is a Press Release edited by StorageNewsletter.com on 2018.08.10
OSNexus Corp. announced Secure Log Reporting for its QuantaStor SDS platform to ensure all user log data is scrubbed of Personally Identifiable Information (PII) before it leaves an organization for analysis.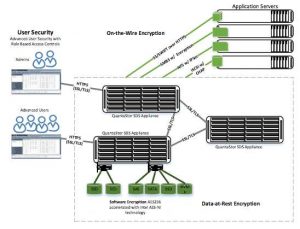 Secure Log Reporting feature complies with the European Union's General Data Protection Regulation (GDPR) that sets stringent rules on the processing of PII of EU users by individuals, companies, and organizations across the globe. To meet GDPR requirements, QuantaStor SDS automatically scrubs names, emails, and other security related and PII from a given log collection before it is encrypted and sent to OSNEXUS for alerting, reporting or auditing needs.
"Secure Log Reporting is an important part of GDPR and gives QuantaStor users peace of mind that personally identifiable data in the system and other logs will be scrubbed from the log report before it is encrypted and sent to support engineering," said Steven Umbehocker, CEO, OSNexus. "Security and compliance with standards like GDPR, HIPAA, and NIST 800-171 is core to our mission and the needs of our customers."
Secure Log Reporting is one of many feature enhancements of QuantaStor SDS that ensure compliance to various government security regulations, others include Multi-factor Authentication, Role-based Access Controls, Audit Logging, and end-to-end encryption based on military grade AES 256-XTS. It currently complies with NIST, CJIS, and HIPAA in addition to GDPR. QuantaStor Log Reporting is always customer initiated and the company keeps no customer data with PII. Logs collected before the GDPR compliance date of May 25, 2018 have also been scrubbed to meet compliance requirements.
Existing customers running older versions of QuantaStor SDS must upgrade to v4.6 or newer to get the new secure log scrubbing feature which is enabled by default on all systems.
The QuantaStor SDS platform delivers enterprise features and capabilities for file, block, and object storage. Additionally, it addresses a set of storage use cases including server virtualization, big data, cloud computing, and performance applications through scale-out physical and virtual storage appliances.