G-Force 3.1 External USB 3.1 Gen 2 Type-C SSD By Fantom Drives/Micronet
250GB to 2TB, up to 560MB/s and 520MB/s RW in testing
This is a Press Release edited by StorageNewsletter.com on 2018.08.10
Fantom Drives/Micronet Technology announced the G-Force 3.1 external flash storage suite for use with throughput intensive video and creative applications.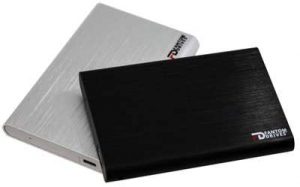 This drive models are available in 250, 500GB, 1, and 2TB SSD capacities and include transfer speeds up to 10Gb/s, featuring USB 3.1 Gen 2 Type-C connectivity. The fast data transfer rates support applications in photography, 4K video storage/editing, music and large file storage/migration.
The G-Force 3.1 flash storage drives are backward compatible with USB 2.0, USB 3.0 and USB 3.1 ports and ship with both Type A and Type C cables. The units take SSD storage throughput to the next level, allowing the transfer of a two-hour long high-definition (1,080p) movie (4.7GB) in approximately ten minutes.
The drives are available with either a black or silver case forged of brushed aluminum, durable enough for nearly any mobile operating environment. Finally, desktop computer users seeking the advantages offered by the G-Force 3.1 have the option of upgrading their systems with the company's PCIe host card (Part Number: PCIEHA) which allows for maximum utilization of the drive's 10Gb/s transfer speeds without having to upgrade the entire computer.
Features of G-Force 3.1:
* External low profile SSD drive designed for portability
* Choice of black or silver brushed aluminum exterior for durability. See video demonstration of the drives durability.
* Available capacities: 250GB, 500GB, 1TB and 2TB
* Interface: USB 3.1 Gen 2 Type-C
* Transfer rate: Up to 560MB/s
* Format: Windows or Mac
"The global market for SSDs was U.S. $22.80 billion in 2017 and is expected to reach U.S. $100.44 billion by 2026 - growing at a CAGR of 17.9% during the forecast period," said analysts in a recent report, Stratistics Market Research.
For consumers, prosumers and SMBs, the growing volume of digital data, content generation and transfer requirements as well as the need for reliable and fast storage has elevated the demand for quality external flash storage drives like the G-Force 3.1 SSD. Other drivers include resistance to physical shock, lower access times, silent operation, and lower latency compared through electromechanical disks.
"The GForce 3.1 provides reliable, high-performance SSD storage to customers with features and functionality unavailable from other manufacturer's in the same price range," said Hamid Khorsandi, CEO, Fantom Drives. "Whether using a Windows or Mac system, the plug-and-play drive connects quickly and delivers the throughput to handle the most data intensive projects."
To support desktop computing users lacking USB 3.1 connectivity, an optional PCIe X4 host adapter (Type-C and Type-A) is available that provides two USB 3.1 downstream receptacle ports capable of handling SuperSpeed+ (10Gb/s) throughput. The adapter also provides backward compatibility with USB 3.0, USB 2.0, and USB1.1 devices and requires an empty PCIe 3.0 x4, x8, or x16 slot in the computer for USB3.1 performance.
Parties interested in purchasing the GForce 3.1 SSD can find the product from online retailers, including Walmart.com, Newegg.com, BHPhotoVideo.com, or Amazon.com. Alternately, products can be purchased on the company's website.