FMS: Kaminario Expanding Certified Hardware Stack
For NVMe-based K2.N storage platform
This is a Press Release edited by StorageNewsletter.com on 2018.08.09
Kaminario Technologies Ltd. is expanding its certified hardware stack for the NVMe-based K2.N storage platform.
Click to enlarge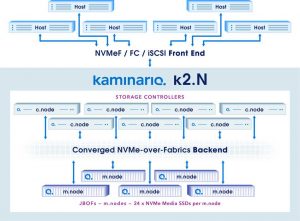 K2.N is powered by the firm's composable storage platform and leverages a fully-converged NVMe/NVMeF hardware tack comprised of industry harware solutions. The company and its hardware partners are delivering the next generation of cloud-scale storage solutions that provide high level of performance, flexibility, and cost-efficiency.
"Kaminario's software-focused composable storage platform is designed to leverage best-in class hardware solutions, while giving customers the flexibility to align datacenter infrastructures to their own hardware strategies," said Eyal David, CTO, Kaminario. "Our certified hardware strategy delivers flexibility while ensuring the enterprise capability world-class datacenter operators need."
Click to enlarge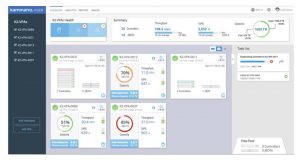 Demo at Flash Memory Summit
The company will be demonstrating K2.N implementations, leveraging hardware from partners including AIC, Celestica, Mellanox, Seagate and Supermicro at Flash Memory Summit, Aug. 7-9 at Santa Clara, CA.
"We at AIC are striving to be at the forefront of the NVMe movement and to bring performance and HA to our customers," said Kit Chui, VP, sales, AIC, Inc. "Collaborating with Kaminario gives us the opportunity to highlight the HA202-PH, which delivers end-to-end data protection by eliminating single points of failure."
"Celestica is passionate about solving complex technology challenges to help our customers succeed in rapidly evolving markets," said David Autrey, VP, sales, Celestica International. "We are proud to support market leaders like Kaminario with our fully-converged NVMe and NVMe-oF solutions, helping them push the boundaries of innovation in the fast-paced solid-state array market."
"At Mellanox, we're focused on creating intelligent interconnect solutions for shaping the future of the data center," said John Kim, director, storage marketing, Mellanox Technologies Ltd . "We see strategic value in furthering our mission by working with Kaminario to help bring their vision of high performance NVMe-oF data management to reality."
"Supermicro is a first-to-market leader in developing all-flash NVMe server and storage systems that deliver up to six times higher throughput and seven times faster latency," said Michael McNerney, VP, marketing and solutions, Super Micro Computer, Inc. "Our unique WIO SuperServers provide the performance, flexibility, cost-efficiency and NVMe storage support required to help Kaminario deliver its next-generation cloud-scale storage solutions."