FMS: Exten Technologies Unveils HyperDynamic NVMe Over Fabrics Storage Software
For cloud and performance data centers offers NVMe over Fabrics performance with DMTF Redfish and SNIA Swordfish managements
This is a Press Release edited by StorageNewsletter.com on August 8, 2018 at 2:47 pm
Exten Technologies, Inc. announced HyperDynamic NVMe over Fabrics high-performance storage software.
Click to enlarge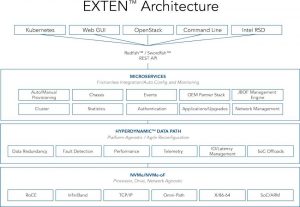 The company pioneered NVMe-oF (NVM Express over Fabrics) with some of the industry's earliest implementations in 2015. Now, the firm continues with its HyperDynamic storage software platform, the performance storage solution incorporating the NVMe-oF, Redfish, and Swordfish open industry standards to support unlimited scaling of cloud and other demanding data centers for data and performance intensive workloads.
The company is demonstrating and showcasing its HyperDynamic storage software at the annual Flash Memory Summit being held next week in Santa Clara, CA. FMS attendees can learn more at the firm's partner booths that include AIC, Broadcom, Celestica, Mellanox, and Solarflare.
"The scalability requirements of modern cloud data centers surpass the capabilities of customary storage architectures and solutions," says Michael Enz, chief architect, Exten. "Data center architects know that even the most advanced all flash SSD solutions cannot overcome the inherent limitations of traditional SAN architectures. Exten's NVMe over Fabrics storage architecture provides the required extensibility and flexibility required with performance that saturates current platforms."
Next-generation storage technology
The HyperDynamic storage software disaggregates storage by moving non-volatile memory, including flash and 3D XPoint SSDs, from traditional storage and server systems to fabric-attached enclosures like JBOFs (just a bunch of flash) connected using low-latency and high-bandwidth NVMe over Fabrics technology. The HyperDynamic software runs on a flexible hardware ecosystem, including industry-standard Intel and AMD x64 servers and custom SoC-based enclosures, providing the freedom to design optimized solutions using components from diverse manufacturers that balance cost and performance. Solutions based on HyperDynamic software are extensible using a RESTful API and custom microservices to facilitate the development of advanced data management and other capabilities.
"We listened carefully to real customers with a variety of cloud and other demanding workloads who wanted to overcome the challenges of scalable capacity and performance with legacy storage systems," says Craig Gilmore, CEO, Exten. "I want to thank our engineering team for designing a game changing storage solution that exceeds the expectations of our partners, addresses the most demanding customer requirements and surpasses anything currently available in the marketplace."
Click to enlarge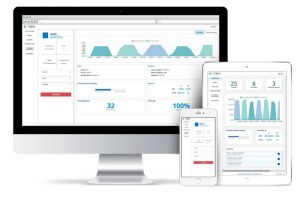 Open industry standards for management
Support for Redfish and Swordfish open management standards are incorporated within the HyperDynamic RESTful API to simplify data center operations. Storage Network Industry Association's (SNIA) Swordfish is an open industry standard that defines the management of storage and services. It is an extension to the Distributed Management Task Force's (DMTF) Redfish API specification designed for use by cloud and web-based IT professionals. Together, Redfish and Swordfish facilitate integration by the firm's partners and simplify management by customers of solutions incorporating the HyperDynamic storage software.
About Exten
Exten Technologies is a pioneer in NVMe over Fabrics software applications. The HyperDynamic storage software solution is a compliant protocol implementation that provides high performance with less than one microsecond of overhead latency to the demanding data centers. The architecture is the first open standards NVMe solution with no proprietary hardware or software lock-in and includes Redfish and Swordfish in its REST API that offers frictionless integration to both partners and end-users. The company was founded in 2012 and is based in Austin, TX.