Fujitsu Eternus Snapshot Manager
Starting at €5,750, enabling near-instant DR and reliable BC
This is a Press Release edited by StorageNewsletter.com on 2018.07.12
Fujitsu Ltd. introduces the latest version of ETERNUS Snapshot Manager (ESM).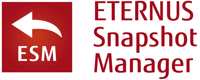 This feature software enables near-instant DR and reliable BC through array-based snapshot and data replication of the company's ETERNUS storage systems.
ESM provides peace of mind for organizations of all sizes, through creating and cataloging an unlimited number of application-consistent snapshots of running the company's storage systems. The software supports the ETERNUS AF all-flash, ETERNUS DX hybrid systems and ETERNUS Storage Cluster configurations with deep application and VM integration, and is accessible through an intuitive user interface that runs without the need for scripting.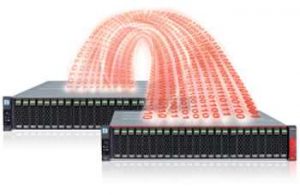 This version adds disaster-resilience to data protection by enabling i to replicate array-based snapshots to a second ETERNUS system. These snapshots can be stored on all-flash or hybrid systems, and the process can run either manually, or automatically when using an ETERNUS Storage Cluster.
Recovery capabilities become more granular thanks to the creation of more frequent, more current copies of production data. The system also provides guaranteed BC thanks to automatic transparent failover in ETERNUS Storage Cluster configurations.
Using a single ESM console to centralize and automate the management of application-aware, 'quick-fire' snapshots helps organizations simplify DR and can speed up the restoration of data across physical, virtual and hyper-converged environments. This minimizes system downtime and meets the stringent business requirements, as well as reducing the amount of data lost in the case of an unexpected system failure.
IDC research shows that nearly a quarter of organizations have suffered unrecoverable data loss within the past three years. The repercussions can be particularly catastrophic for small businesses, as Gartner reports that seven out of ten small firms that experience a major data loss go out of business within a year.
Click to enlarge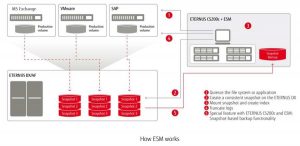 Thanks to simple, array-based licensing, ESM can be used to manage any number of snapshots, with no capacity limit, as the solution is flexible and intended to scale in line with changing backup requirements. The company's ESM software also provides a cost-efficient approach for snapshot-based backup to disk, when combined with the ETERNUS CS200c backup appliance.
ETERNUS Snapshot Manager is available in Europe, the Middle East, India and Africa (1). Licenses can be purchased directly from the company and via the firm's distribution partners. Pricing varies by configuration, starting at 5,750€ list price.
Notes:
ETERNUS Snapshot Manager is based on the Commvault Systems, Inc.'s software IntelliSnap technology from Fujitsu's strategic partner Commvault.
Read also:
Fujitsu Eternus AF S2 All-Flash Storage Arrays and Eternus DX S4 Midrange Hybrid Systems
Supporting raw all-flash capacity of more than 700TB, up to 360,000 IO/s for AF250 S2, and 3PB per system, up to 620,000 IO/s, 3.72ms sustainable response time for AF650 S2
2018.01.29 | Press Release