NAND Prices to Fall 15% in 2018 – Yole Développement
While shipments expected to increase 45%
This is a Press Release edited by StorageNewsletter.com on June 26, 2018 at 2:35 pm
With the memory market booming, the Yole group of companies decided to launch its quarterly Memory Monitor report, covering DRAM Service – Memory Research and NAND Service – Memory Research, and the entire memory segment.
Memory, fueled by huge contributions from DRAM and NAND, is poised to account for more than 1/3 of all semiconductor revenue in 2018, well above the historical average of ~25%.
The semiconductor industry posted record results in 2017, with revenue exceeding $400 billion. Overall demand for semiconductor devices was robust throughout the year, driven by the increasing adoption of electronic components across all applications, particularly for mobile and data centers. The memory segment led the semiconductor industry's ascent, with revenue reaching $126 billion. This represents a year-over-year increase of over 60%, and it's just the beginning …
The memory market, with big contributions from DRAM and NAND, is poised for similar success in 2018. Memory should account for more than 1/3 of all semiconductor revenue, greatly exceeding the historical average of ~25%.
Click to enlarge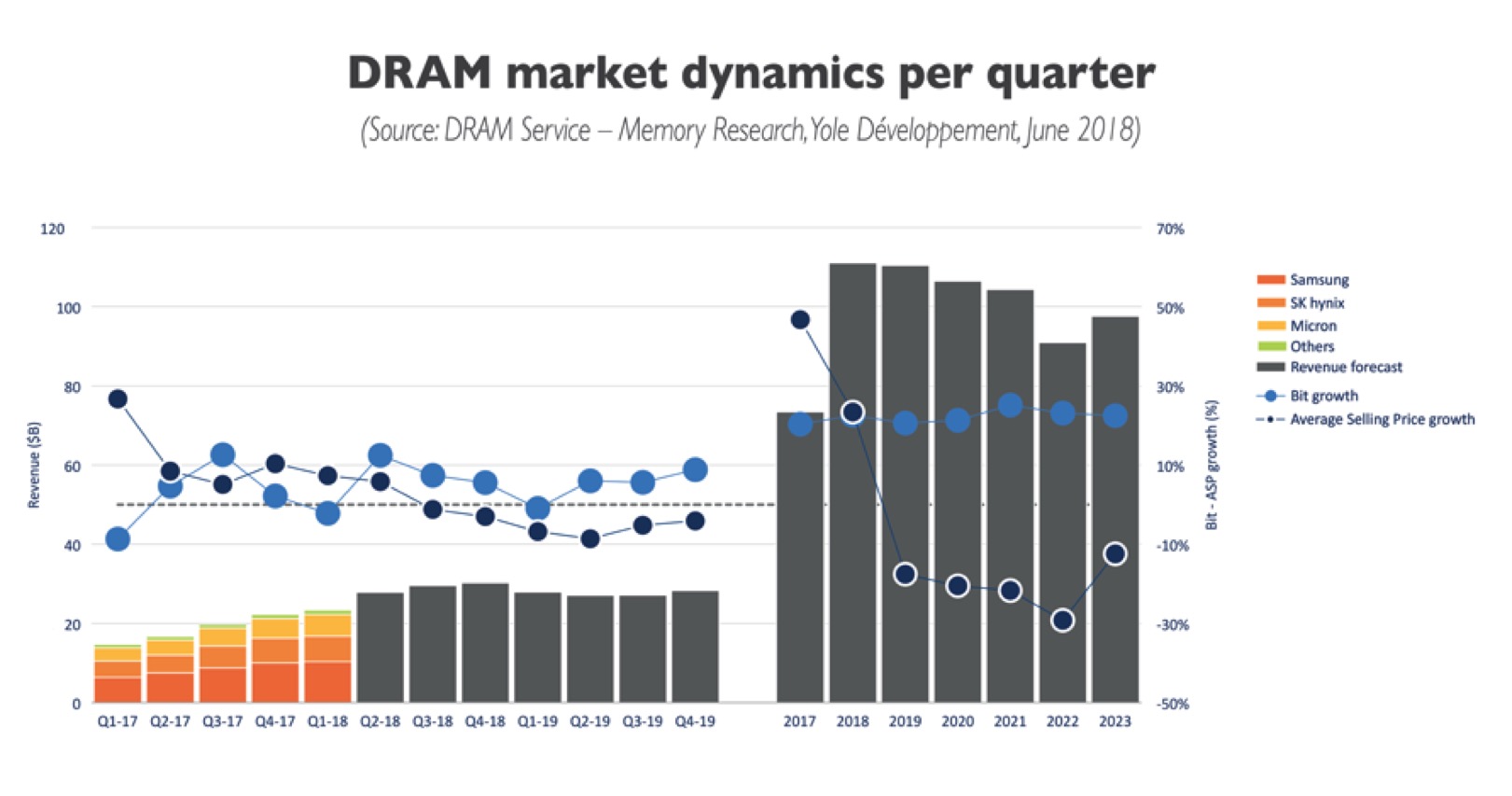 DRAM prices are forecast to climb another 23% in 2018 (1H prices up 33% / 2H up 16%), on the heels of an incredible 2017. Moreover, shipments are expected to increase 22%. This combination will see DRAM revenue climb 51%, from $73 billion to $111 billion. Key demand segments are mobile, with demand reaching almost 40% of demand, and data center (~25% of demand). This expansive market is shared by three companies (Samsung, SK hynix, and Micron control ~95% of the DRAM market), all of which have adeptly managed their activities in order to stay profitable, even if capital investment remains near record levels for each.
The NAND situation is a bit more tempered: prices are forecast to fall 15% in 2018, while shipments are expected to increase 45%. Revenue is expected to climb 23%, from $54 billion to $66 billion. Key demand segments are similar to DRAM, with mobile accounting for ~36% of demand and data center (enterprise SSD) accounting for ~21% of demand, along with PC (client SSD) accounting for ~24% of demand. Aggregate SSD demand is expected to reach ~45% of total NAND demand.
NAND's competitive landscape remains incredibly dynamic. Samsung is prepping its first fab at its massive Pyeongtaek site; Intel is emerging as a stand-alone supplier with capacity in China; and the sale of Toshiba's memory business to a consortium led by Bain Capital is finally happening. Meanwhile, a new entrant looms on the horizon: China's Yangtze Memory Technologies Co. (YMTC), which threatens to disrupt the status-quo as well as multiple other Chinese projects (details provided below).
Click to enlarge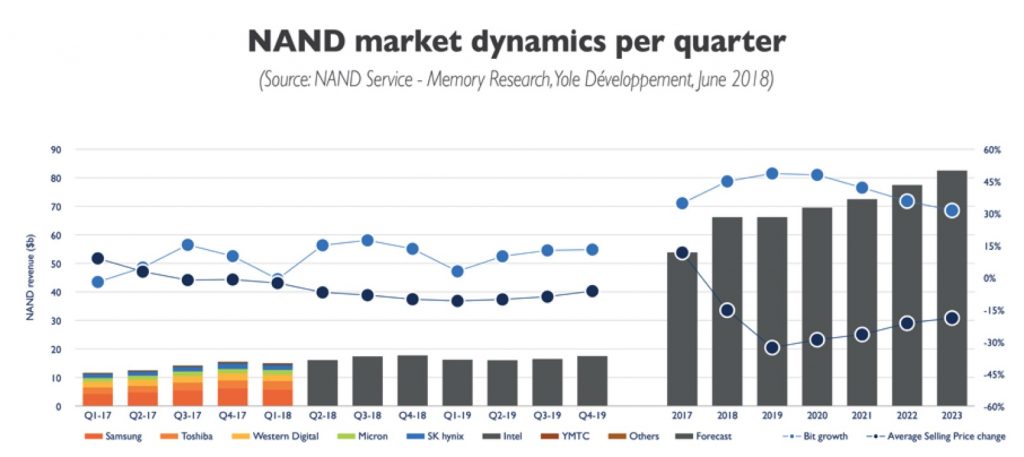 In addition to mobile phones, data centers, and SSD, AI and IoT are forecast as strong demand drivers for the memory market, beginning in 2018 and extending well into the future. And though edge computing's emergence will lower the amount of memory per device, the large increase in overall devices will result in huge memory demand.
China remains a disruptive force for memory, but tangible impact is still a few years away. In the meantime, billions of dollars have been invested to jumpstart the Chinese memory industry. For example, YMTC and its NAND products will be the first to enter the memory market, with a product launch in late 2018/early 2019. However, it will still take the company several years to catch up with established players.
Several Chinese companies are hoping to develop DRAM: Jinhua Group is focused on legacy DRAM (launching 2019 at earliest) and Inotron Group has plans for DRAM, with an expected 2020 launch. In general though, China is having a difficult time developing its memory sector, due to a lack of IP and modern memory's sheer complexity. Everything is taking longer than originally anticipated.