Netstor: NS372TB3 Thunderbolt 3 LTO 1U Rackmount System
With up to two tape drives
This is a Press Release edited by StorageNewsletter.com on 2018.06.14
Netstor Technology Co., Ltd. announced the release of Thunderbolt 3 LTO archiving storage NS372TB3 and its LTO solutions.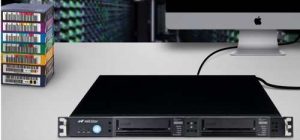 The NS372TB3 enclosure enables and transforms any internal half-height LTO tape drive to the Thunderbolt 3 interface; additionally, the LTO tape drives such as LTO-8, LTO-7, and LTO-6 from the manufacturers including IBM, Dell, HP, and Quantum are supported to work with the company's Thunderbolt 3 LTO 1U rackmountable storage enclosure.
NS372TB3 rear
Click to enlarge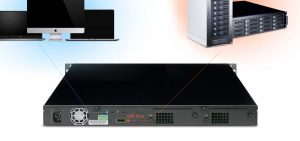 At the architecture aspect, up to two LTO tape drives are able to be utilized within the Thunderbolt 3 LTO enclosure; also, each of the tape drive devices within the enclosure is given the opportunity to be connected to the internal board via the SFF-8482 6Gb SAS connector in support of application. For those host computers that are not able to be installed with an HBA card to be connected to the LTO tape drive device, now the users and the IT administrators can choose to connect the firm's Thunderbolt 3 NS372TB3 storage to any Thunderbolt Mac/Windows laptop or all-in-one computer like iMac Pro to make LTO archiving backup available to the Thunderbolt host computer/server.