Computex: Plextor Showcased M9Pe Extreme SSD With Marvell NVMe Switch
Up to 6,500/5,000Mb/s sequential R/W
This is a Press Release edited by StorageNewsletter.com on 2018.06.14
At Computex, Plextor branded products, developed and sold by Lite-On Technology Corporation, showcased the M9Pe Extreme SSD.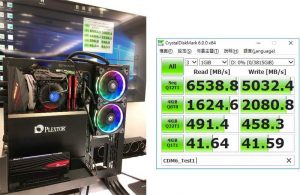 Breaking consumer SSD speed barriers, the M9Pe Extreme delivers sequential read/write speeds of up to 6,500 /5,000 Mb/s. The next-generation M9Pe Extreme combines technologically components and the Marvell Technology Group Ltd. ' 88NR2241 intelligent NVMe switch along with the company's technologies to deliver performance required by prosumers, professional PC gamers and other application-intensive users such as animation editors, audio-visual drafting personnel, and film-making companies.
The M9Pe Extreme provide enhanced data transmission performance, and also offers RAID functionalities for data redundancy and performance improvements making it a choice for office or workspace environments.
Fay Ho, senior director, brand division, Lite-On, said: "Continuing Plextor's outstanding capability in the high-speed storage devices, the M9Pe Extreme, as the name states, delivers unprecedented extreme high-speed performance, making a new record in consumer SSD read/write speeds. With high quality components and excellent performance boosting technologies, PC gaming experience, for one, will never be the same."
Nigel Alvares, vice president, SSD and data center storage solutions, Marvell, said: "Marvell and Lte-On have a longstanding relationship of SSD collaborations and we're excited to expand it by enabling their innovative M9Pe Extreme SSD with our 88NR2241, the industry's first NVMe switch. Our intelligent NVMe switch technology combined with Plextor's storage expertise delivers a groundbreaking solution to meet the increasing storage demands of emerging high-performance client and edge applications."
The key to the performance breakthrough lies in the company's development capabilities and the adoption of the Marvell intelligent NVMe switch and industry components. The combination of the firm's latest improvements in multiple error-detection and firmware technologies reinforces storage reliability, read/write quality, and long-term service life of its SSDs.
Read also:
M9Pe Series NVMe PCIe/M.2 SSD From Plextor
Up to 1TB, 3,200/2,100 MB/s sequential R/W, 400,000/300,000 IO/s random R/W
2018.01.10 | Press Release