Cisco and NetApp Launch FlexPod Solutions for Delivery of Cloud Infrastructure and Industry-Specific Applications
Combining Cisco UCS Integrated Infrastructure with NetApp data services for hybrid cloud
This is a Press Release edited by StorageNewsletter.com on 2018.06.14
Cisco Technology, Inc. and NetApp, Inc. announced FlexPod solutions.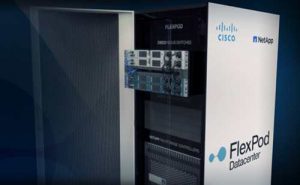 FlexPod combines Cisco UCS Integrated Infrastructure with NetApp data services to help organizations accelerate application delivery and transition to a hybrid cloud with a trusted platform for innovation. The Managed Private Cloud solution offers consumption options for more flexible access to IT infrastructure and applications as customers modernize their data center for hybrid cloud.
Additionally, FlexPod Datacenter for Epic EHR, a healthcare application, is the first in a series of pre-tested vertical solutions, with support for more healthcare applications, coming soon. FlexPod continues to be a platform for innovation and investment protection, introducing new validated solutions for the virtualization software, enterprise applications, and databases incorporating the technologies from Cisco and NetApp.
Click to enlarge

According to IDC, Cisco and NetApp have recorded market growth with FlexPod, showing double-digit, year over year growth for five successive quarters (1).
Managed private cloud
The Managed Private Cloud solution built on FlexPod enables customers to realize a cloud-like, as-a-Service model for their on-premises IT. The FlexPod infrastructure would be located on-premises but managed remotely, securing critical customer data and advancing cloud-capabilities for both partners and their customers.
This solution will be delivered by channel partners. Initial delivery partners include Dimension Data, Inc., ePlus, Inc., Microland Electronics Corp., and Proact IT Group AB and as the program evolves it would expand to a larger set of partners.
FlexPod industry solutions
FlexPod industry solutions provide a platform to deploy applications across industries that are challenged by the increasingly diverse, dynamic and distributed nature of data. FlexPod Datacenter for Epic EHR simplifies IT infrastructure for healthcare customers, helping them move faster and unleash new insights for improved patient care. Together, NetApp and Cisco are providing customers with a secure, reliable, and available platform for their business-critical applications by providing best practices and sizing guidance to reduce risk and accelerate deployments. Additional solutions will extend support to other applications and industries later in the calendar year.
Click to enlarge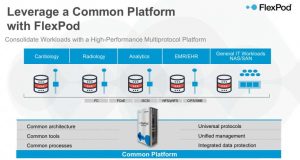 Platform for innovation
FlexPod continues to be a platform for innovation and investment protection with the release of validated designs that address customers' most pressing business needs.
In addition to the healthcare and managed private cloud solutions, new designs have been released across the FlexPod Datacenter portfolio. This FlexPod platform for IT modernization has been refreshed for both VMware, Inc.' vSphere and Microsoft Corp.' Hyper-V environments incorporating the technologies from Cisco UCS, Cisco ACI and NetApp All Flash FAS storage.
The SAP and SAP HANA solution, foundational for several enterprise customers and service providers offering Hana-as-a-Service, was refreshed in May 2018. New solutions have also been released for desktop virtualization (Citrix XenDesktop/XenApp and VMware Horizon View) and Microsoft SQL 2016. Additionally, the NetApp IP based MetroCluster can be combined with Cisco ACI to form a single fabric spanning active-active datacenters for a business continuity solution.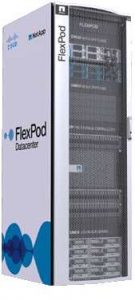 "We wanted to use technology to reinforce our commitment to innovation in patient care," said Austin Park, Epic infrastructure team leader, LCMC Health. "We've exceeded all expectations of the best possible patient care scenarios by running Epic EMR on our FlexPod with AFF infrastructure. With rapid, secure access to patient data, our caregivers can respond to patients' needs quickly, armed with the right information."
"It's no surprise that FlexPod continues to lead the market as the fastest growing converged infrastructure solution," said Ranjeet Sudan, VP, converged infrastructure, NetApp. "Our long-running relationship with Cisco has combined best-in-class technology and expertise to create one of the strongest and most successful partnerships in the industry. Together, we are enabling organizations to truly access the full value of their data despite the rising complexity of applications and workloads."
"We are proud of our continued innovation with NetApp as we further expand FlexPod's powerful capabilities with support for industry-specific applications and new consumption models," said Siva Sivakumar, senior director, data center solutions, Cisco. "With these new offerings we are helping organizations accelerate deployment of their business-critical applications and providing a secure, robust, and flexible private cloud infrastructure that has the speed and simplicity of public cloud."
"As a global leader in both systems integration and managed services for hybrid IT, Dimension Data is excited to add the new FlexPod Managed Private Cloud service to our portfolio of hybrid services," said Rob Lopez, group executive, digital infrastructure, Dimension Data. "Our enterprise clients across 47 countries demand on-premises cloud solutions that improve business agility, simplify business processes and reduce time-to-market, as well as offer assured confidence from partnering with leading technology providers, such as Cisco and NetApp. Ensuring we deliver an exceptional end-to-end Managed Private Cloud solution to our clients, along with our market-leading security and networking services, enables us to help accelerate their digital transformation journeys."
"With operations in the U.S., U.K., and India, we provide advanced technology solutions optimized by professional and managed services to drive meaningful business outcomes for our multinational and commercial customers. We are proud to build upon our long-standing partnership with NetApp, including status as NetApp's FlexPod Partner of the Year, and expand our portfolio to include managed private cloud. We look forward to continuing to support customers throughout their cloud journey, helping improve business agility and enable technology innovation with an intuitive solution to provide self-service consumption, increase flexibility, reduce complexity, and also provide support to the entire solution of on-premises private clouds as they modernize their IT infrastructure," said Sudheesh Subhashithan, VP, cloud services, ePlus, Inc.
"The new managed private cloud solution enhanced and configured with Microland's managed services enables us to further accelerate digital transformation, drive profitability, improve efficiency and advance process and system effectiveness for customers across Asia, Australia, Europe, Middle East and North America," said Pradeep Kar, CEO, Microland Limited.
"As one of the first and largest FlexPod Premium Partners in Europe, we have used Cisco and NetApp technology for many years in our enterprise managed services. We are therefore thrilled to add the new managed private cloud solution to our portfolio, giving us even stronger capabilities to efficiently and effectively manage on-premises private clouds for our customers across Europe," said Paul Bates, VP, managed services, Proact IT Group AB.
Resources:
FlexPod validated designs and their multitude of benefits
FlexPod
Cisco blog
NetApp blog here and here
(1) Source: IDC Worldwide Quarterly Converged Systems Tracker, Q4 2017, April 3, 2018