Portworx Selected as Amazon Elastic Container Service for Kubernetes
With dynamic provisioning, cross-availability Zone HA, application consistent snapshots and encryption
This is a Press Release edited by StorageNewsletter.com on 2018.06.13
Portworx, Inc., a cloud native storage solution for Kubernetes, was selected as an Amazon Elastic Container Service for Kubernetes (EKS) launch partner, enabling mission critical stateful workloads like databases to run on Amazon EKS with dynamic provisioning, cross-availability Zone HA, application consistent snapshots and encryption functionality.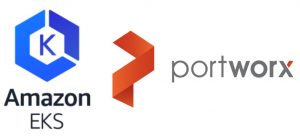 This partnership simplifies operations of stateful services on EKS for Portworx's large and growing customer base, including 15 of the Fortune Global 1000.
While the Kubernetes community has made running applications on Kubernetes agile, operating a highly-available and secure Kubernetes cluster has been a complex proposition for enterprises. With Amazon EKS, enterprises have access to the best practices for running a highly-available, secure, logged and monitored Kubernetes cluster, automated into a one-click deployment. The combination of Portworx for persistent storage and Amazon EKS simplifies the operations of stateful services on EKS, enabling enterprises to save more than 30% on compute and storage costs.
"As today's enterprises advance their cloud and DevOps journeys, they're realizing the value that container technologies provide and are expanding their initiatives to support workloads for Kubernetes," said Murli Thirumale, co-founder and CEO, Portworx. "With this partnership, we're taking advantage of Kubernetes' rich and mature ecosystem and empowering enterprises to focus on their applications, to ensure that their mission critical stateful services on Kubernetes are as easy to automatically manage as the rest of their applications."
Combining the industry-backed benfits of Amazon EKS with Portworx's purpose-built Kubernetes storage, enterprises have access to:
Multi-AZ EBS for Kubernetes: Amazon EBS only works within a single availability zone. Every Portworx persistent volume is synchronously replicated across availability zones (AZs), ensuring that if a stateful pod or host is lost, Kubernetes can reschedule it to any other host in the cluster during downtime, even in another AZ.
Auto-scaling groups for stateful applications: Enterprises have the benefits of auto-scaling groups (ASGs) without data loss. Portworx itself manages the dynamic creation of EBS volumes for an ASG, so if a pod is rescheduled after a host failure, the pre-existing EBS volume will be reused, reducing failover time by 300%.
Hyperconverged compute and storage for high performance databases: Enterprises have the benefits of EC2 instance storage for EKS without data loss, so if the EC2 instance serving the database pod goes down, Kubernetes can reschedule the pod to another host in the cluster where Portworx has placed an up-to-date replica. This ensures hyperconvergence is maintained even across reschedules.
Application-aware snapshots: With PX-Enterprise's Kubernetes-integrated application consistent snapshots for groups of data volumes, Kubernetes administrators can define groups of volumes that constitute their application state and consistently snapshot directly via kubectl. These group snapshots can be backed up to S3 or moved directly to another Amazon region in case of a disaster.
Additionally, Portworx works with Amazon Elastic Container Service (ECS) to run mission critical containerized applications on AWS.