Marvell: 4-Channel 88SS1084 and 8-Channel 88SS1100 NVMe SSD Controller
Up to 3.6GB/s of bandwidth and 700,000 IO/s
This is a Press Release edited by StorageNewsletter.com on 2018.06.13
Marvell Technology Group Ltd. announced its NVM Express (NVMe) SSD controller family for mainstream and high-performance PC client and edge computing SSDs.
The Gen 3x4 PCIe SSD controllers, the 4-channel 88SS1084 and 8-channel 88SS1100, bring performance, endurance and reliability and will help broaden the adoption of NVMe SSDs across emerging client and edge computing applications. The controllers integrate the company's fourth generation of NANDEdge technology, offering the error correction capabilities to address the increasing demands required to enable future SSD solutions with emerging 96-layer triple level-cell (TLC) and quad level-cell (QLC) NAND architectures.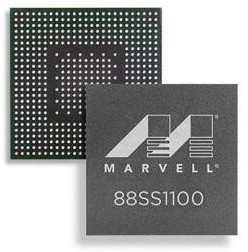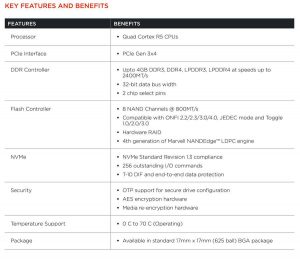 As gaming, video-on-demand, CAD, imaging, photography and video surveillance proliferate and scale, NVMe SSDs can meet the increasing storage performance and capacity requirements that these end use applications seek. This company's client NVMe SSD controller family can provide up to 3.6GB/s of bandwidth and up to 700,000 IO/s. The 88SS1084 and 88SS1100 devices can save system power consumption by supporting lower voltage NAND devices and LPDDR4 DRAM components. These features enable PCs and edge computing devices to process and store increasingly data-intensive workloads more quickly and reliably.
In addition, thy use a common hardware and firmware controller architecture with the company's recently announced data center and enterprise NVMe controllers, the 88S1088 and 88S1098. The common architecture enables SSD makers to leverage development efforts across their growing and widening SSD product families, and bring them to market faster with lower development costs. Specifically, SSD makers can re-use the core differentiating elements of their firmware code base across the company's portfolio of NVMe and SATA SSD controllers to produce SSD product families optimized for client, data center and enterprise segment requirements.
"The NVMe client market is expected to grow 27% CAGR over the next five years as new SSD applications emerge and the overall PC client market transitions from SATA to NVMe," said Mark Geenen, president, Trendfocus, Inc. "The new Marvell client NVMe product family extends the company's SSD controller portfolio and is architected to enable the next-generation SSDs built on 96-layer TLC and QLC NAND."
"We are excited to grow our strong collaboration with Marvell to enable our next-generation BiCS FLASH Gen.4 devices with its latest family of SSD controllers," said Hiroo Ohta, technology executive, Toshiba Memory Corporation. "Marvell's common SSD hardware and firmware controller architecture will help our mutual customers accelerate time to market of their SSD solutions and position them for market share gains across all segments."
"Marvell is expanding and broadening our leading portfolio of NVMe SSD controllers to help our customers address the growing amount of diversifying SSD product opportunities with emerging 3D TLC and QLC NAND components," said Nigel Alvares, VP, SSD and data center storage solutions, Marvell. "Our common SSD hardware and firmware controller architecture spanning our client, data center and enterprise products enables our customers to quickly develop tailored SSDs for each of these segments with minimal incremental engineering effort and achieve optimal ROI of their precious firmware engineering resources."
The company has been investing in SSD controllers since 2007 and released its first SSD controller in 2009. The firm is now on its sixth generation of NVMe-based controllers and its eighth generation of PCIe-based ones. This family builds on the company's legacy of more than twenty years' experience in HDD controller storage technology, complex system-level SoC design, error correction algorithms, and low-power architectures.
The 88SS1084 and 88SS1100 SSD controllers are available for purchase.