DriveScale Software Composable Infrastructure for Flash
For deploying flash flexible for cloud infrastructures and targeting applications such as NoSQL, Spark and Containers
This is a Press Release edited by StorageNewsletter.com on 2018.06.13
DriveScale, Inc. announced the Software Composable Infrastructure for Flash.
Click to enlarge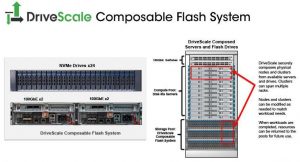 This breakthrough makes deploying flash flexible for cloud infrastructures and targets applications such as NoSQL, Spark and Containers. The firm's SCI for Flash is available as software, capable of being deployed on a variety of hardware systems. Its addition to the company's product suite helps solve the over-provisioning, flexibility and lifecycle management issues that plague IT teams using flash-based NoSQL databases and similar cloud-native applications.
Flash is crucial for the performance and scale of hyper-growth, modern workloads because it provides performance and density, as well as a smaller footprint and lower power usage than disk storage.
Meanwhile, the value of modern, cloud-ready applications such as NoSQL, containers and Spark continues to rise, underscoring the need for flexible, commodity-priced flash solutions not currently being met by storage vendor flash array offerings on the market, which have unneeded features at high cost. Further compounding this, new flash drives are becoming so large that it is becoming difficult to 'right size' the storage to the application when using direct-attached flash drives within each server. This leads to expensive over-provisioning while providing IT administrators with no flexibility to change storage-to-compute ratios after installation and then leading to underutilization of expensive data center resources.
Using SCI technology, the Software Composable Infrastructure for Flash is changing how flash storage is deployed. Utilizing the throughput and low latency of 100GbE, it delivers direct-attached performance at a low cost with the flexibility and 'pay as you grow' characteristics of a storage system. This eliminates underutilization and expensive over-provisioning of storage resources, provides flexibility to apply the right amount of flash storage to each server and allows administrators to tune data center applications or upgrade processors without touching the flash drives. The firm allows businesses to add new drives to existing servers via software control. The system combines the speed of up to 24 dual-ported NVMe drives, four 100GbE ports and a dual-server architecture to deliver to IT operations high performance and HA flash storage in a composable system.
"Extending SCI to take advantage of the native performance of flash is a major step toward addressing the cost and execution of large-scale, cloud-native application workloads - a mission critical need for businesses managing modern workloads today," said Brian Pawlowski, CTO, DriveScale. "Flash is expensive. The ability of Software Composable Infrastructure to optimize flash use by rightsizing initial deployments, providing for incremental additions, and preserving flash investments when upgrading processors makes the use of flash much more cost effective than ever before."
As a part of this offering, the company has also added support for third-party EBOF (Ethernet-attached Bunch of Flash) products, enabling these systems to deliver SCI with flash storage. The firm will offer support for Western Digital Corp.'s Ultrastar Serv24-HA flash storage server, and plans to support additional EBOF products in the near future.
Cloud-ready applications like NoSQL, Spark and containers require cloud-like provisioning. The company's composable architecture ensures the optimal ratio of compute and storage resources while providing cloud-like elasticity and performance at a fraction of the price, improving overall resource utilization and responsiveness to workload needs in real time. The firm has already pioneered the disaggregation of HDD drive storage, giving customers the ability to combine the right mix of 'local disk' with compute resources. The firm enables composability for flash without compromising on performance and with significant improvements in scalability, agility and TCO.
"Using flash arrays in Spark, NoSQL or container environments is expensive, slow and burdened with unused features. On the other hand, DAS, while distributed and performant, lacks flexibility," said Satya Nishtala, founder and chief architect, DriveScale. "DriveScale allows enterprises to optimize flash deployments to the best dollar per gigabyte and rightsize flash storage based on application needs. Our goal is to provide native NVMe storage to servers for modern applications used to manage enterprise-scale, big data workloads in an all-flash environment."
Benefits of software composable infrastructure for flash include:
Disaggregation of expensive flash storage allowing it to be shared by multiple applications

Faster performance for applications dependent on flash storage, compared to flash storage arrays

Lower TCO due to decoupling of flash storage and compute, enabling accurate provisioning and independent scaling and life cycle management

Ease of deployment driven by software configuration and DriveScale Management System

Increase in reliability and reduction in downtime

"One of the biggest pain points our customers face when it comes to flash deployments is flexibility to optimize workloads for best efficiency, performance and TCO," said Scott Hamilton, senior director, product management, data center systems business unit, Western Digital. "Utilizing our Ultrastar Serv24-HA flash storage server with DriveScale's Software Composable Flash product gives customers a new flexible approach to modernizing their infrastructure, and allows them to utilize every resource purchased. We look forward to continuing our relationship with DriveScale and offering a qualified composable platform for NVMe."
"DriveScale's SCI technology has changed the way we manage the disk drive-based products in our data center. We have been able to optimize our storage and compute resources, saving us time and money in the long run," said Tim Smith, SVP and GM, global technical infrastructure and operations, AppNexus, Inc. "By bringing that same SCI technology to the flash world, the DriveScale team is going to change how the storage industry buys and uses flash drives - driving down costs and improving overall resource utilization."
"Applications like Cassandra, Hadoop or Spark require fast storage systems. These are typically deployed directly in the server through NVMe-attached flash memory to avoid the cost and network traffic associated with traditional SAN systems. However, with this direct connection to the server, unused space in the NVMe drive is wasted," said Torsten Volk, managing research director, Enterprise Management Associates. "This is where DriveScale comes in. Using its SCI, administrators can 'redirect' the locally installed flash storage in DriveScale's Software Composable Infrastructure for Flash to servers where the applications require it."
Resources:
Blog: A Game-Changing Approach to Flash
Webinar : Accelerating the Adoption of Flash in Cloud Infrastructure Solutions
Read also:
Exclusive Interview With Gene Banman, CEO, DriveScale
Start-up in software composable infrastructure
by Philippe Nicolas | 2018.02.08 | News