DataCore With Broadcom Wants to Accelerate Adoption of NVMe over Fabrics
Combination of software-defined storage and Emulex Gen 6 FC HBAs
This is a Press Release edited by StorageNewsletter.com on 2018.06.13
DataCore Software Corporation enhanced its software-defined storage solutions, allowing companies to realize the substantial IO/s and latency improvements enabled through support for Emulex Gen 6 (16/32Gb) FC HBAs by Broadcom, Inc.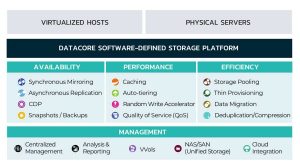 With this update, the company continues to eliminate storage bottlenecks and deliver the performance improvements needed to meet the business requirements for real-time data, simply and cost-effectively.
This release is also an example of the ongoing collaboration between the company and Broadcom to deliver performance and flexibility, as both companies continue working towards enabling NVMe over Fabrics (NVMe-oF) capabilities for workloads that require the lowest possible latency and high performance. IT organizations looking to be NVMe-oF ready should consider the Emulex Gen 6 and the firm's software-defined storage solution as a combination to implement newer, faster technologies in a cost-effective and efficient manner.
Emulex_LPe31002 FC host bus adapter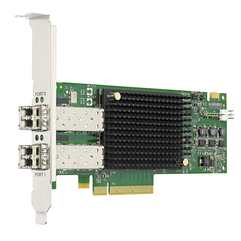 By deploying the company's software-defined storage and Emulex Gen 6 FC HBAs, organizations gain a high-speed, dedicated network fabric that optimizes existing storage investments and is ready for the faster all-flash arrays (AFA) and NVMe-based storage systems. The latest Emulex Gen 6 FC HBAs deliver higher performance than previous generations, with less than half the latency, supporting up to 1.6 million IO/s on a single port.
Simplifying storage provisioning for faster arrays
The company provides a virtual storage pool with existing and new storage systems that dynamically assigns workloads to optimal storage tiers based on performance requirements. With the firm's software-defined storage, improving performance and capacity is as simple as adding new storage arrays to the FC fabric and assigning them a storage tier. Infrastructure teams are no longer required to profile applications and assign the new, faster storage to specific applications. Instead, storage migration happens automatically and transparently, with no downtime.
NVMe delivers performance improvements for demanding workloads
As companies deploy an increasing amount of all-flash arrays to accelerate performance, storage has been getting consistently faster. However, these SSDs have become so fast that the storage network and disk I/O have emerged as a bottleneck. Emulex Gen 6 FC HBA connectivity alleviates the network bottleneck by accelerating server processing problems with NVMe, whereby solid-state storage is connected directly to the PCIe bus. NVMe improves both random and sequential performance by reducing latency, enabling high levels of parallelism, and streamlining the command set while providing support for security, end-to-end data protection, and other client and enterprise features that users require.
Performance and utilization improvements
The firm's software-defined storage, powered by patented adaptive parallel I/O technology, maximizes utilization of multi-core processors to solve the I/O bottleneck in order to achieve productivity and further consolidation of server technology by allowing more applications, VMs and workloads to run. By doing so, the company is able to cut latency and drive the most I/O performance from both existing storage systems and new flash arrays including NVMe, enabling IT departments to get maximum performance and value from their investments.

"DataCore and Broadcom have collaborated to provide customers with the fastest FC connectivity that combines low-latency and highest IO/s performance with NVMe over FC support to meet today's business-critical workloads, as well as enabling next-gen applications to run at scale on existing SAN infrastructure," said Jeff Hoogenboom, GM, Emulex connectivity division, Broadcom. "Emulex FC HBAs and Brocade switches by Broadcom can run traditional SCSI FCP concurrently with the NVMe over FC command set on the same FC network and the same AFA, making the transition to the all NVMe datacenter seamless."
"As businesses look to add NVMe to enhance their datacenters in the future, they will find no better or easier-to-deploy technology than the combined Emulex Gen 6 and DataCore software-defined storage solution," said Steven Hunt, product management leader, DataCore. "Unlike other NVMe solutions, which have deployment limitations or require new network fabrics, ours is essentially a plug-and-play solution that will enable companies to immediately begin realizing the significant benefits of NVMe."