Computex: Tyan Launches HPC, Storage and Cloud Server Platforms With Xeon Scalable Processors
To address massively complex analytics at scale for data centers
This is a Press Release edited by StorageNewsletter.com on 2018.06.13
At Computex, TYAN, an MiTAC Computing Technology Corporation subsidiary, is exhibiting a line of HPC, cloud computing and storage server platforms that are optimized for HPC, AI and datacenter markets.
Thunder HX FA77-B7119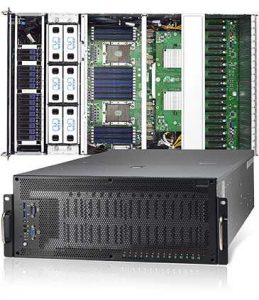 "TYAN's leading portfolio server platforms are based on the Intel Xeon Scalable Processors and are designed to address massively complex analytics at scale for modern data centers," said Danny Hsu, VP, TYAN.
Thunder HX GA88-B5631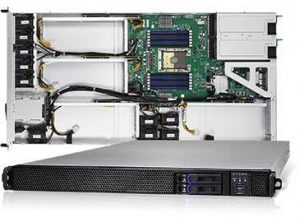 HPC and AI-powered server platforms to bring performance
Featuring inference performance and a high-level of data accuracy in real-time, the Thunder HX TA88-B7107, Thunder HX FA77-B7119 and Thunder HX GA88-B5631 are optimized for many of emerging cognitive computing workloads such as machine learning and AI.
The 2U TA88-B7107 features dual Xeon Scalable processors and is able to accommodate up to eight performance graphics cards with NVLink technology. With four PCIe x16 slots available for fast networking and 24 DIMM slots supporting up to 3TB of system RAM, the TA88-B7107 is a performance HPC server option available.
The 4U FA77-B7119 supports dual Xeon Scalable processors, 24 DIMM slots and up to eleven PCIe x16 (or 21 PCIe x8) slots. The GA88-B5631 is a 1U server with twelve DIMM slots, up to five PCIe x16 slots, and a single Xeon Scalable processor.
Thunder HX FT77D-B7109
The Thunder HX FT77D-B7109 takes the advantage of dual Xeon Scalable processors to increase total expansion capability in a system and provides an additional standard PCIe x16 slot next to the eight double-wide performance accelerator cards. The extra PCIe x16 slot can be deployed with a NVMe re-timer card for NVMe deployment or a high-speed networking card such as 100Gb EDR IB, 100GbE, or 100Gb Intel Omni-Path fabric for MPI clustering. The platform specializes in massively parallel workloads including scientific computing, genetic sequencing, oil and gas discovery, large scale facial recognition, and cryptography.
Thunder SX FA100-B7118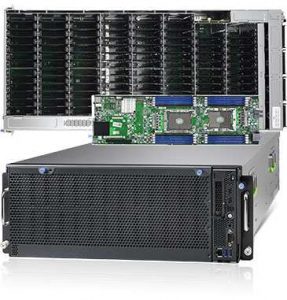 Storage server platforms highlight performance and power efficiency
for datacenters and enterprises
The company's storage platforms span a range of hardware specifications capable of storing massive amounts of data. The Thunder SX FA100-B7118 is a storage server supporting dual Xeon Scalable processors and 100x3.5" drives in a 4U rackmount form factor. The platform is designed for both cold storage and large-scale object storage applications such as Lustre.
Thunder SX TN76-B7102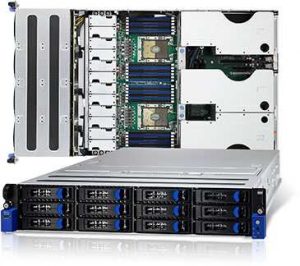 The Thunder SX TN76-B7102 is a 2U dual-socket Xeon Scalable processor-based storage platform. With the maximum expansion up to eight standard PCIe slots, the TN76-B7102 allows users to mix and match combinations of a variety of expansion cards. The platform is designed to support Intel's on-CPU 100Gb Omni-Path networking fabric, and is for many big data applications, including big data analytics, in-memory databases and data visualization.
Thunder SX GT62F-B5630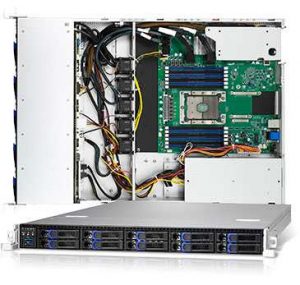 The Thunder SX GT62F-B5630 is a 1U server platform designed for hybrid NVMe/SATA cache storage with support for up to eight hot-swap NVMe U.2 drives along with an OCP v2.0 LAN Mezzanine. The single Xeon Scalable processor design makes it a platform for workloads that work best within a single NUMA domain and require large amounts of high-speed flash, such as many media streaming applications.
Thunder SX GT86C-B5630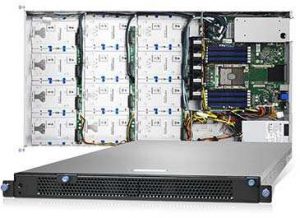 The cost-effective 1U Thunder SX GT86C-B5630 with single-socket Xeon Scalable processor is designed for distributed database applications like Ceph, Hadoop, and Apache Cassandra.
Read also:
Tyan Unveils HPC and Storage Server Platforms With Xeon Scalable Processor
Including Thunder HX FA77-B7119, HX GA88-B5631, HX FT77D-B7109, HX FT48T-B7105, HX FT48B-B7100, SX FA100-B7118, SX TN76-B7102, SX GT62F-B5630
2017.11.24 | Press Release