Qnap TS-x63XU Rack-Mountable NAS With AMD G-Series GX-420MC Processor and 10GbE Ready
4, 8, and 12 bays with AES-NI encryption engine, hot-swappable 2.5"/3.5" 6Gb SATA HDDs/SSDs, one 10GBASE-T RJ-45 LAN port, 4 Gigabit LAN ports, 2 USB 3.0 ports, and 2 USB 2.0 ports
This is a Press Release edited by StorageNewsletter.com on 2018.06.12
Qnap Systems, Inc. launched the 10GbE-ready TS-x63XU rack-mountable NAS (available in 4, 8, and 12-bay models with single and redundant power supply options) that features an AMD G-Series GX-420MC quad-core 2.0 GHz processor, 4GB DDR3L memory (upgradable to 16GB), and scalability, providing storage solutions for bandwidth-demanding data center and virtualization applications.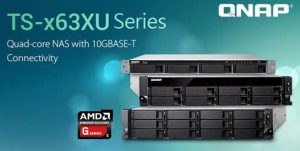 Pre-installed with a single-port 10GbE 10GBASE-T network card (which also supports 10G/5G/2.5G/1G/100M data transfer) the TS-x63XU series delivers up to 1,038MB/s read speed and 985MB/s read with AES-NI encryption acceleration. Supporting SSD caching, tiered storage allocation, and expandability with the company's 12-bay expansion enclosure, the TS-x63XU series is for business organizations looking for a secure private cloud and efficient IT infrastructure for 10GbE networks.
TS-1263XU-RP NAS front and rear


"Besides performance and scale-up architecture, the 10GbE-ready TS-x63XU NAS series is packed with abundant business applications and reliable system operations to fully back business needs in storage, DR, and virtualization," said Jason Hsu, product manager, Qnap.
Optimized for virtualization environments, the TS-x63XU series supports VMware, Citrix, Hyper-V and Windows Server 2016, and can also natively host VMs (Windows, Linux, Unix and Android) and LXC and Docker containers. The intelligent QTS OS delivers a comprehensive solution for storage, backup, sharing, and central management. Snapshot (block-based) support is also provided to help users restore the NAS to a previously-recorded state, providing a solution for mitigating the effects of unexpected NAS failure or ransomware attack.
The storage capacity of the TS-x63XU series can be expanded on demand by attaching a the company's expansion enclosure (UX-1200U-RP and UX-800U-RP). The firm's VJBOD (Virtual JBOD) solution also allows users to expand the capacity of TS-x63XU models by using the unused storage capacity of other company's NAS.
Users can increase the potential applications of the NAS with the various apps available from the QTS App Center. Qsync enables file sync across devices to boost team collaboration; QRM+ simplifies central management of Windows, Linux, and IPMI devices and facilitates easy troubleshooting; Qfiling automates file organization without needing any extra effort or time; and QIoT Suite Lite is a hands-on IoT development app, allowing organizations to acquire a private cloud combining storage and IoT applications. Users can also build a budget-friendly professional surveillance system with the TS-x63XU by using the QVR Pro.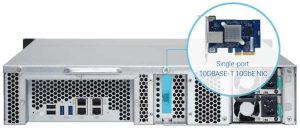 Key specs:
Redundant power supply:
Single power supply:
AMD embedded G-Series GX-420MC quad-core 2.0GHz processor, with AES-NI encryption engine, dual channel 4GB DDR3LSO-DIMM RAM (upgradable to 16GB), hot-swappable 2.5"/3.5" 6Gb SATA HDD/SSS,; one 10GBASE-T RJ-45 LAN port, four Gigabit LAN ports, two USB 3.0 ports; two USB 2.0 ports (TS-463XU-RP/TS-463XU provides 3x USB 2.0 ports)
The TS-x63XU series NAS is available.