Qnap: Secure Networking With pfSense for NAS
Following collaboration with Netgate
This is a Press Release edited by StorageNewsletter.com on 2018.06.12
Qnap Systems, Inc. has collaborated with Netgate, provider of open-source firewalls and security gateways, to announce a joint solution of implementing pfSense software on the company's NAS for ecure networking.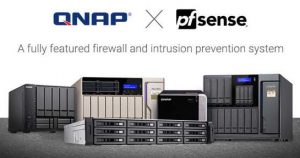 pfSense software is a free, open source customized distribution of FreeBSD that delivers performance secure networking firewall, router and VPN solutions. It provides security options that help safeguard the NAS in a network environment, and enables fast and internal firewall deployment to secure NAS-based business applications and data from damage or theft.
"We are excited to offer pfSense secure networking capabilities for Qnap NAS users," said Jamie Thompson, CEO, Netgate. "The Qnap NAS solution equipped with Virtualization Station is really a data center in a box. Anything with that much application and data concentration should have strong security for business assurance V which makes pfSense a perfect fit for all Qnap NAS users."
"The robust, feature-packed Qnap NAS is the ideal system for operating pfSense and taking network security to the next level," said Meiji Chang, GM, Qnap, adding "Organizations can leverage the Qnap and pfSense joint solution to build a fully-featured intrusion prevention system for their mission-critical data and IT operations."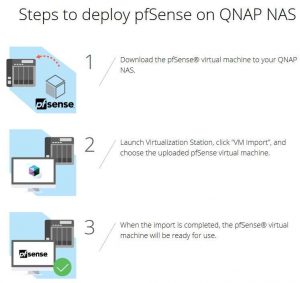 Organizations can import the pfSense VM into a company's NAS using Virtualization Station, a full virtualization solution for x86-based platforms with virtualization extensions (Intel VT or AMD-V).
Resources:
QNAP x pfSense A fully featured firewall and intrusion prevention system
Tutorial: Installing pfSense on a QNAP NAS