2TB VaultDisk Removable SSD for Laptops From Digistor
Including Dell OptiPlex SFF tower models (3060/5060/7040/7050/7060/XE3) and Precision Workstation laptops (7510/7520, 7710/7720, and 3520/3530)
This is a Press Release edited by StorageNewsletter.com on 2018.06.12
Digistor announced the release of the 2TB VaultDisk capacity removable SSD for laptop systems.
VaultDisk drive for Dell Precision 7520/7720/3520 workstation laptops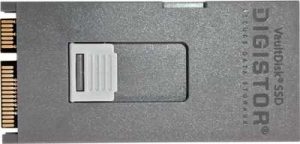 Bringing the 2TB ValutDisk to market, the company doubles the maximum capacity of both the removable SSD for laptops and removable SSD for small form factor (SFF) computers.
For administrators required to switch in and out of multiple networks and security clearance levels, VaultDisk provides a game changing solution. Utilizing the latest 3D NAND chips to double the capacity of previously removable SSDs, VaultDisk offers the same benefits of their previous models, but now with a capacity increase. It can be utilized in a variety of Dell Technologies, Inc. workstations, including the OptiPlex SFF tower models (3060/5060/7040/7050/7060/XE3) and Precision Workstation laptops (7510/7520, 7710/7720, and 3520/3530). Now that the firm has increased the maximum capacity of these storage solutions to 2TB, administrators can boot faster and store more data.
The size and removability of VaultDisk offers benefits to systems administrators. This next generation solution enables admins to traverse networks with varying levels of security clearance, move between OSs, and to remove and clone drives when a device must leave the premises. VaultDisk enables organizations to maximize software licenses internally. It allows users to carry out all these actions painlessly. Instead of taking minutes with a screwdriver to remove drives, exposing the inner workings to dust and debris, it takes meres, utilizing a sturdy drive bay that prevents the device from being exposed to contaminants. The flexibility, ease, and most of all, speed of interchanging ValutDisk drives is unparalleled in the market.
"By doubling the capacity of our VaultDisk SSD solution, our customers are now enabled to clone and encrypt a massive amount of data and to transport it very easily," says Murray Ellis, VP, engineering, Digistor. "Coupled with the fact that these drives come in a variety of distinguishing colors, these tools are incredibly useful in the federal space and other industries where keeping large amounts of data secure is paramount."
Read also:
Digistor VaultDisk Removable SATA SSD for Dell Workstations and Desktops
Compatible with 2.5-inch standard in smaller, sleeker form factor
2018.03.23 | Press Release
Color Identifiable VaultDisk Removable Solid State SATA Drives From Digistor
256, 512GB, 1 and 2TB for Dell workstation and laptops
2018.03.23 | Press Release