Top 25 Cloud Backup Enablers List for June 2018 – Backup Review
Top ones: Asigra, Veeam, Rubrik, DataDepositBox, Novastor
This is a Press Release edited by StorageNewsletter.com on June 5, 2018 at 2:10 pm
The growth of the cloud backup industry, over the last decade has been dramatic, according to Backup Review. The market has witnessed the rise and fall of many start-ups and stabilization of others. Interestingly, the companies that have gained a strong foothold in the industry are not all similar.
There is a subtle distinction in the nature and types of services they offer. Some of these companies are pure enablers, while others combine enablement functions with direct-to-market services. Yet others, may license the software from enablers with or without re-branding options and service the cloud backup service needs of their clients.
Five distinct categories can be identified as under:
1/ Pure Enabler
2/ Enabler and Service Provider – Channel or Direct
3/ Service Provider – Channel Only
4/ Service Provider – Channel and Direct
5/ Service Provider – Direct Only
Based on a number of factors, such as technology, features, easy of use, dedication to MSPs, channel, revenue structure, reputation, support, price entry point, value, and corporate culture of the companies, we have summarized our rankings.
Top Online Cloud Backup Enablers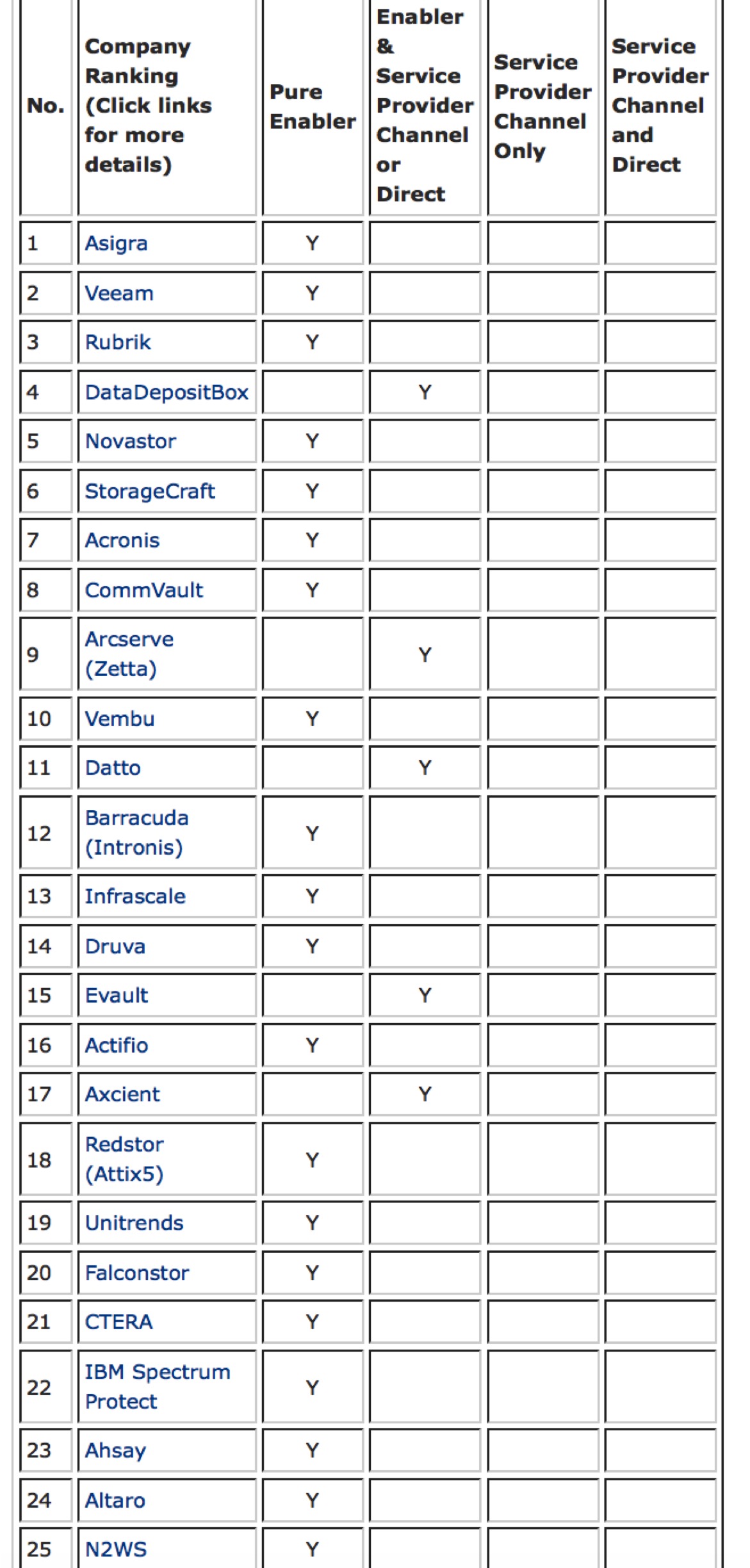 These companies are listed in three columns – Consumer, SMBs and Enterprises.
I. Pure Enablers: These are companies that develop and own the online backup software. They license the product to their MSP partners. The MSPs can re-brand the product and sell services under their own banner and brand and are supported by the enabling company for deployment of the software. Pure enablers do not provide any cloud backup services themselves and do not own/host any vaults. No channel conflict. These companies may also partner with distributors and resellers for distribution or sale of licenses.
II. Enablers & Service Providers – Channel or Direct: These are companies who go direct-to-market with online backup services using software developed and owned by them or licensed from other enablers. If they own the software or have the distribution rights for the software they may license the software to their MSP partners for extending the reach of the market. MSPs can only act as channels for the Enabler or use the software (without branding) for providing services to their clients.
III. Service Providers – Channel Only: These are companies who go direct-to-market with online backup services using software developed and owned by them or licensed from other enablers. They may own/host their vaults, but go-to-market only through their wholesale resellers. If they own the software or have the distribution rights for the software, they may license the software to their MSP partners for extending the reach of the market. MSPs can only act as channels for the Enabler or use the software (without branding) for providing services to their clients. They do not sell cloud backup services directly to end-user customers. No channel conflict.
IV. Service Provider – Channel and Direct: These are companies who go direct-to-market with online backup services using software developed and owned by them or licensed from other enablers. These companies license software from enablers, and own/host their vaults, but go-to-market both directly to end-user customers and through their wholesale resellers. If they own the software or have the distribution rights for the software they may license the software to their MSP partners for extending the reach of the market. MSPs can only act as channels for the Enabler or use the software (without branding) for providing services to their clients. Potential for channel conflict.
V. Service Providers – Direct Only: These are companies who develop and own their own software or license it from an enabler and own/host their vaults, but go-to-market directly to end-user customers. for providing online backup services to their clients. They do not sell cloud backup services via resellers. No channel conflict.
Below are enablers' ranking profiles:
1. Asigra – Based in Toronto, Canada, it describes itself as a company that is devoted to furthering Cloud Backup, Recovery and Restore (BURR) by offering its cloud solutions entirely through its partner ecosystem. The company prides itself on its role as a cloud service enabler and focuses all its energies on architecting a cloud solution that is agentless; differentiated with a robust backup and recovery engine and a capacity based pricing model. With over thirty years of experience and 1,000,000 deployments globally, Asigra is distinguished by its innovation and efforts at educating the data protection marketplace and driving the demand for best-of-the-breed cloud-based services. The company assumes a non conflicting role and believes in creatively nurturing its Partner ecosystem by providing its partners with value beyond the software. Asigra is committed to providing its partners with effective marketing and sales tools to help them scale their cloud backup business and position themselves as leaders within the market. With an aggressive Partner Program, Asigra partners are able to deploy cost-effective public, hybrid and private cloud solutions to consumers, SMBs and enterprises worldwide. Service Providers Powered by Asigra, including Terremark (a Verizon company), NTT America, Centre Technologies, Highstreet IT Solutions, INFINIT Consulting, Pulsant and Backup Technology, are actively helping define standards for the industry. David Farajun, the CEO of the company does not hesitate to declare that Asigra's success is defined by the success of its partners.
2. Veeam – Founded in 2006, it currently has 51,000+ ProPartners and 267,500+ customers with the highest customer satisfaction scores in the industry. It is headquartered in Baar, Switzerland, with has offices in more than 30 countries. Veeam recognizes the new challenges companies across the globe face in enabling the Always-On Enterprise, a business that must operate 24.7.365. To address this, Veeam has pioneered a new market of Availability for the Always-On Enterprise by helping organizations meet recovery time and point objectives (RTPO) of less than 15 minutes for all applications and data, through a fundamentally new kind of solution that delivers high-speed recovery, data loss avoidance, verified recoverability, leveraged data and complete visibility. Veeam Availability Suite, which includes Veeam Backup & Replication, leverages virtualization, storage, and cloud technologies that enable the modern data center to help organizations save time, mitigate risks, and dramatically reduce capital and operational costs, while always supporting the current and future business goals of Veeam customers.
3. DataDepositBox – Its partner programs enable more than 1,000 MSPs, and OEMs offer branded online backup and recovery services to more than 200,000 customers across sectors with a minimum monthly commitment or on an agreed commission basis. An integrated remote desktop feature of the software links mobile workers and remote offices with the service provider's data center and creates the necessary mesh for effective anywhere, anytime, business operations. Partners can set up the entire system in a few hours. The powered by label on the partner website defines the source of the SaaS software engine that keeps the system running. The account management web portal is template based and can be customized by the partner to their taste. The GUI facilitates personalization and management of APIs with carrier class scalability and reliability. The authorized reseller has full access to all the knowledge resources of the parent company, including marketing and sales strategies. Partners can use the logo and trademark; marketing collateral materials; online banners and email marketing templates to position themselves effectively in their chosen market.
4. Rubrik – Launched in 2014 and headquartered in Palo Alto, CA, it is one of the latest companies to enter the data protection space. It has developed the world's first Cloud Data Management platform for data protection, search, analytics, archival and copy data management for hybrid cloud enterprises. With its motto to "simplify how businesses around the world keep and use their data", Rubrik builds beautifully simple products for businesses to meet their most challenging data management needs. Rubrik blends expertise from both consumer and enterprise worlds to pioneer a fresh approach to an old problem. It combines traditional backup with the ability to recover, manage, and secure data across public and private clouds. In its short existence, the firm has spread its wings in 5 continents and grown into a 600 employee corporation, and now has $150 million run-rate in bookings in just 8 quarters of selling, and signed 500+ channel partners across the globe. It has received numerous industry awards including: #7 on LinkedIn's Top Companies | Start-Ups 2017 list, Gartner Visionary in 2017 Magic Quadrant for Data Center Backup and Recovery Solutions, Gartner Cool Vendor, Forbes Cloud 100, Forbes Next Billion Dollar Companies, Business Insider's 51 Enterprise start-ups to Bet Your Career On, InformationWeek Top 25 Vendors to Watch, CFO.com Top 20 Companies to Watch, Best of VMworld, and CRN Emerging Vendors, among others. Fortune 500 companies use Rubrik to manage data at scale while realizing data-driven services anytime, anywhere. "All Your Apps. Instantly Available."
5. NovaStor – The global company with offices in Switzerland, Germany and the U.S., markets its award-winning, cloud, SMB and enterprise backup and recovery products through MSPs, VARs, OEMs and system retailers. It guarantees its partners, cloud, MSP, SMB and enterprise customers personal account management, enticing discounts, extensive tailor-made product training, efficient lead generation, practical support for marketing and 24-7 local technical support. Further, it provides these enterprise, cloud and MSP partners and customers with unlimited access to support forums, information portals and a variety of workshops, webinars and training sessions to promote the commercial interests of their partners. Partners and MSPs who sign up with NovaStor can expect to have the company's full attention and support in building long-term, solid business relationships that are founded on transparency, simplicity and personal interaction. NovaStor proudly asserts on its website that its partner program constructs with all components required to to build successful companies that can capitalize on growth markets and create wealth for all stakeholders. The programs are designed to ensure that NovaStor and its partners, some of which include HP, General Mills, and Tieto, go to market with complete confidence that they will be successful together. 
6. StorageCraft – Utah-based firm predominantly operates through its channel partners (VARs and MSPs), but also sells its cloud-based storage services directly to the customer; supporting its partners in increasing the reach of the business; sharing success while acknowledging that the success of its partners is indeed a benchmark for its own success. Partners signing up for the reseller, MSP or OEM programs, will find that this company is focused on providing innovative ways of ensuring the growth of their partner's business-be it hand holding them through the set up phase or guiding them through the development and growth phases. The different flavors of the ShadowProtect software that are being marketed by StorageCraft, have won several industry awards for its fast and accurate backup, reliable DR, secure data protection and is considered the gold standard for system migration for Windows Desktops and servers. The products have the proven capacity to lower costs; reduce downtime; improve security; ensure stability and integrate the remote and mobile systems with the enterprise network. 
7. Acronis – Headquartered in Burlington, MA and founded in 2002, it's a truly global provider of leading backup, DR, and secure file sharing and file access solutions. The company is a fast-growing international company with over 700 employees and over 900 partners in more than 145 countries worldwide. Acronis boasts well over 5,000,000 individual customers and over 500,000 business customers from various industries and has more than 50 patents under its name. Acronis' award winning customer support centers offer 24/7 assistance to its customers worldwide. Acronis can help you securely migrate, protect and recover critical data wherever it resides in your physical, virtual or cloud environments. With a Unified Platform and new generation technology, its innovative solutions are designed to ease the management burden and reduce TCO, while improving your RTOs. Acronis provides complete, efficient, and reliable backup solutions for desktop, server, virtual, and cloud environments, as well as leading file sharing and sync solutions for mobile devices.
8. Commvault – Itt is a leading provider of data protection and information management solutions. A Gartner Leader in Data Center Backup and Recovery market for the sixth consecutive year, Commvault helps companies worldwide activate their data to drive more value and business insight and to transform modern data environments. With solutions and services delivered directly and through a worldwide network of partners and service providers, its solutions comprise one of the portfolios in data protection and recovery, cloud, virtualisation, archive, file sync and share. Commvault has earned accolades from customers and third party influencers for its technology vision, innovation, and execution as an independent and trusted expert. Without the distraction of a hardware business or other business agenda, Commvault's sole focus on data management has led to adoption by companies of all sizes, in all industries, and for solutions deployed on premise, across mobile platforms, to and from the cloud, and provided as-a-service. 
9. Arcserve (Zetta) – The company is a leading provider of data protection and recovery solutions, giving organizations the assurance that they can recover their data and applications when needed. Launched in 1990, Arcserve now provides a comprehensive solution for cloud, virtual and physical environments, on premise or in the cloud. Once synonymous with legendary tape backup software, Arcserve has since been hard at work reinventing the industry. After 18 years under the CA Technologies umbrella, the firm struck out on its own as an independent, private data protection company. Understanding the importance of being nimble, Arcserve built out a portfolio of data protection technologies with an eye toward flexibility, scalability, and ease-of-use. The company was first to market with a unified data protection solution that offers comprehensive features and functionality, including industry-proven backup, replication, HA, and true global deduplication-all managed from a single pane of glass. Arcserve Unified Data Protection (UDP) was launched first as a software, then as a physical appliance, and now in the cloud. Backed by unsurpassed support and expertise, Arcserve's award-winning backup and recovery solutions are used by 45,000 end users in more than 150 countries, and distributed by over 7,500 distributors, resellers and service providers around the world. Arcserve is headquartered in Minneapolis, Minnesota with offices around the world. In 2017, Arcserve acquired Zetta, a leading company in the space that provides an enterprise-grade 3-in-1 backup, DR and archiving technology for small/medium enterprises, MSPs, VARs, and system integrators. Zetta, features local, offsite, archiving and DR functionality integrated into a single solution. Zetta's Smart Cloud, which integrates the functionality of backup, snapshot and replication technology, abolishes the need for a local appliance.
10. Vembu – It is not a direct-to-customer sales company. This, Chennai, India-based company, takes its place in the cloud backup and recovery marketplace as a cost effective, hybrid data protection product developer, catering to the needs of SMBs, through the agency of its partners. With over 2000 MSPs, VARs, resellers and distributors registered and marketing its product – StoreGrid – the company categorizes as a cloud enabler-a service provider's service provider. Vembu's award winning software StoreGrid is built around a simple, pay as you go licensing model that integrates business automation and RMM platforms; supports backup of Disk Image, MS SQL, MS Exchange, MS Sharepoint, MySQL, VMWare and Oracle and the interfaces are completely customizable and brandable. The company nurtures its partners by constantly interacting with them at webinars and conferences and providing them with a range of marketing strategy tools. The company's dynamic and interactive website provides partners and their customers with access to support forums, how-to videos, knowledge bases, FAQs and other systems.
11. Datto – Datto Inc. is an award-winning global vendor of backup, DR (BDR) and intelligent BC (IBC) solutions, providing best-in-class technology and support to its 5,000+ channel partners throughout North America and Europe. It is the only hybrid-cloud BDR/IBC vendor that provides instant on- and off-site virtualization, and screenshot backup verification, achieved through its Inverse Chain Technology. Catering to the specific needs of the SMB market, the Datto product line is comprised of three families; Datto SIRIS 2 (SIRIS 2 Business, SIRIS 2 Professional, SIRIS 2 Enterprise), Datto ALTO 2 (ALTO 2, ALTO XL, ALTO XL Professional), and Datto NAS. Datto partners with the best technology providers in the industry to deliver the most robust and seamless BDR and BC solutions available, including: AutoTask, ConnectWise, Kaseya, Level Platforms, Servoyant and StorageCraft. Founded in 2007 by Austin McChord, Datto is privately held.
12. Barracuda – The company simplifies IT with cloud-enabled solutions that empower customers to protect their networks, applications, and data, regardless of where they reside. These powerful, easy-to-use and affordable solutions are trusted by more than 150,000 organizations worldwide and are delivered in appliance, virtual appliance, cloud and hybrid deployments. Barracuda's customer-centric business model focuses on delivering high-value, subscription-based IT solutions that provide end-to-end network and data security. Barracuda's data protection business includes Barracuda Backup, a solution designed for the cloud that provides the flexibility to easily backup data wherever it resides – on premises or in the cloud – and replicate data to a secure cloud or to a private location. Barracuda Backup can be deployed as a purpose-built backup appliance, in virtual environments, or for cloud-to-cloud backup. Barracuda Backup physical appliance combines software, local storage and offside replication in a single package. Barracuda Backup Vx is a software solution for virtual environments that leverages existing compute and storage infrastructures. Barracuda Cloud-to-Cloud Backup replicates data from supported cloud environments into Barracuda's Cloud Storage.
13. Infrascale – It is a parent company of SOS Online Backup, a leading provider of cloud backup, recovery and archiving solutions for businesses and consumers, supporting more than 50,000 small businesses and individuals around the world. Infrascale provides the most powerful DR and cloud backup solutions in the world, and is recognized as a 2017 Gartner Leader for DR as a Service. Founded in 2011, the company aims to give every organization the ability to recover from a disaster – quickly, easily and affordably. Combining intelligent software with the power of the cloud, Infrascale cracks the DR cost barrier by removing the complexity and cost of standby infrastructure to restore operations in minutes with a push of a button. Infrascale equips businesses with the confidence to handle the unexpected by providing less downtime, greater security, and always-on availability.
14. Druva – The company is the global leader in cloud data protection and management, delivering the industry's first data management-as-a-service solution that aggregates data from endpoints, servers and cloud applications and leverages the public cloud to offer a single pane of glass to enable data protection, governance and intelligence – dramatically increasing the availability and visibility of business critical information, while reducing the risk, cost and complexity of managing and protecting it. Druva's award-winning solutions intelligently collect data, and unify backup, DR, archival and governance capabilities onto a single, optimized data set. As the industry's fastest growing data protection provider, Druva is trusted by over 4,000 global organizations, and protects over 40PB of data.
15. EVault – The firm ends controversies surrounding on-premise and cloud-connected storage services. This San Francisco, CA-based company has leveraged its two decade long experience in cloud computing, in creating a hybrid solution that connects the on-premise data stores to the offsite, remote storage cloud. The company takes pride in declaring that their software never backs down. Always backs you up. MSPs, data centers, telecommunication carriers, application providers and a host of technology providers, partner with EVault to reach out to customers and deliver hybrid cloud storage solutions that are brand able, scalable, secure and reliable. The overarching company policy dictates that the company's executives find ways and means of reducing their carbon footprint and contribute to the creation of environmentally friendly software. Consequently, the architecture design systematically reduces overuse of hardware or energy and minimizes system activities. EVault can be purchased as a license or a service or both and partners can enjoy access to a wealth of partner resources and unfailing technical support in hybrid cloud deployments.
16. Actifio – It is the world's leading data-as-a-service platform. It enables thousands of users around the world to deliver their data just as they deliver their applications and infrastructure as a service available instantly, anywhere. An enterprise software platform powered by patented Virtual Data Pipeline technology, Actifio frees data from traditional infrastructure to accelerate adoption of hybrid cloud, build higher quality applications faster, and improve business resiliency and availability. Actifio comes with rapid incremental forever backup and scalable instant recovery for database, NAS and file workloads in VMs, physical machines, and the Cloud; and a high-performance, scalable database cloning and instant recovery solution that is purpose-built for Oracle, MS SQL and ERP applications. Enterprise customers use Actifio to build higher quality applications faster by making high fidelity test data instantly available to authorized developers, to improve business resiliency and availability by rendering traditional backup and DR point tools obsolete, and to accelerate adoption of hybrid cloud architectures in service to those and many other enterprise use cases. Actifio captures data at a block level in native format, according to customized SLA, allowing to manage a physical copy, moved once and stored anywhere. Actifio uses unlimited virtual copies for instant access and protection, reducing business risk by minimizing application downtime, drastically reducing backup windows, and delivering lower RTOs and RPOs, for any size dataset across a variety of enterprise applications. Actifio delivers maximum advantage with lower TCO by reducing license, infrastructure, and operational costs, and by eliminating multiple point tools, data sprawl and manual processes. Actifio is Agile, Resilient, Independent, Secure and Scalable.
17. Axcient – The company (founded in 2006 at Mountain View, CA), is a privately-held company backed by Allegis Capital, Peninsula Ventures and Thomvest. The company provides cloud services through a network of MSPs, distributors and resellers. A dedicated management team is geared to develop its partner programs and provide continuous support with a variety of training options and co-marketing choices. Certification of at least one member of the staff as Axcient Support Technician is a precondition to partnership. The company does not encourage development or modification of Axcient's appliances or request for phone based trainings. The frictionless partnership philosophy is extended to partner relations and indirectly to customer relations. The Axcient platform combines ease of use with unprecedented uptime guarantees to the small and medium business segment. Users can expect to enjoy cost savings with pay as you go service features, zero investment in infrastructure, license or software expenditures. The service integrates the best elements of on-premise data protection and online DR services to ensure customer satisfaction. 
18. Redstor (Attix5) – Founded in the UK in 1998, and headquartered in Reading, UK, Redstor is a well-respected and trusted global provider of cloud backup and DR software and services. Redstor is a fast growing, international, data management software as a service (SaaS) business. In the fall of 2015, Redstor acquired Attix5, a South African-based cloud backup enabling company. For almost two decades, it has been the Data Management & Security company of choice for businesses and organisations looking for a trusted advisor to manage and secure their data. Redstor's focus is on partner-enabled cloud backup as a service (BAAS), delivering these services either through its own storage platforms around the world, or by supplying its Backup Pro software to power its partners' own service platforms. Redstor-powered services are currently available through hundreds of partners worldwide. As an ISO 27001 and ISO 9001 certified organisation, Redstor combines technical excellence with proven processes to deliver innovative, flexible and secure cloud services that reduce risks and cost to end users. The platform currently addresses Backup, DR and archiving and its journey is towards incorporating security, access and insight, all managed and controlled from one place. Restor gives its customers control over their most valuable asset – their data – wherever, whenever, all from a single console.
19. Unitrends – Headquartered in Burlington, MA, the firm increases uptime, productivity and confidence in a world in which IT professionals must do more with less. Unitrends leverages HA hardware and software engineering, cloud economics, enterprise power with consumer-grade design, and customer-obsessed support to natively provide all-in-one enterprise backup and continuity. The result is a "one throat to choke" set of offerings that allow customers to focus on their business rather than backup. The company eliminates backup complexity and stress with all-in-one enterprise backup and continuity. Unitrends provides simpler, better, and smarter IT solutions, allowing you to get more free time with all-in-one backup appliances powered by simplicity. Its solutions are pre-integrated and optimized with high-speed performance, deduplication, and predictive analytics needed to protect diverse environments. Built-in ransomware detection and SLA Policy Automation save time and deliver complete confidence in recovery.
20. FalconStor – Headquartered in Melville, NY, FalconStor Software, Inc. is a publicly-traded company on the OTC. It is a leading storage software company offering a converged data services software platform that is hardware agnostic. Its open, integrated flagship solution FreeStor reduces vendor lock-in and gives enterprises the freedom to choose the applications and hardware components that make the best sense for their business. It empowers organizations to modernize their data center with the right performance, in the right location, all while protecting existing investments. FalconStor's mission is to maximize data availability and system uptime to ensure nonstop business productivity while simplifying data management to reduce operational costs. Its award-winning solutions are available and supported worldwide by OEMs as well as leading service providers, system integrators, resellers and FalconStor. The company is headquartered in Melville, NY with offices throughout Europe and the AsiaPac region.
21. CTERA Networks – The company revolutionizes storage and data protection for SMBs and branch offices with Cloud Attached Storage, a hybrid solution that combines secure cloud storage services with on-premises storage appliances for a seamless user experience. Current solutions for storage and data protection – such as file servers and backup tape drives – are unnecessarily expensive and disparate. Since SMBs and branch offices are in short supply of IT staff and data management practices are often non-existent, there is a real need for a cost-effective, all-in-one solution for centralized storage and secure off-site data protection. Cloud Attached Storage is the answer to the storage and data protection woes of SMBs and ROBOs. Integrating reliable cloud storage with appliances that are integrated cloud storage gateways and NAS devices, it provides much needed reliability and storage flexibility, bundled as an easy-to-use, remotely managed storage service. CTERA has designed its technology to cater to the needs of service providers, and is partnering with leading cloud service providers, MSPs and resellers to deliver managed storage, hybrid local/off-site backup and file sharing services to their customers. CTERA Networks is privately-held and backed by Benchmark Capital. 
22. IBM Spectrum Protect – A solution by IBM, IBM Spectrum Protect (ISP) can simplify data protection where data is hosted in physical, virtual, software-defined or cloud environments. With ISP, you can choose the right software to manage and protect your data, while also simplifying backup administration, improving efficiencies, delivering scalable capacity and enabling advanced capabilities. ISP provides a single data protection platform and simplified administration for virtual and physical machines, using snapshots and backups. It is easy to use, provides policy-based multi-site replication, and flexible restore capabilities, allowing companies to scale and adapt quickly to changing business needs, without compromising security, privacy. It scales quickly and reduces backup infrastructure costs by more than half. ISP also feature: automated deployment steps, built-in cloud integration, scalable performance, multi-site replication, optimized data protection, reduced backup infrastructure costs, and virtualized, software-defined infrastructures.
23. Ahsay – Based in Hong Kong, it is one of the pioneering companies in the industry, having developed online backup software in 1999. Ahsay Backup Software Development Company Limited has been listed on the GEM Board of The Stock Exchange of Hong Kong Limited since October 8, 2015. Ahsay, as an online backup software developer, is mainly engaged in (i) software license sales, (ii) software license leasing, (iii) software upgrades and maintenance services, (iv) other services, and (v) sale of hardware devices. Ahsay focuses on providing its self-developed backup software products and service to customers which include IT consultants, web hosting companies, telecommunication companies and MSPs in Europe and North America. Although Ahsay is being used by thousands of resellers and end users, it prefers to keep low profile, issuing minimal press releases and avoiding the industry media. Its software comes with robust backup features, allowing service providers to offer whitelabel solutions to their end customers. Ahsay is the largest backup software provider in Hong Kong.
24. Altaro – Founded in 2009, and headquartered in Malta, it is a fast-growing developer of Altaro VM Backup, an easy to use and affordable backup and recovery solution specializing in backup for virtualized environments, built specifically for SMB businesses, with up to 50 servers, and is trusted by over 40,000 SMB businesses globally. Altaro has grown rapidly over the years with the flagship solution Altaro VM Backup, which gained traction as the natural choice for Hyper-V and VMware backups and recovery. Altaro VM Backup was born out of a need which the company faced in the early days of its start-ups. Backing up and restoring VMs was a needlessly complicated process without the use of a 3rd party tool, while existing backup solutions were expensive, still complicated to configure and use and was unreliable when restore was needed. Altaro is backed by an outstanding, personal support team, who are determined to help you succeed in protecting your environment. It provides customers with full-featured, affordable backup software that is intuitive and easy to use, well priced and most of all very secure. Altaro maintains 99% of customers satisfied, and empowers more than 7,000 partners.
25. N2WS – Headquartered in Tel Aviv, Israel, and founded in 2012, N2W Software is the leading provider of enterprise backup, recovery and DR solutions for Amazon EC2, RDS and Redshift. Its mission is to provide enterprise data protection for production environments, deployed in the public cloud. Used by hundreds of customers worldwide to backup thousands of production servers, N2W's Cloud Protection Manager (CPM) was designed and built from the ground up to meet the backup and DR requirements of the most demanding customers migrating to the public cloud. CPM is now a leading enterprise backup, recovery, and DR solution specifically optimized for Amazon's AWS EC2, RDS and Redshift infrastructure. CPM is the preferred backup solution for Fortune 500 companies, enterprise IT organizations and MSPs operating large-scale production environments in AWS. N2WS markets itself as the "#1 Backup for AWS". N2WS was acquired by Veeam in January 2018 in an all-cash deal worth $42.5 million.