Qumulo: QF2 NVMe All-Flash P-Series Solutions
Combines standard hardware and QF2 software to deliver enterprise ready and cloud integrated NVMe all-flash file storage systems
This is a Press Release edited by StorageNewsletter.com on April 9, 2018 at 2:20 pm
Qumulo, Inc. resets expectations for all-flash storage with the release of the P-series.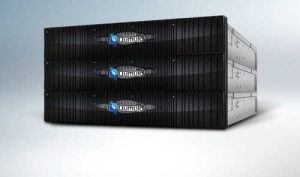 The P-series combines Qumulo File Fabric (QF2) software with hardware components, including high-speed NVMe, Intel Corp.'s Skylake SP processors, high-bandwidth Intel SSDs and the latest 100GbE networking. QF2 on the P-series outperforms proprietary all-flash hardware and marks a new era of performance on industry-standard components. The P-series delivers 16GB/s in a minimum configuration four-node system with excellent price performance.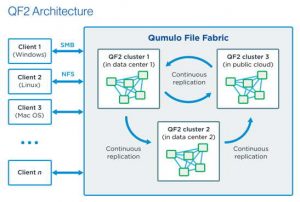 "The storage industry has been doing all-flash all wrong. By focusing scarce development resources on low-volume, proprietary hardware, all-flash storage vendors are holding customers back from benefitting from the tremendous innovation we've seen in the overall market for advanced server components," said Peter Godman, co-founder and CTO, Qumulo. "Customers end up paying more and getting less, while being locked into designs that are obsolete the day they ship. QF2 software unlocks the power of advanced hardware components to create the world's fastest and most scalable file system. The Qumulo P-series demolishes the myth that custom hardware is required for best-in-class performance by delivering up to four times the performance of proprietary all-flash appliances on a per-node basis."
Distributed software running on standard hardware is the unchallenged basis of modern low-cost, scalable computing. The company's reliance on industry-standard hardware architectures is a benefit for customers looking to maximize their all-flash investment in a world of rapid hardware innovation.
Features and benefits of QF2 on the P-series include:
Performance all-flash storage. The P-Series provides an high performance NVMe all-flash file storage solution. With throughput of 4GB/s per node, or 16GB/s for a minimum-configuration four-node cluster, QF2 NVMe all-flash is a performance file storage system. The P-Series serves the most demanding workloads, including next-generation genomic sequencing and analysis, uncompressed 4K editorial, scientific computing and large-scale data sets for machine learning applications.

NVMe flash performance without compromise. Running QF2 on the P-series delivers performance and all the advanced enterprise features QF2 is known for. These include real-time visibility and control regardless of the size of the file system, real-time capacity quotas, continuous replication, support for both SMB and NFS protocols, complete programmability with REST APIs, ultra-fast rebuild times and much more. Customers benefit from NVMe all-flash performance without compromising enterprise features.

Cloud-integrated all-flash storage. Performance workloads don't exist in isolation. File-based data that fuels them comes from many places in an organization, including from workloads in the public cloud. While flash has many benefits, defining storage based on proprietary storage appliances results in data silos. QF2, which can run on premises and in the cloud, uses continuous replication to create a data fabric that interconnects every QF2 cluster, whether it's all-flash, hybrid SSD/HDD, or running on EC2 instances in AWS.

Scalable all-flash storage. QF2 allows the  enterprise to easily represent and manage file sets numbering in the billions of files, in any operating environment, anywhere in the world.

Price/performance. The P-series shatters the price/performance barrier of legacy all-flash storage systems. Built for demanding workloads today and in the future, it will widen the performance gap over time with continuous software innovation and rapid improvements in standard hardware components and commodity economics.
"Flash storage has emerged as a critical element of the modern data center, and now NVMe technology is poised to further extend the transformative benefits of flash. Given the value of data in this increasingly digitally-defined economy, more and more unstructured workloads are demanding the performance of flash, while still requiring massive capacity scaling," said Scott Sinclair, senior analyst, Enterprise Strategy Group. "With storage infrastructure costs an ever-present burden for IT, decision makers need architectures that optimize the critical price-performance ratio of infrastructure while also providing the flexibility to integrate with the public cloud. Qumulo continues to lend innovation to organizations looking to transform their data centers, offering performance, scale, and flexibility as more industries move to a digitally-defined future."
The Qumulo P-series is available in 23 and 92TB node sizes. At least four nodes are required for a QF2 cluster.
Click to enlarge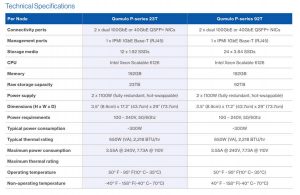 Resources:
QF2
Try QF2
QF2 on AWS
Qumulo Blog