Veritas Flex and Access Appliances With Multi-Cloud Flexibility and Data Protection
For protecting critical healthcare data and enterprise business information
This is a Press Release edited by StorageNewsletter.com on 2018.03.13
Veritas Technologies LLC unveiled two technology appliances enabling a software-defined storage approach to data management and cost-effective storage from on-premises to the multi-cloud for the backup and recovery of data-including protected healthcare data and life-saving information.
Flex screen
Click to enlarge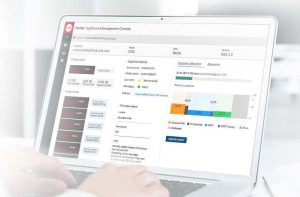 In an easy-to-consume form factor, the Flex appliance and Access appliance are data management solutions that enable the quick deployment of infrastructure that consolidates multiple data protection offerings, reducing complexity and costs.
Improving patient care while protecting patient data
By 2020, medical data is projected to double every 73 days, (1) according to IDC. The nature of this data heightens the risks and challenges that medical providers face as they digitize their business. Healthcare data needs to be accessed quickly and easily, with a keen eye towards integration into the multi-cloud, a platform increasingly important in this industry. Achieving patient outcomes and meeting regulatory compliance means ensuring that medical data is backed up and recoverable at all times to avoid patient care impact.
Today, healthcare entities are required under the Health Insurance Portability and Accountability Act (HIPAA) to protect data in all of its forms, due to increased cyber breaches that can initiate from both inside and outside of a medical facility. However, organizations such as financial institutions, insurance companies, government agencies, retailers and service providers are also at risk. The new appliances address data protection for each of these industries.
Access screen
Click to enlarge

Information-defined, on-demand appliances that provide increased flexibility
The Flex and Access appliances are in a new technology form factor from the company that enables information-defined data management. This allows for end-to-end data management capabilities, empowering organizations to address data protection, long-term retention and archiving that extends from the data center to the cloud.
Click to enlarge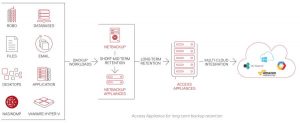 Additionally, the appliances provide customers with flexibility, and are designed with a software-defined approach, where the data management software is decoupled from the underlying hardware.
"Data is the life-blood of our organization and the need for backup and recovery, as well as long-term retention, is important for maintaining governance and achieving positive medical outcomes," said Anthony Galletta, director, storage and Wintel, Mount Sinai Health System. "This new infrastructure platform will allow us to deploy a solid, tested, optimized and fully-supported solution that can be implemented quickly, with underlying hardware that is capable of being independently upgraded in the future. This makes for an optimal environment to ensure patient data is protected and helps us meet digital compliance."
Delivering data protection in single, integrated, container-based solution with Flex appliance
The Flex appliance, using container technology, consolidates multiple data management deployments on a single, resilient, scalable and integrated appliance. It becomes the first information-defined appliance from the firm that provides dynamic data management micro services, an approach to application deployment for organizations needing to quickly respond to changing environments.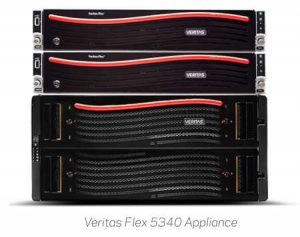 Flex appliance is suited to simplify data protection infrastructure and services deployments, allowing customers to:
Easily add or reconfigure data protection applications as business challenges change and run multiple deployments of those applications with a container-approach, to help reduce infrastructure complexity.

Reduce deployment from days to minutes with on-demand data protection services to response to the rapidly changing requirements of IT in healthcare and other industries, such as telecommunications, retail, manufacturing or banking.

Simplify tiering to on-premises, public, hybrid or multi-clouds to increase data protection and reduce costs.
Click to enlarge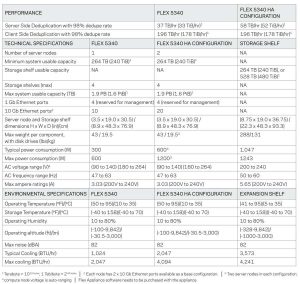 Improving long-term data retention, archiving and cost-effective storage
with Access appliance
The Access appliance allows organizations to replace long-term retention media, such as tape storage, in a pre-tested and pre-configured, cost-effective form factor. It integrates Access Software-Defined Storage into a cost-and capacity-optimized appliance for securely storing data.
Click to enlarge

This is important to healthcare organizations to ensure medical data is cost-effectively backed up and retrievable. It also helps protect patient data in response to long-term data retention mandates, such as the General Data Protection Regulation and HIPAA.
Access appliance offers following customer benefits:
Faster deployment for Access scale-out NAS and the ability to enable managed Infrastructure-as-a-Service (IaaS).

A cost-optimized solution for high-capacity workloads, providing long-term retention, tape replacement and backup archiving.

Improved policy-based tiering of information to the cloud to increase protection and reduce costs.
Click to enlarge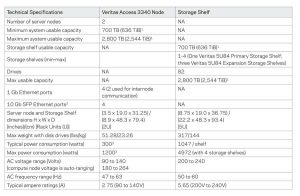 "Today, Veritas is introducing technology that we believe is the future of an on-demand data management infrastructure," said Mike Palmer, EVP and chief product officer, Veritas. "As the cloud continues to play a major role for enterprises and healthcare organizations, it is paramount that our customers ensure that data stored in one or more clouds is protected, easily accessible and actionable-particularly in healthcare, when life is on the line, and there is little margin for error. These new appliances from Veritas are a major step in helping to manage and optimize that critical data."
The Access appliance is available from the company and its channel partners. The Flex appliance will be available in the coming quarter.
(1) Source: IDC, The Digital Mission in Healthcare: Value-Based Care, DR2017_T6_LD, February 2017