SANCLuster in Germany Revealing InfinityScale Storage
Scalable system from hundreds of terabytes to petabytes for high concurrency computing and big data
This is a Press Release edited by StorageNewsletter.com on March 7, 2018 at 2:48 pm
SANCLuster GmbH, provider of high performance storage subsystems, announced InfinityScale Storage, a scalable storage system intended for high concurrency computing and big data applications.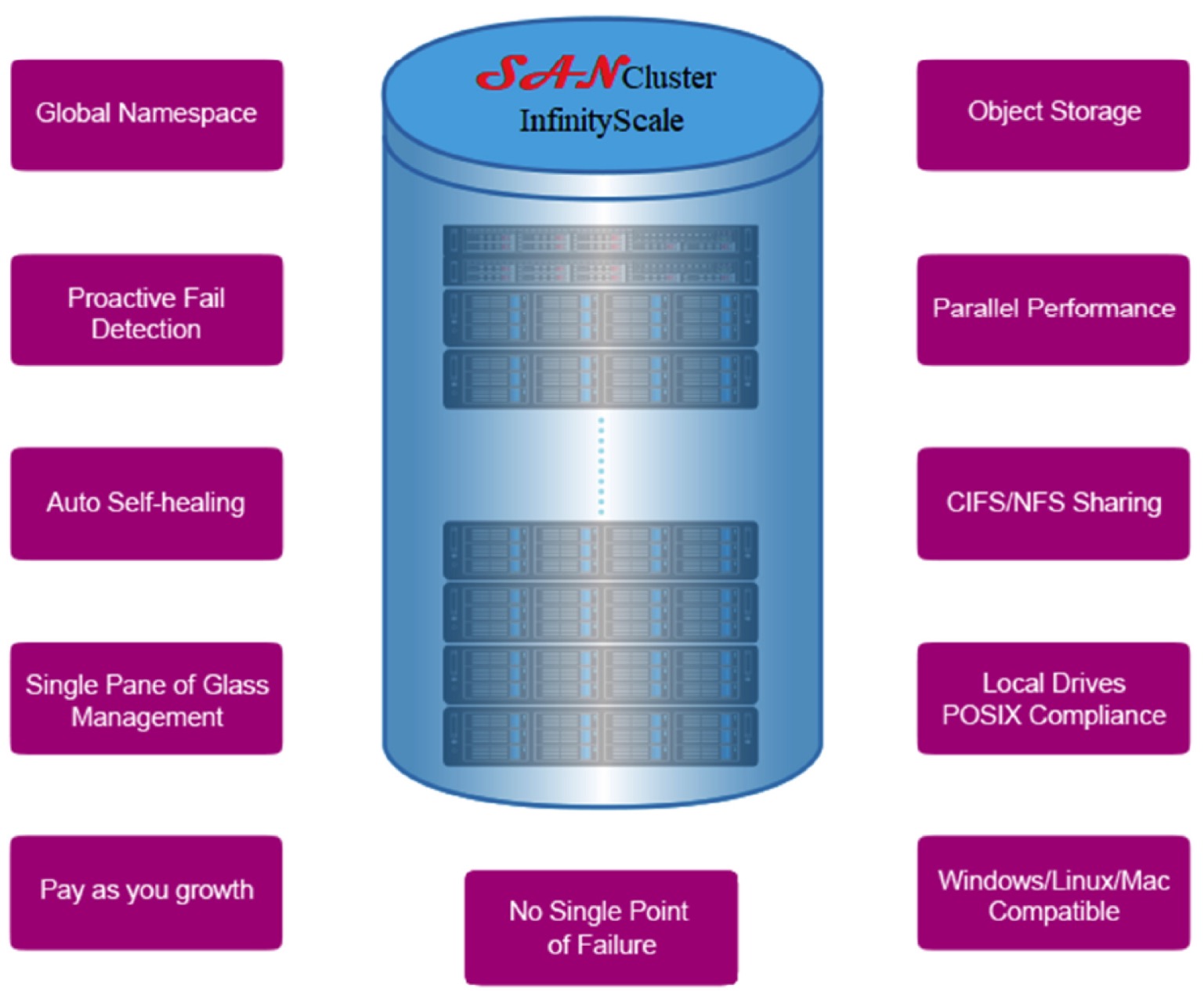 InfinityScale Storage's unlimited scalability and HA architecture allows businesses to scale out in capacity and performance in single panes of glass management interface from hundreds terabytes to hundreds of petabytes.
Based on object based structures, it provides unstructured data and big data a solution to fit a business' demand of flexible yet high performance storage.
It is suitable for industries including oil and energy, media editing, HPC/ supercomputing, online cloud storage industries, backup and archiving services, virtual environments.
Recent studies show that data is to exceed 40ZB in the coming years. More than 70% of all data is unstructured, making traditional storage technologies no longer feasible solutions.
InfinityScale scale out storage system is designed to fulfill this growing need: a storage systems that scales out in capacity and performance, with HA and easy management.
It has been developed as object storage based, where problems with traditional DAS, NAS SAN and RAID's issues of management, performance and downtime no longer exist.
Designed with scalability in term of capacity and performance in mind, it overcomes these challenges, as performance aggregated and capacity expand in the same namespace with each storage node added: while maintaining no single point of failure and an easy to use Web-based management interface.
The key to all InfinityScale Storage Systems is InfinityScale FS, a file system that is Posix compatible. Windows, Linux or MAC application servers can connect, share and collaborate in minutes under the same global namespace. Its built-in proactive failure detection and auto self-healing provides a high redundancy system to minimize any unnecessary downtime, while eliminating other file system issues of limited file size, count or file system performance.
In terms of deployment, InfinityScale is an all-in-one solution to rapidly growing data. Each additional storage node will increase capacity and performance linearly with no set limitation.
Starter systems are in 4U form factors and are ready to use in production environment in less than 30 minutes.