Open-E Updates DSS V.7 65 Storage Software
Linux-based storage software now with tools for fine-tuning
This is a Press Release edited by StorageNewsletter.com on March 1, 2018 at 2:16 pm
Open-E, Inc. released an update for its storage software DSS V7.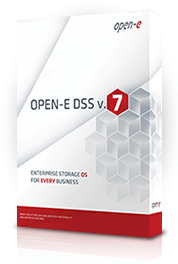 This update is free of charge for all users.
The update 65 of DSS V7 contains updates and fixes that improve its performance and configuration options. Overall storage management and monitoring of the product have been also optimized.

Improvements in software include:
Software-based watchdog configuration tool to be used in combination with the I/O probing mechanism for fine-tuning failover timings in particular environments

IPMI watchdog configuration tool for fine-tuning failover timings; hardware-based and an addition to the software-based watchdog configuration tool

On/off option for 'Persistent Reservation Synchronization' mechanism
The software also contains an updated driver for Hyper-V v4.1.3 and Intel i40e v2.4.3.
Update is available for download.
Other technical details about the 'up65' of DSS V7 can be found in the 'Release Notes' on the download page.