Exclusive Interview With Molly Presley, VP Global Marketing, Quantum
Believer of wide secondary storage approach
This is a Press Release edited by StorageNewsletter.com on February 23, 2018 at 2:35 pm

She is:
Vice President, Global Marketing at Quantum Corp.
Board of directors and co-founder of Active Archive Alliance
She was:
CMO and EVP, global marketing and product management at DataDirect Networks
CMO and EVP of WW marketing and product management at Spectra Logic
Engineering manager at Incentra, LLC
StorageNewsletter.com: Quantum is known for its secondary storage category for a few decades with several product lines. Who is the company today?
Molly Presley: If you think about the most recent Hollywood film you watched or marveled at the latest scientific advances, it is very likely the content was created, analyzed and stored on Quantum solutions. We provide scale-out tiered storage, archive and data protection solutions to meet the most demanding data management challenges around the globe. From ingest to preservation, we help our users store, leverage, retain and protect data in complex environments.
Recently two executives left the company, the CTO and the CEO after several years of presence and leadership. What's the desire and direction under the new CEO Patrick Dennis?
Last summer, Quantum's board of directors conducted a strategic review of Quantum's business. That review largely reaffirmed the company's strategy of leveraging our robust tape portfolio and strong position in data protection to increase profitability while continuing to advance our unique scale-out tiered storage solutions to drive growth. Over the coming year, a key focus will be continuing to move toward more software-defined offerings while expanding market share in scale-out solutions leveraging our tape and StorNext-powered portfolio. New executive leadership is focused on making changes in our business to be more efficient and nimble, drive better execution and improve our financial results, so that we could increase investment in innovations that help customers meet their evolving needs.
What about the CTO seat?
We have not made any decision about a new CTO at this time. We have a number of chief architects for our different product lines and just successfully contributed the Rook cloud native storage project to the Cloud Native Computing Foundation.
As we can see Quantum's strategy relies on four pillars: Scale-out Storage, Archive, Data Protection and Cloud. Exact?
Actually, today our business and strategy are focused in two main areas – 1) scale-out tiered storage, which includes archive to tape, object storage and cloud, and 2) data protection which includes data deduplication solutions and tape libraries. Our scale-out tiered storage solutions are powered by our StorNext parallel file system and data management software and encompass our Xcellis workflow storage appliances (including scale-out NAS), QXS hybrid flash-disk storage, Lattus object storage, StorNext AEL tape libraries and FlexTier cloud storage. We can provide solutions incorporating any or all of these technologies in a single, global namespace that delivers a unique combination of performance, low-cost capacity/scalability, ready access and integrated data intelligence. We have expertise helping customers in the most demanding scale-out environments meet their needs, spanning industries and use cases such as media and entertainment, life sciences, manufacturing, video surveillance and HPC. Our data protection solutions include our DXi disk backup and deduplication appliances and Scalar tape libraries, We were a pioneer in deduplication and have continued to enhance our DXi technology, which provides performance, scalability and overall value. In tape, we have long been the market leader in open systems automation, and our Scalar libraries deliver the most efficient tape storage in the industry. Regarding cloud, as I indicated, StorNext can manage data in both public and private clouds and across the two. We also have been the driver behind an open source project known as Rook, in which we created a software-defined storage cluster optimized to run in modern cloud-native environments. Rook has gained significant support in the developer community and was recently accepted as a hosted project by the Cloud Native Computing Foundation, a key validation point.
Quantum also added primary storage solutions a few years ago and offers end-to-end solutions from almost all nature of data. What is the most successful product? Do you consider that primary storage product generates more revenue than secondary product line? Or this segmentation is not at all relevant for yout firm?
Quantum is focused on solving the end-to-end workflow challenge of our customers from ingest to long-term retention. Many of our customers look to Quantum to deliver the simplicity of a single solution and single namespace to manage everything from primary to archive to protection copies of data. Others deploy Quantum just for the high-performance primary storage we offer that is optimized to deliver streaming performance; and alternatively, some users lean on Quantum for data protection of environments where the primary storage is delivered from another vendor. We look at our business in terms of scale-out tiered storage and data protection, with roughly 35% of our non-royalty revenue coming from scale-out and 65% from data protection. We leverage tape in both models, with it acting as an active archive tier in scale-out and as an offline, air-gapped storage tier for data protection. The 35% revenue contribution from scale-out is up from about 20% three years ago, and we expect it to continue increasing.
Quantum has changed a lot for years and we understand that disk business and associated solutions sustain the revenue, it was the case for DXi and for a few years StorNext is really the cash cow of the company, any comment on that?
As I mentioned, the revenue contribution from the scale-out storage part of our business has increased significantly over the past three years. However, the majority of our overall revenue still comes from data protection which encompasses both DXi deduplication appliances and tape libraries.
You recently announced a scale-out NAS with Xcellis coupled with StorNext. What is new with this iteration as Xcellis associated with StorNext was already available; please describe the new elements and capabilities?
Xcellis was historically built as a high-performance SAN appliance. As with many SAN solutions, we offered NAS gateways to help converge multiple workloads into the solution. With the introduction of or Xcellis Scale-out NAS offering, we now offer a complete, high availability scale-out NAS appliance. New features and capabilities include:
Distribute clients across the cluster nodes
Metadata performance advances
New Virtual IP (VIP) mechanisms
Capability for every node in the cluster to directly serve clients and scale bandwidth by adding nodes
DNS-based load balancing
Integrated NFS locks in the cluster
Algorithmic distribution of clients
New easy to use NAS GUI The list of new capabilities is much longer, but hopefully you get the feel for the depth of engineering put into our Xcellis scale-out NAS.
This is a tough market with well-established competitors. We spent a lot of engineering effort to be sure we released a winner.
You introduced Artico Archive Gateway a few quarters ago, how did/does the market receive this product?
Gateway products have been a 'must have' for users trying to integrate cloud storage into their workflows. We have seen moderate success in the sale of gateway appliances. This really hasn't been a significant focus of our sales or marketing efforts. Interestingly, we have integrated the same capabilities into our StorNext AEL tape libraries and seen significant success with that implementation. Our customers love the archive enabled library where data management comes with the tape library. That IS a place our sales team has really focused and won with regularly.
Globally, what is Quantum strategy with cloud and cloud service providers like the big three players AWS, GCP and Azure? What can we expect on this topic in 2018?
These cloud partners have been a significant force of change in the IT landscape.
1. We look to work with them as potential customers to purchase and leverage our tape libraries, deduplication and StorNext software as resident technology the clouds could be built on.
2. We strategically partner with the cloud providers to leverage them as storage tiers within our scale-out solutions.
3. And, of course, we compete with them as customers look for options for efficient long-term storage of their valuable digital assets.
A few years ago, before Amplidata was acquired by HGST, now WDC, Quantum invested in the Belgium company as you recognized a lack in the portfolio for large capacity disk-based secondary storage What is the current situation with Lattus and how is it integrated with the rest of the product line? How many installations do you have with Lattus?
Quantum remains tightly partnered with WDC and just last quarter refreshed our Lattus line with the new P100 release of the WDC object storage solution. Object storage is absolutely the right solution for users who want configurable data protection to meet their SLAs and who have a need for geographic distribution of their data assets. Lattus is integrated into our product line as a tier of storage leveraged within our scale-out solutions. It also is sold as a standalone object storage offering. While we don't release numbers on units sold, I can tell you that the most significant revenue for Lattus comes from leveraging it as a tier of scale-out storage in an active archive.
How is your tape business, we know that you already support LTO-8? How do you position it with the rest of the portfolio
You are right. We love tape at Quantum. The release of LTO-8 has moved tape into a new realm of efficiency, offering a much larger margin of savings to users looking for cost/TB optimized storage. We leverage tape to bring down the total cost of a scale-out solution to sometimes 1/10 the cost of a competitive all-disk offering. We also sell tape libraries both through OEMs and as Quantum-branded products for data protection.
Click to enlarge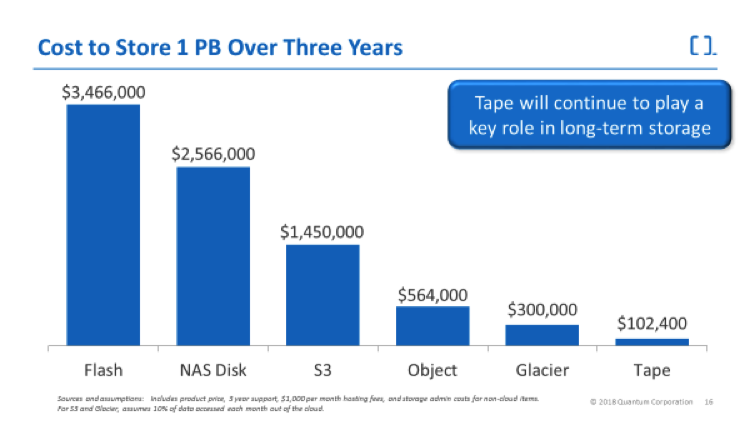 Rook and Castle are recent projects led by Quantum, could you summarize what they are, how these two components work together, the role of Ceph, etc.?
Rook is a project which Quantum initiated and open sourced toward the end of 2016. It was accepted by the Cloud Native Computing Foundation as the first storage project in the foundation just this week. Rook brings file, block and object storage systems into the Kubernetes cluster, running them seamlessly alongside other applications and services that are consuming the storage. By doing so, the cloud-native cluster becomes self-sufficient and portable across public cloud and on-premise deployments. All of the development in Rook today has been done leveraging Ceph as the file system. That doesn't preclude other contributors to optimize around Gluster or other file technologies, but Quantum focused our efforts around Ceph. The Castle project is an internal code name for the development underway to leverage cloud-native properties in other aspects of our branded product line.
What about 2018? Company and products wise?
We are enthusiastic about the transformation underway with our new CEO. Patrick Dennis is bringing us great experience from EMC and software companies. One of our top priorities is to really move Quantum into a leadership position in scale-out NAS in our target markets and, as I said earlier, move toward more software-defined solutions in both data protection and scale-out. I'd love to say that going 'software defined' is something unique, but we will leverage that trend which others are embracing to ensure users can access our technology in the optimal method for their unique needs.