Adata HD710M and HD710A Pro External HDDs
Safeguard data with military-grade protection that surpasses IP68
This is a Press Release edited by StorageNewsletter.com on 2018.02.14
Adata Technology Co., Ltd. presents the HD710M Pro and HD710A Pro, two new entries in the durable line of external HDDs.
Theyare based on tough design, but with better specifications, offering protection against dust and moisture that exceeds IP68 standards, as well as military-grade shock-proofing. This means that users can bring their HDD anywhere without having to worry about losing data.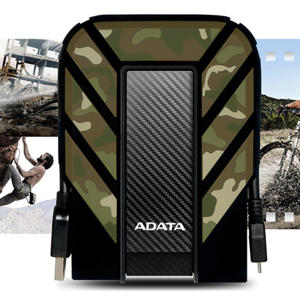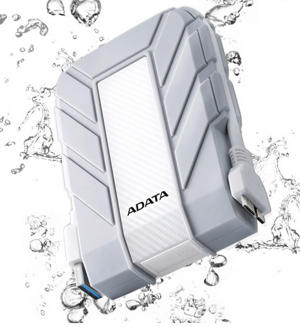 Triple-Layered Construction in a Stylish Package
The military-grade storage solutions in Adata's Durable series are ta combination of reliability and creative flair, which has led to multiple awards from organizations such as iF and the Red Dot Award. The HD710M Pro and HD710A Pro represent an evolution of these principles; the HD710M Pro applies the same military camouflage theme as the HD710M, giving off an air of rugged martial prowess, while the HD710A Pro extends the elegant minimalistic themes exemplified by brands such as Apple, with its understated gray and white casing.
The HD710M Pro and HD710A Pro both have protections against water and dust, which exceed IP68 standards, meaning that they are insusceptible to foreign particles and moisture. They can even survive submerged for 60 minutes in 2m of water, unscathed. The triple-layered construction gives the HDDs protection against shocks and collisions, having passed drop tests on 26 separate points of impact. They can even survive falls of up to 1.5m.
Protect Your Data through Vibration-Sensing Features and Waterproofing
The HD710M Pro and HD710A Pro are both equipped with shock sensors that can detect vibrations. When strong vibrations occur while the HDD is in use, a red warning LED will illuminate, and the device will automatically activate its protective systems to prevent damage. Furthermore, the waterproof cover can be attached to the exterior of the HD710M Pro and HD710A Pro, which means that users can rest easy knowing that their data is under secure protection.
The HD710A Pro comes with the Apple HFS+ system and supports Apple Time Machine, thus giving it compatibility with Apple devices.
The HD710M Pro and HD710A Pro boast capacities of up to 2TB, and thanks to the USB 3.1 interface, transferring files is quick.
This makes the HD710M Pro and HD710A Pro a choice for portable storage, whether you are looking for a military-styled HDD or one that blends with Apple computer.