Portworx and HPE Launches Rapid Deployment of Containerized Applications on Synergy Systems
Combination of HPE Synergy composable system, Kubernetes and Portworx's cloud native storage platform
This is a Press Release edited by StorageNewsletter.com on January 24, 2018 at 2:28 pm
Portworx, Inc. and Hewlett Packard Enterprise Development LP announced a solution based reference configuration that allows enterprises of all sizes to deploy, scale, and manage stateful container workloads.
Click to enlarge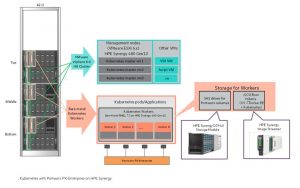 This solution enables IT teams to deploy a scale out container platform on bare metal using a combination of HPE Synergy composable system, Kubernetes and Portworx's cloud native storage platform. The result is a solution that can be deployed in 30 minutes or less, is container and storage elastic, and can scale to many nodes with bare metal performance.
As on-demand applications, such as Uber and Netflix, set the new standard for providing instantaneous responses to user needs, enterprises are moving to more efficient cloud-native and container-centric application architectures in order to meet increasing user demands for speed, reliability and performance. Moving applications to gives enterprises more agility and the ability to quickly deliver innovative services to their customers. Working together, HPE and Portworx have encapsulated the best practices for deploying such an architecture along with deployment automation scripts and playbooks.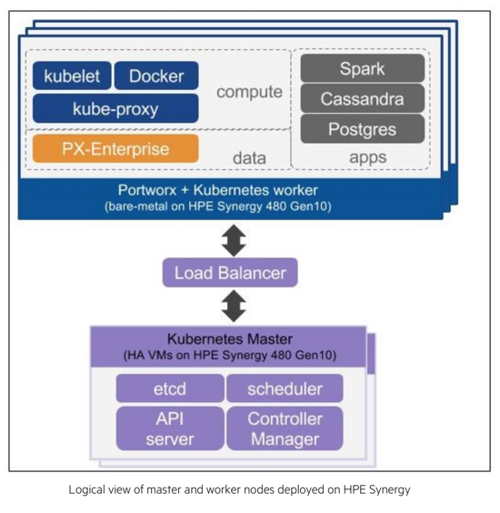 Reference configuration leverages:
Kubernetes as a scale-out and efficient container orchestrator and scheduler

Portworx PX-Enterprise as a high reliable, cloud-native, and container centric storage platform to run stateful container workloads

Synergy as the composable infrastructure that offers flexible compute and storage to the container applications and enables infrastructure as code for automation
Click to enlarge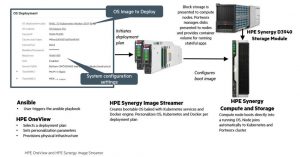 "Running enterprise container workloads at scale requires compute and storage that are highly flexible, scalable and available," said McLeod Glass, VP, production management, HPE. "Together Portworx and HPE deliver a fully integrated cloud native storage layer on top of HPE Synergy's composable infrastructure, enabling scalable data and compute services for containers on a Kubernetes cluster. This will vastly simplify the customer's ability to deliver stateful container services through deployment automation and running native container storage on HPE's composable systems."
"The HPE-Portworx solution for containerized workloads strikes an important balance for enterprise IT, between automation and control," said Murli Thirumale, CEO, Portworx. "HPE Synergy automates hardware provisioning while Kubernetes and Portworx automate the application lifecycle management, a boon to enterprise IT. At the same time, PX-Enterprise enables IT to maintain full control over their storage environment using Portworx's configurable class-of-service, encryption and backup policies."
Click to enlarge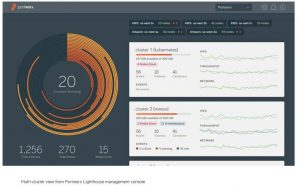 From application perspective, Synergy solution for Kubernetes and PX-Enterprise provides following benefits:
Performance: Container applications and back-end databases can either run on bare metal or on VMs on Synergy SY 480 hardware ensuring performance for containerized compute and storage.

App services: Kubernetes provides load balancing, DNS and built-in services.

Rapid deployment: Synergy image streamer for expansion and contraction of compute and storage resources to optimize resource needs of the container infrastructure.

Self-healing: containers get replaced and rescheduled based on server and app-level checks by Kubernetes.

Highly available data: Portworx creates container-granular volumes that are replicated and kept highly available, including across maintenance operations.

Container data lifecycle: container volumes can be automatically encrypted, snapshotted and backed-up to object storage by the PX-Enterprise.
Ressource:
Reference configuration based solution