Hyper-Convergence Services From UK Servnet
Representing evolution of infrastructure convergence
This is a Press Release edited by StorageNewsletter.com on January 19, 2018 at 2:24 pm
Servnet UK Ltd. offers Hyper-Convergence services which represent the evolution of infrastructure convergence.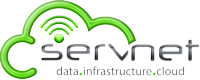 These services also deliver simplification and savings by consolidating all required functionality into a single infrastructure stack running on an elastic pool of x86 resources.
Hyper-Convergence services assist in a variety of aspects such as the elimination of infrastructure silos and the need for discrete components, data processing with a single-policy engine, centralised management, reduced complexity, reduced interoperability issues, streamlined acquisition, deployment, mobility conducted at a VM level and reduced operational expenses. Some of the Hyper-Converged offerings include Syneto, Nutanix, HPE SimpliVity and Dell EMC VXRAIL.
Founded in 2003, the company has carved a niche for themselves in the industry for their network solutions. Due to their diligent services, they have built partnerships with brands like Cisco, Oracle, Altaro, Amazon Web Services, NetApp, Quantum, and Hitachi. Besides providing Hyper-Convergence Services, they also provide various services for cloud backup solutions, offsite backup solutions, data management, virtualisation, server, network, backup recovery, and archiving. They are the favourite among their clients for providing a range of scalable and adaptable infrastructure solutions.
Elaborating further about their hyper-convergence services, one of the representatives, Servnet, stated: "Hyper-convergence goes far beyond server and storage, bringing into the convergence fold, many services that make legacy services obsolete. Incorporate your IT infrastructure into an integrated compute, storage, networking and virtualization resources. It also carries forward the benefits of convergence, including a single shared resource pool. Hyper-convergence services lead to Potential CapEx and OpEx Cost savings and assist in the creation of a virtualization-ready environment with highly efficient scalability."
Read also:
UK Servnet: Backup, Recovery and Archiving Solutions
Include tape , disk and cloud backups, endpoint backup solutions, archiving and DR.
2017.02.09 | Press Release
Servnet UK Offering Backup and Recovery Services
To protect critical applications and data
2016.09.02 | Press Release