Greenliant Sample eMMC 5.1 NANDrive Embedded SSD for Industrial Applications
8, 16, 32, 64 and 128GB, operating between -40°C and +85°C
This is a Press Release edited by StorageNewsletter.com on December 22, 2017 at 2:59 pm
Greenliant Systems Ltd. is sampling its eMMC 5.1 NANDrive embedded SSD product family with improved performance, enhanced features and a wide range of capacities (8, 16, 32, 64 and 128GB).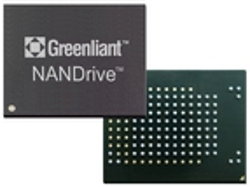 For automotive, industrial, medical, security, military and networking applications, the GLS85VM NANDrive devices support the JEDEC eMMC 5.1 standard and operate at industrial temperatures between -40°C and +85°C.
The eMMC 5.1 NANDrive products are HS200/HS400 compliant and support command queuing for faster data throughput and better multitasking. These performance products also offer reliability features, such as wear-leveling, bad block management and effective ECC capabilities to extend the life of the product.
eMMC 5.1 NANDrive SSDs are available in a 14x18mm, 100-ball, 1.0mm pitch package (backward compatible with the company's 100-ball eMMC 4.4 NANDrive SSDs) and will also be offered in a smaller 11.5x13mm, 153-ball, 0.5mm pitch package.
"Based on Greenliant's internally-developed industrial grade NAND controller, eMMC NANDrive SSDs provide a wide range of advanced features, high security and robust power interrupt data protection required by high-reliability applications," said Arthur Kroyan, VP, business development and marketing, Greenliant. "With a strategic focus on product longevity, Greenliant helps embedded customers minimize redesign efforts and interruptions in their production cycles."
The company is sampling eMMC 5.1 NANDrive SSDs with customers on select product engagements.