Toshiba Memory Corporation Plans New 7th NAND Flash Facility
In Kitakami, Iwate prefecture, Japan
This is a Press Release edited by StorageNewsletter.com on December 21, 2017 at 2:36 pm
Toshiba Corporation is going ahead with a forward-looking plan for a new memory fabrication facility in Kitakami, Iwate prefecture.
Toshiba Memory Corporation (TMC), a wholly-owned subsidiary of Toshiba, will establish a company to operate the facility, and invest approximately ¥7 billion in site preparation and initial construction work in FY17.
The new facility, announced on September 6, 2017, will produce BiCS Flash, TMC's proprietary flash memory. It will be TMC's seventh fab.
1. TMC's Strategy
Continued strong demand for flash memory from data centers and enterprise servers has already prompted TMC to expand its memory production facilities at Yokkaichi Operations in Mie Prefecture. With Fab 6 under construction and scheduled for completion at the end of 2018, TMC is now looking further into the future, and moving forward with the construction of an additional 3D flash memory clean room to meet anticipated growth in demand.
TMC will complete acquisition of land for the new facility and start site preparation in February next year, and make initial orders for construction materials and equipment at the same time.
Detailed decisions on the construction schedule and pace of facility investment at Kitakami will be made in FY18 and after, in line with market trends.
TMC will establish a new company, Toshiba Memory Iwate Corporation, to manage the start-up and operation of the facility.
2. Outline of Toshiba Memory Corporation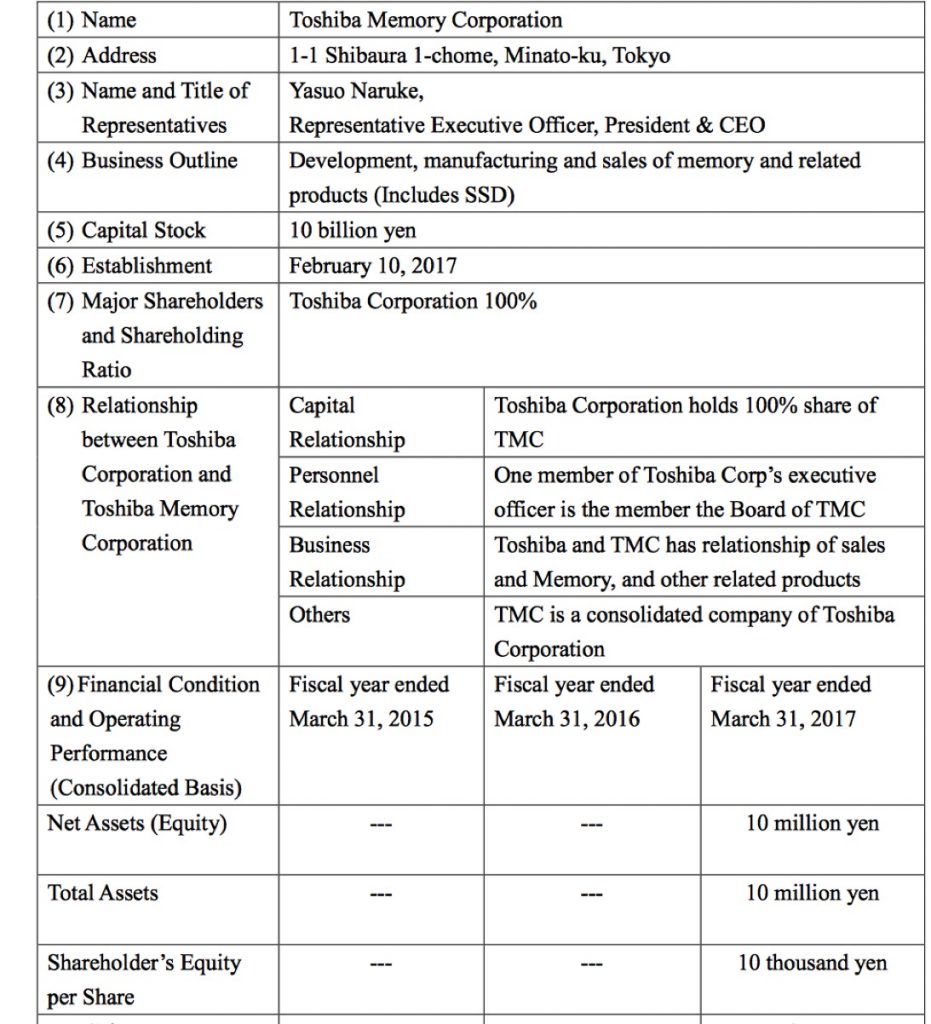 3. Outline of Toshiba Memory Iwate Corporation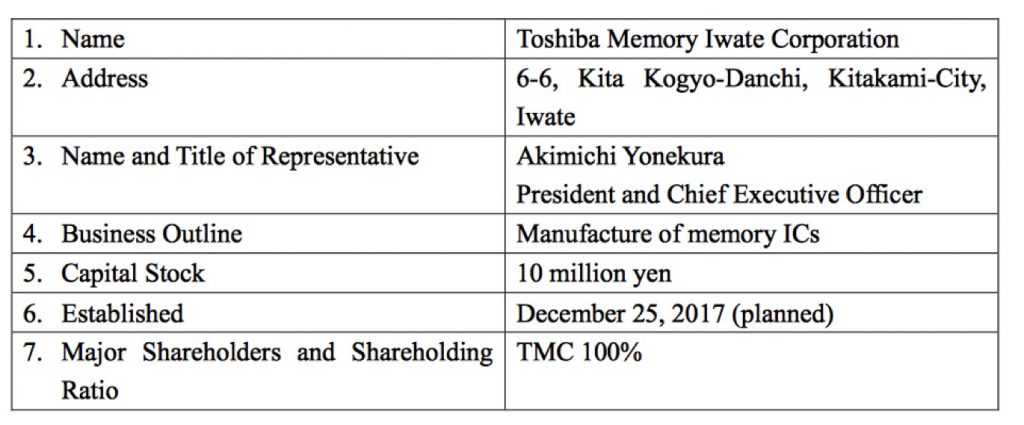 4.Outlook
This investment decision is incorporated into the ¥600 billion investment plan for the Storage & Devices Solutions Segment announced on November 9, 2017, and does not impact on the forecast for FY17 full year business results announced on the same day, as accounting for most of the investment will be done in FY18.
As Toshiba announced on December 13, 2017, in Toshiba and Western Digital Reach Global Settlement and Agree to Strengthen Flash Memory Collaboration, TMC and Western Digital intend to enter into definitive agreements on Western Digital's participation in the new Kitakami facility.