WekaIO Matrix V3.1 Cloud-Based Scalable File System Available on AWS Marketplace
For compute-intensive applications and technical compute workloads
This is a Press Release edited by StorageNewsletter.com on 2017.12.07
WekaIO, Inc. announced version 3.1 of its cloud-based scalable file system which delivers an enterprise, feature-rich, performance file system for compute-intensive applications and technical compute workloads.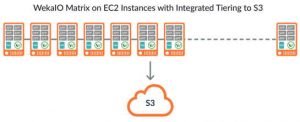 The snapshot functionality in Matrix version 3.1 is designed to help users realize the promise of the cloud with a single vendor solution to provide remote backup to Amazon S3, provision resources for cloud bursting workflows or utilize a 'pause/resume' feature to underpin a hybrid cloud strategy for cost-effective data archiving.
With S3, Matrix Vversion 3.1 supports cloud bursting, allowing users with on-premises compute clusters to elastically grow their environment in response to peak workload periods, or move their entire performance workloads to the cloud. The snapshot to the S3 functionality simplifies periodic backup, delivering a single-vendor backup solution, whereby an entire file system and its data can be backed up on S3, without the need to purchase additional backup tools. The remote cloud copy can be automatically updated as frequently as desired, without impacting application performance. It also can serve as an way to perform a 'fire-drill' audit of the backup by simply rehydrating the file system on Amazon Web Services (AWS) as a test copy.
"There continues to be a strong trend within IT and research organizations to adopt a cloud strategy to accommodate the demands of high-performance applications," said Sabina Joseph, head, global storage partnerships and alliances, Amazon Web Services, Inc. "WekaIO has already demonstrated that high performance workloads can achieve outstanding performance on AWS through its SPEC SFS 2014 results. Leveraging AWS, customers can now benefit from a solution developed specifically to scale their businesses, making it easier to move high-performance applications to the cloud."
WekaIO is self-service and provisionable on most Amazon Elastic Compute Cloud (Amazon EC2) instances with locally attached SSDs, and is for analytics, genomics and HPC customers looking for a feature-rich, performance file system for their compute intensive applications running on AWS. The software can be automatically provisioned as a hyperconverged solution where applications and storage share the same instances, or as dedicated storage servers that connect other lower cost EC2 instances without local SSD storage.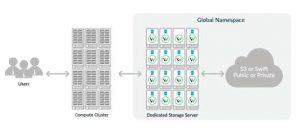 Matrix Version 3.1 with snapshot to S3 functionality incorporates a pause/resume feature that is a cost-effective cloud bursting and data archive strategy. Users may run Matrix version 3.1 on EC2 instances for application performance, stop instances, and pay only for cost-effective S3 storage, then resume future computations by re-spinning the EC2 instances.
"Using WekaIO Matrix Version 3.1 in conjunction with AWS allows enterprises to develop a true utility compute and storage model," said Omri Palmon, co-founder and chief product officer, WekaIO. "The combined solution is designed to deliver extreme performance, high bandwidth and cloud scalability whie delivering significant cost savings n CAPEX and OPEX."
WekaIO version 3.1 is available on AWS Marketplace and through select resellers.