Toshiba 10TB 3.5-Inch HDD for NAS
Air-based
This is a Press Release edited by StorageNewsletter.com on 2017.12.06
Toshiba Electronic Devices & Storage Corporation announced the addition of MN06ACA10T, a 10TB HDD in a 3.5-inch[2] form factor with a SATA interface.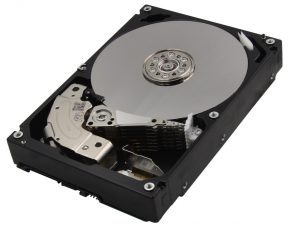 The new drive is designed for home NAS[3] and SOHO NAS applications. Sample shipments start today.
MN06ACA10T air-based HDD delivers 10TB capacity by deploying an improved magnetic recording head and disk magnetic layer. The 10TB capacity is 25% higher than that of the previous model in the series, the 8TB MN05ACA800, and buffer size is doubled to 256MB[4].
The new drive is designed for 24/7 power-on operation, has a rated annual workload of 180TB[5] transferred, MTTF[6] of 1,000,000 hours, and 300,000 load/unload cycles. It features rotational vibration compensation technology, and is suitable for use in NAS applications.
Key Features:
Up to 10 TB capacity (model line-up also includes 8TB, 6TB and 4TB)
7,200 rpm
6Gb SATA interface
MTTF of 1,000,000 hours
180TB transferred per year workload rating
Rotational vibration sensors for scalability and performance
24/7 operation
[1] Definition of capacity: 1TB is 1,000,000,000,000 bytes. A computer OS, however, reports storage capacity using powers of 2 for the definition of 1TB = 240 = 1,099,511,627,776 bytes and therefore shows less storage capacity. Available storage capacity (including examples of various media files) will vary based on file size, formatting, settings, software and OS and/or pre-installed software applications, or media content. Actual formatted capacity may vary.
[2] 3.5-inch describes the form factor of HDDs. They do not indicate drive's physical size.
[3] NAS: NAS
[4] A MB means 1,048,576 bytes.
[5] Workload is a measure of the data throughput of the year, and it is defined as the amount of data written, read or verified by commands from the host system.
[6] MTTF (Mean Time to Failure) is not a guarantee or estimate of product life; it is a statistical value related to mean failure rates for a large number of products which may not accurately reflect actual operation. Actual operating life of the product may differ from the MTTF.