Kaleao: Kmax Early Access Program Systems
Hyperconverged offering for system integrators, regional integrators, distributors and OEMs 
This is a Press Release edited by StorageNewsletter.com on 2017.12.06
KALEAO Ltd is now shipping its first KMAX Early Access Program (EAP) systems to a select number of customers, including system integrators, regional integrators, distributors and OEMs.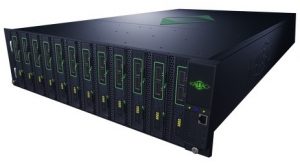 KMAX is a server platform to be based on a mobile ecosystem providing 10X the performance while utilizing 1/4 the power consumption and 1/10 of the space of other solutions in the hyperconverged server appliance market.
 
The initial feedback of KALEAO's Early Access Program shows that KMAX is being well received providing results as a top contender in the hyperconverged space. 
 
"We are enthusiastic about being a KALEAO channel partner throughout this Early Access Program phase," said Jim Reinhold, CEO, Network Allies LLC. "We are anticipating significant business growth from being able to serve new markets and use cases with KMAX and utilizing its unprecedented performance and capabilities in enterprises all over the globe."
 
KMAX, introduced in 2016, is an hyperconverged offering that provides the 'true converged' compute, storage, and networking platform for enterprises and cloud computing. It deploys ARM 64-bit processors and all-flash storage, providing enterprises with high performance density and energy savings. It reduces performance overhead while enabling appliance simplicity and the flexibility of a software-defined solution.
Industry analysts estimate that the hyperconverged systems market will reach $5 billion in 2019, up from $2 billion in 2016. KALEAO wants to earn a leading position in this space over the next 2 years.
 
"The Early Access Program is only the first step for KALEAO as we begin to ramp up our market penetration and customer engagement with our KMAX solution. The response from our customers has been very promising," said Giampietro Tecchiolli, CEO, KALEAO.  "We are delivering a revolutionary product and we are certain that KALEAO will be recognized as a significant contributor to the rapid growth of the hyperconverged segment as enterprises begin to see the performance and cost savings KMAX really brings to the table."
Read also:
Start-Up Profile: Kaleao
In global hyperconvergence platform
by Jean Jacques Maleval | 2017.04.26 | News