Nakivo Backup & Replication V7.3 Software Boosts VM Backup "by 53X" on De-Dupe Appliance
Adding support for de-dupe appliances, achieving VM backup speed of 3.2GB/s on NEC Hydrastor
This is a Press Release edited by StorageNewsletter.com on 2017.12.05
Nakivo, Inc. released Backup & Replication v7.3.
Click to enlarge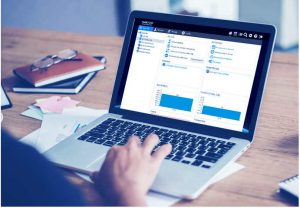 This version features a new type of backup repository with a special architecture optimized for deduplication appliances, such as NEC Corp. Hydrastor, Dell/EMC Data Domain, HPE StoreOnce, and Quantum Corp. DXi.
Deduplication appliances are designed to reduce the data size and operate best with sequential large block I/O from backup software. If the architecture of a backup repository is not optimized for deduplication appliances, VM backup may appear to be random I/O, which deduplication appliances are not designed to handle. This can reduce the VM backup performance.
When tested in a customer environment, the new type of repository in Backup & Replication v7.3 has demonstrated backup speeds that are 53 times faster than the regular backup repository. With a Hydrastor deduplication appliance as a target, it backed up the customer VMs at an 3.2GB/s. The backup repository structure has also been improved for manageability. Now each backup with its recovery points is stored in a separate folder.
Backup repository complements the existing one,
so customers have choice between following options:
Regular backup repository, which is optimized for generic storage systems and performs forever-incremental VM backups along with global data deduplication and compression.

Backup repository optimized for deduplication appliances, which accelerates VM backups to speeds up to 53 times faster on deduplication appliances.


"We listen to our customers' feedback and continue improving Nakivo Backup & Replication so that our customers can backup and restore their data more efficiently. By providing support for deduplication appliances, we aim to help businesses leverage leading storage solutions while maintaining high data protection performance," said Bruce Talley, CEO and co-founder, Nakivo. "NEC HydraStor, used by some of our largest customers including large banks and managed hosting providers, delivers an unprecedented level of storage optimization and reliability."
"Nakivo Backup & Replication v7.3 takes VM backup performance to a whole new level," said Francois-Remy Monnier, director, NEC Enterprise Solutions. "Our joint customers selected Nakivo for its reliable, scalable, and extensible architecture, which matches perfectly NEC HYDRAstor Scale Out grid architecture. The new VM backup performance levels delivered by Nakivo v7.3 will only add to their high satisfaction levels."
A fully-functional free trial of Backup & Replication v7.3 can be downloaded.
Resources:
Datasheet
Success stories