Semiconductor Industry Toward Record Year – IHS Markit
Another record quarter for NAND growing 13% in 3Q17 with revenue at $14.2 billion
This is a Press Release edited by StorageNewsletter.com on 2017.12.04
The semiconductor industry continued its upward trend in 3Q17, notching 12% sequential growth with strength across all application markets, according to IHS Markit Ltd.
Global revenue totaled $113.9 billion, up from $101.7 billion in the second quarter of 2017.
As memory prices remain high and the wireless market continues to see strong demand through the fourth quarter, 2017 is shaping up to be a record-breaking year for the semiconductor industry. It is projected that semiconductor revenue will reach a record-high $428.9 billion in 2017, representing a year-over-year growth rate of 21%.
Key growth drivers
All application end markets posted sequential growth over the prior quarter, with wireless communications and data processing categories leading the pack.
Revenue from wireless applications grew faster sequentially in 3Q17 than any of the other high-level application markets. Semiconductor revenue from wireless applications was a record high $34.8 billion in this quarter, representing nearly 31% of the total semiconductor market.
Analyst company anticipates an even bigger fourth quarter for wireless applications, projecting $37.5 billion in revenue - and more than $131 billion for the full-year 2017.
As the wireless market evolves, this growth can be attributed to a number of factors.
"More complex and comprehensive smartphone systems on a chip are supporting applications such as augmented reality and computational photography," said Brad Shaffer, senior analyst for wireless semiconductors and applications, IHS Markit. "Premium smartphones have increasing amounts of memory and storage. The radio frequency content in these smartphones has also grown considerably over the past few product generations, with many high-end smartphones now supporting gigabit LTE mobile broadband speeds."
The memory markets proved once again to be the driving force and highest-growing segment for semiconductors in 3Q17.
"The DRAM industry had another record quarter with $19.8 billion in revenue, exceeding the prior record by more than $3 billion," said Mike Howard, director for DRAM memory and storage research, IHS Markit. "Prices and shipments were up during the quarter as strong demand for mobile and server DRAM continued to propel the market."
The NAND industry had another record quarter as well, growing 12.9% in 3Q17, with total revenue reaching $14.2 billion.
"Pricing was flat in the quarter, as seasonally strong demand driven by the mobile and SSD segments was able to offset moderate shipment growth," said Walter Coon, director for NAND flash technology research, IHS Markit. "The market is expected to soften exiting 2017 and into early next year, as the industry transition to 3D NAND technology continues to progress and the market enters a traditionally slower demand period."
Manufacturer moves
Samsung officially passed Intel to become the number-one semiconductor supplier in the world in 3Q17, growing 14.9% sequentially. Intel now comes in at number two, with SK Hynix securing the third rank in terms of semiconductor revenue for the third quarter.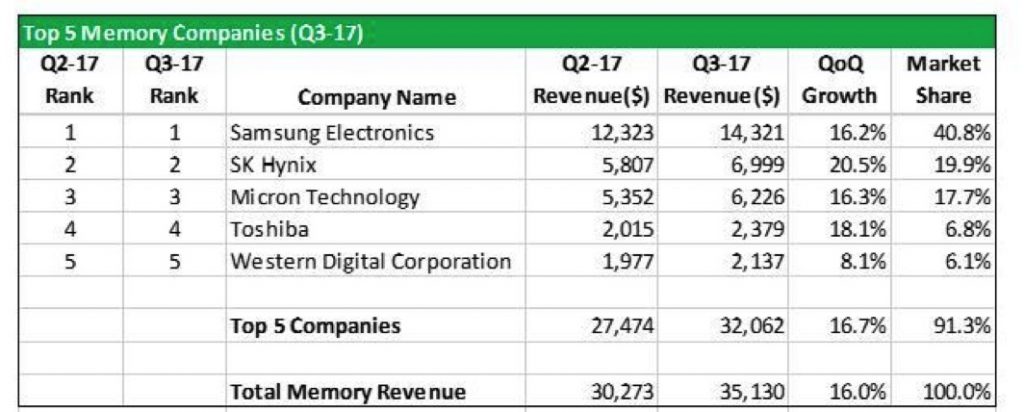 Among the top 20 semiconductor suppliers, Apple and Advanced Micro Devices achieved the highest revenue growth quarter over quarter by 46.6% and 34.3%, respectively.
There was a good deal of market share movement within the top 10 suppliers throughout the third quarter as well. In terms of semiconductor revenue, Qualcomm surpassed Broadcom Limited to secure the number-five spot, while nVidia made its way into the top 10 ranking for the first time ever. At this time last year, the top five semiconductor companies controlled 40% market share of the entire industry. The top five gained 4.2% more market share this year over last year, while comprising three memory companies instead of the previous two.