DataCore Gained Storage Project of the Year Award at SVC Awards 2017
Through ongoing work at Grundon Recycling
This is a Press Release edited by StorageNewsletter.com on 2017.12.04
DataCore Software Corporation announced recently that their five-year install of SANsymphony software-defined storage platform at Grundon Recycling, a UK recycling company, won the storage project of the year at the 2017 SVC Awards.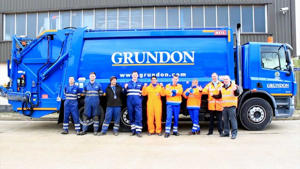 The judges selected the Grundon Recycling testimonial as winner
against two other impressive installation entries for 3 key reasons:
Consolidation and management of data sets growing 20% Y/Y across 7 data centres and regional offices through a software-defined storage platform
Implementation of an enduring and holistic approach to management of estate, including multiple DAS devices, 48 servers, 16 physical vSphere ESX hosts, 22 VMs
Assured BC with 7 days a week operation in a heavy industrial environment throughout the UK.
Brett Denly, regional director, DataCore UK and Eire picks up on the win: "This is a great endorsement for SANsymphony within a long term install whose very business is driven by re-use and savings. Competition was tough out there, with the Grundon install up against other great entries including Weetabix Foods. We are thrilled to have received winning status."
The SVC Awards, celebrating excellence in storage, cloud and digitalisation reward the products, projects and services as well as honour companies and teams operating in the cloud, storage and digitalisation sectors.
With a record number of nominations across all categories all finalists did well to make the shortlist. Voting has taken place amongst the readership of the Digitalisation World stable of publications with the number of votes again breaking previous records. Winners were announced on November 23, 2017 at a gala evening ceremony taking place at London's Hilton Hotel Paddington with over 200 people in attendance.
Jason Holloway, director of IT publishing, Angel Business Communications Ltd, organisers of SVC Awards said: "This year's finalists represent the very best in the industry and Datacore supporting Grundon Waste Management were voted as outstanding by our readership to win the Storage Project of the Year category."