New HPC Storage Solutions From Cray
Including ClusterStor L300N flash-based acceleration solution, View for ClusterStor and DataWarp for XC50 HPC
This is a Press Release edited by StorageNewsletter.com on 2017.11.24
Cray Inc. announced HPC storage solutions including View for ClusterStor - providing customers with improved job productivity; ClusterStor L300N, a flash-based acceleration solution; and DataWarp for its XC50 supercomputer, reducing data access time.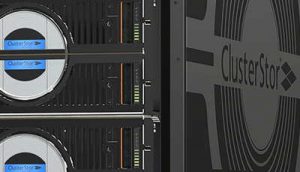 This storage product offerings address top pain points for HPC customers.
New features include:
ClusterStor L300N with NXD flash accelerator software which provides up to 10X improvement in storage performance.

DataWarp with transparent caching, which provides the ability to accelerate application performance with no change to the end user experience.

View for ClusterStor, which features the ability to trace and track the performance of Lustre providing per job and system views.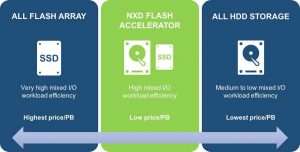 "Cray is focused on advancing HPC storage with solutions that are directly targeted at the most pressing user requirements," said Fred Kohout, SVP, products and CMO, Cray. "Cray and ClusterStor resellers are making it easier for customers to manage their storage, extract the highest performance levels from their storage, and accelerate time-to-discovery with the fastest data access."
"Cray is a pioneer in HPC storage systems and for decades has designed HPC systems that balance compute and storage capabilities," said Steve Conway, SVP, research, Hyperion Research (Hyperion Global Partners, LLC). "This experience positions Cray well to benefit from the strong growth we forecast for the global HPC storage market."
Click to enlarge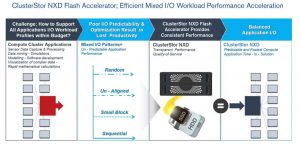 ClusterStor L300N
The ClusterStor L300N with NXD flash accelerator software optimizes multiple mixed workloads on the same storage platform, eliminating data access bottlenecks through flash-based small file acceleration. Organizations will be able to automatically support multiple applications that require a range of storage access patterns, such as small block and large block, without making any changes to applications or processes. ClusterStor NXD scales performance linearly with the size of the system.
DataWarp enhancements
DataWarp is software-defined storage that manages flash storage on the company's Aries network. The new transparent caching feature will help the user - a domain scientist or an engineer - realize all the performance benefits of flash storage, while maintaining their Lustre experience. The applications mount the directories of the parallel file system yet access data from flash, resulting in a fast, simple application acceleration solution. As a result, DataWarp transparent caching will provide both ease of use and efficiency. It will be available for both Cray XC40 and XC50 systems.
The flash storage blade for the firm's XC50 supercomputer expands the application acceleration solution for DataWarp users. The XC50 flash storage blade's flexible configuration allows for customizing to individual capacity and price/performance needs.
Click to enlarge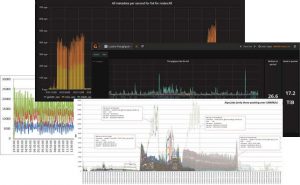 View for ClusterStor
View for ClusterStor software tracks job performance on Lustre file systems and enables the correlation of system events that cause job performance issues using streaming telemetry with customizable visualization enabling real-time and historical analysis. It will provide administrators with the tools to resolve problems faster.
Availability:
ClusterStor L300N, View for ClusterStor, and DataWarp transparent caching software solutions are planned to be available in early 2018.

DataWarp for the Cray XC50 supercomputer is available.
ClusterStor L300N
Click to enlarge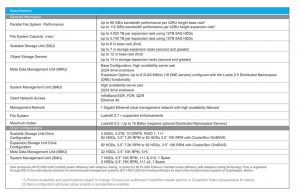 Resources:
White paper: Flash Acceleration of HPC Storage
DataWarp Applications I/O Accelerator
Video: Cray DataWarp I/O Acceleration System