Panasas PanFS 7.0, ActiveStor Director 100 and Hybrid 100
Scaling capacity to 57PB, 360GB/s bandwidth
This is a Press Release edited by StorageNewsletter.com on 2017.11.13
Panasas, Inc. introduced the next generation of its ActiveStor scale-out NAS solution, capable of scaling capacity to 57PB and delivering 360GB/s of bandwidth.
ActiveStor Director 100 (ASD-100)

This flexible system doubles metadata performance to cut data access time in half, scales performance and capacity independently, and seamlessly adapts to new technology advancements. The ActiveStor Director 100 (ASD-100) control-plane engine and the ActiveStor Hybrid 100 (ASH-100) configurable plug-and-play storage device offer users the flexibility to design storage systems that meet their specifications and workflow requirements, now and in the future.
ActiveStor Hybrid 100 (ASH-100)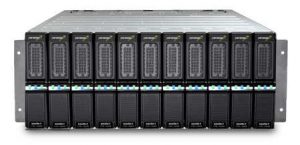 "Our research shows that the commercial sector has emerged as the primary area of growth in the high-performance-computing storage market," said Addison Snell, CEO, Intersect360 Research, Inc. "These commercial high-performance segments are often looking for both performance and reliability to achieve efficient performance at scale. Meanwhile, they also need the flexibility to adapt their storage to emerging use cases such as deep learning. The new Panasas ActiveStor solution is aimed directly at these market dynamics."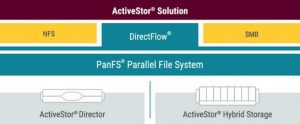 These ActiveStor solution accelerates time to results for traditional and commercial HPC use cases such as manufacturing, life sciences, energy, government, education and research environments, in addition to applications in media and entertainment.
It uses the ASD-100, the ASH-100, an updated PanFS 7.0 parallel file system, and enhancements to the DirectFlow parallel data-access protocol to deliver these advantages:
Performance - Users can scale metadata performance, data bandwidth, and data capacity independently for faster time to results.

Flexibility - The ability to mix and match HDD and SSD configurations under a single global namespace enables users to best match the system performance to their workload requirements.

Productivity - The new ActiveStor solution doubles productivity by cutting data access time in half, regardless of the number of users.

Investment protection - The solution is backward and forward compatible with the ActiveStor product portfolio.
"The release of our new ActiveStor solutions reflects our commitment to delivering products that keep pace with new, demanding high-performance applications and workloads," said Faye Pairman, CEO, Panasas. "These modern ActiveStor solutions deliver a new level of flexibility that enables performance and capacity to scale independently for all data types and file sizes, along with the reliability and manageability that our customers have come to depend on."
ASD-100
For the first time, the company is offering a disaggregated Director Blade (ASD-100), the brain of the firm's storage system, to provide flexibility. Customers can now add any number of ASD-100s to drive the level of metadata performance they need. With double the raw CPU power and RAM capacity of previous Director Blades, the ASD-100 delivers double the metadata performance on metadata intensive workloads. Based on industry-standard hardware, the ASD-100 manages metadata and the global namespace; it also acts as a gateway for standard data-access protocols such as NFS and SMB. The ASD-100 uses non-volatile dual in-line memory modules (NVDIMMs) to store metadata transaction logs, and the firm is contributing its NVDIMM driver to the FreeBSD community.
ASH-100
The ASH-100 is an hardware platform to offer the capacity HDD (12TB) and SSD (1.9TB) in a parallel hybrid storage system. A broad range of HDD and SSD capacities can be paired as needed to meet specific workflow requirements. The ASH-100 can be configured with ASD-100s or can be delivered with integrated traditional ActiveStor Director Blades (DBs), depending on customer requirements.
PanFS 7.0
The latest version of the plug-and-play parallel file system features an updated FreeBSD operating foundation and a dynamic GUI that supports asynchronous 'push' notification of system changes without user interaction.
DirectFlow client
The updated DirectFlow parallel data access protocol offers a 15% improvement in throughput due to enhancements to memory allocation and read ahead. All ActiveStor models will benefit from this performance increase after upgrading to the release of PanFS.
Product demonstration at SC17
The company demonstrated the ActiveStor solution at this SC (SuperComputing) conference in Denver, CO, being held November 12-17, 2017.
Availability:
The ASH-100 is shipping.

The ASD-100 and PanFS 7.0 will be available in Q1 2018.