Dell EMC Expands All-Flash Midrange Storage
With two SC arrays, along with software updates to Unity, and introducing Future-Proof Storage Loyalty Program
This is a Press Release edited by StorageNewsletter.com on 2017.11.13
Dell EMC, part of Dell Technologies, is expanding its mid-range storage portfolio with two SC All-Flash data storage arrays, along with key software updates to Unity designed to boost efficiency and cost savings for mixed block and file workloads.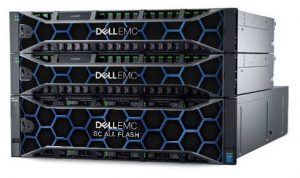 Additionally, the company is introducing its Future-Proof Storage Loyalty Program. This program offers three-year satisfaction guarantee along with customer benefits such as all-inclusive software, hardware investment protection, storage efficiency guarantees, worry-free data migrations and free Virtustream Storage Cloud.
SC All-Flash delivers performance and enterprise-ready features
Optimized for all-flash, the SC all-flash storage arrays offer performance and enterprise-ready features. They are designed to help customers modernize their data centers to gain more speed, efficiency and cost-savings from existing applications. It is also designed to help customers open up possibilities for the business to support new flash-enabled use cases and workloads.
The SC5020F and SC7020F are offered as 3U appliances featuring dual active/active controllers with 8-core Xeon processors and up to 256GB memory and multiprotocol support for 10GB iSCSI and 16/32GB FC network connections.
The products also feature:
All-flash performance - Up to 399,000 IO/s per array and 3.9 million aggregate IO/s per multi-array federated cluster

Federated data mobility, scale and protection - Ships ready to link into federated multi-array clusters for easy, non-disruptive workload migration and load balancing; includes auto-failover feature for built-in BC

Self-optimizing efficiency - Intelligent data deduplication and compression, RAID tiering and pervasive thin provisioning help make cost savings automatic

All-inclusive software - Every advanced SC Series feature is included with no extra software licenses to purchase or maintain

The company Unity gets efficiency boost to help lower storage costs
Designed for simplicity, all-flash performance and unified SAN-NAS environments, Unity helps organizations speed deployment, streamline management and tier storage to the cloud. The Unity v4.3 OS provides several key updates including deduplication to help lower costs, along with new technologies to facilitate non-disruptive system upgrades and enable file synchronization.
The Unity v4.3 OS offers:
Enhanced all-flash efficiency with the addition of inline deduplication

Synchronous file replication helps ensure zero data loss BC

Capability enables online data-in-place storage controller upgrades
Redefined investment protection with the Future-Proof Storage Loyalty Program
The company's Future-Proof Storage Loyalty program offers customers guarantees and value through the lifetime of their arrays. Unlike other vendor programs that offer fewer benefits and short-term promises, it provides robust guarantees, money-saving benefits and investment protection for Unity and SC Series product purchases.
Future-Proof Storage Loyalty Program for Unity and SC Series includes:
Three-year satisfaction guarantee - Firm's products will perform as advertised for customers, satisfaction guaranteed.

4:1 all-flash storage efficiency guarantee - Offered without complex pre-assessments and restrictions.

Never-worry data migrations - Customers can upgrade to new company's storage with built-in data migrations that are always online and non-disruptive.

Hardware investment protection - Customers get flexible credit towards storage controller upgrades or trade-in credit towards the purchase of any new product across the firm's portfolio.

All-inclusive software - Company's mid-range storage products ship with everything needed to store, manage and protect data with no extra licenses to purchase or maintain.

Built-in Virtustream storage cloud (for Unity only) - Customers can automatically tier files and storage snapshots to the cloud with no capacity costs for one year, up to the program allotment.
Customers purchasing Unity or SC Series products, whether direct or through channel partners, and have a valid maintenance contract are eligible for the program at no additional cost.
"To help our customers with data center modernization, we're delivering innovative features and performance in the new SC All-Flash and also boosting the efficiency and utility of Dell EMC Unity in the latest Unity OS software update," said Jeff Boudreau, president, storage platforms, Dell EMC. "We're also redefining what it means to buy from Dell EMC and our partners with the new Future-Proof Storage Loyalty Program, offering many benefits such as all-inclusive software, hardware investment protection and a three-year satisfaction guarantee that is the longest and strongest amongst our competitors."
Flexible financing options and support services
Dell Financial Services (DFS) offers flexible consumption payment solutions that enable customers to acquire IT and plan for growth and future storage demands. Additionally, the company's Services provides customers with a portfolio of technology implementation and support services available, addressing diverse IT needs with choice, flexibility and scale.
Availability
SC all-flash will be available in December.

The Unity OS v4.3 will be made available in January 2018 to company's Unity customers with a valid support contract.

The Future-Proof Storage Loyalty program is available with the purchase of any new SC Series or Unity storage array directly through the company or any of its certified channel partners.
John Byrne, president, global channels, Dell EMC, said: "The storage opportunity for Dell EMC partners is immense, and the Future-Proof Storage Loyalty program delivers even more benefit to those partners who want to truly go big and win big with us. The combination of Dell EMC's market-leading, transformation-enabling storage portfolio and the ability for partners to put more competitive deals on the table is absolutely a game-changer: for customers, for partners, and for Dell EMC."
Hasan Barakat, director, global IT operations, Cell Signaling Technology, said: "I've always trusted Dell EMC for their excellent products and customer service. Dell EMC has been my one-stop shop for our data center. Now with the addition of these great programs to support Dell EMC's great products, why would I go anywhere else?"

Scott Sinclair, senior analyst, Enterprise Strategy Group, said: "Storage buyers are increasingly voting with their wallets in the direction of all-flash arrays to help them modernize the data center for increased performance, efficiency and to drive IT cost-savings goals. Dell EMC is bringing this all together with products and programs that safeguard storage investments while introducing guarantees designed to instill another level of confidence with customers."

Scott Winslow, president, Winslow Technology Group, LLC, said: "Dell EMC has upped the ante once again, enabling us to deliver even more value to our customers with a truly attractive and competitive loyalty program to go along with their market-leading mid-range storage products. Having access to Dell EMC's expanded mid-range all-flash portfolio enables our company to help our customers find just the right platform to meet the unique needs of their enterprise, while also providing a valuable ownership experience that delivers customer benefits long after the sale."
Resources:
Blog: New Products and Programs Will 'Future-Proof' Your Dell EMC Midrange Storage Investments
Blog: Go Big or Go Home: Giving Midrange Storage Customers 'Future-Proof' Peace of Mind and Valuable Benefits
Blog: Midrange Storage - Products, Programs and a Brand New Campaign
Midrange All-Flash Storage
Future-Proof Storage Loyalty Program