Enova Received FIPS 140-2 Level 3 Validation
For X-Wall MX+ cryptographic modules
This is a Press Release edited by StorageNewsletter.com on 2017.11.10
Enova Technology Corps, in data security solutions, announced its X-Wall MX+ xF and X-Wall MX+ xN single chip cryptographic modules capable of encrypting entire SATA drive (SSD included) in-line at 6Gb SATA speed have gained approval from the National Institute of Standards and Technology (NIST) and Communications Security Establishment of Canada (CSE) Cryptographic Module Validation Program (CMVP) for Federal Information Processing Standards (FIPS) 140-2 Level 3 and Level 2 validation respectively.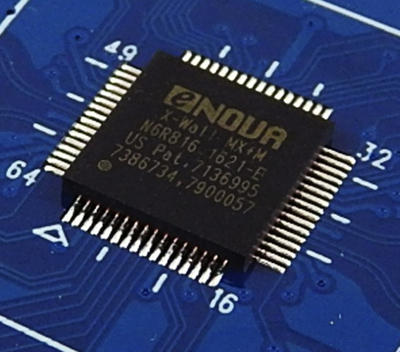 FIPS 140-2 specifies the security requirements that are to be satisfied by a cryptographic module utilized within a security system protecting Sensitive Information (US) or Protected Information (Canada) within computer and telecommunications systems (including voice systems).
FIPS 140-2 provides four increasing, qualitative levels of security: Level 1, Level 2, Level 3, and Level 4. These levels are intended to cover the range and potential applications and environments in which cryptographic modules may be employed. The security requirements cover eleven areas related to the secure design and implementation of a cryptographic module.
Products which use the above identified cryptographic module may be labeled as complying with the requirements of FIPS 140-2 so long as the product, throughout its life cycle, continues to use the validated version of the cryptographic module as specified in this certificate.
Robert Wann, CEO, Enova, said: "When the protection of sensitive information and critical communications is required, government agencies and business need to know that a product's stated security claim is valid. The X-Wall MX+ xF and X-Wall MX+ xN FIPS 140-2 certified single chip crypto modules are capable of encrypting entire SATA disk drive or SSD in-line at 6Gb/s using AES CBC 256-bit strength. The modules require no extra software driver therefore is independent from all OSs. With FIPS 140-2 validation, Enova's cryptographic modules meet the growing security needs of government agencies and business applications today."