5nine Manager Datacenter V 2.0 Software
Improvements enable large, multitenant and distributed Microsoft Cloud datacenters to manage, monitor, backup, recover and control Hyper-V infrastructures.
This is a Press Release edited by StorageNewsletter.com on 2017.11.10
5nine Software, Inc. announced version 2.0 of its Manager Datacenter.
Click to enlarge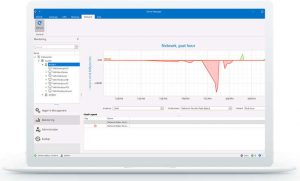 This 2.0 release signifies the next step for the company's Manager Datacenter product to serve as a comprehensive, and scalable enterprise solution. Its new features and improvements enable large, multi-tenant and distributed Microsoft Cloud datacenters to centrally manage, monitor, backup, recover and control Hyper-V infrastructures in a more cost-efficient and streamlined manner.
Enterprise VMM: Market today
The explosion of Hyper-V adoption in recent years, alongside Microsoft Cloud in general, has quickly made it one of the leading virtualization platforms on the enterprise market today. Large organizations with multiple datacenters and locations are beginning to realize, though, that new tools may be needed to more effectively remotely manage, monitor and secure their infrastructure while using this platform.
The company's Manager Datacenter offers a simple, fast enterprise management experience available.
This release provides the following features and VMM advantages over similar offerings:
Manager Datacenter 2.0 features:
Logical view grouping: Combines multiple related resources into a single, logical tree view through categorization and grouping. This feature allows administrators to more effectively manage and monitor resources in large, distributed data centers

Storage file explorer: Enables administrators to manage file systems as if they were local, even when they are remote in a CSV or SMB. This feature provides the ability to remotely create, delete, rename, copy, cut and paste actions with storage objects

Monitoring: Provides administrators with email alerts when virtualization related events occur in their environments. Customizable, real-time alerts allow you to quickly discover potential issues, such as errors and warnings, before they impact operations

Replication management: Improves visibility into the replication status of your VMs, such as mode, state and health, and helps ensure that recovery points are functioning properly without interrupting ongoing replication or your production workload. This release includes new tabs for managing replication settings, additional detail about replication operations, and provides the ability to perform replication failover testing to ensure that everything will work as expected in the event of a disaster
2.0's benefits for enterprise:
Integrated backup and monitoring: Includes easy to use backup and monitoring tools in a single GUI

Remote management: Provides remote management without the need for complex VPNs, remote network access solutions or complex permission management

Management model: The multi-tenant distributed architecture is built to accommodate large and complex Microsoft Cloud deployments. Role-based access control allows you to securely tailor solution to organization and environment

Scalability for complex environments: Company's Manager Datacenter can scale across multiple remote datacenters, multi-domain environments and multi-workgroup organizations

Reduce TCO: Solution requires minimal components and fewer resources, to reduce spend and maintain ROI

Instant time to value: Manager Datacenter is an 'install and go' solution. The lightweight console requires little-to-no configuration and can run on any PC from any location.
"Large, distributed and multi-tenant organizations need a more cost effective and scalable way to manage their distributed cloud infrastructure. Logical View Grouping, included in version 2.0 of the popular, enterprise-grade 5nine Manager Datacenter, provides an easy to use, but comprehensive interface to manage such environments," said Scott Sanders, CEO, 5nine.
5nine is headquartered in West Palm Beach, FL, with offices worldwide. It is a Microsoft Gold Datacenter Partner, Enterprise Cloud Alliance Partner, Azure Pack Partner and member of the Virus Information Alliance.
Ressource:
Webinar: Learning more about how Manager Datacenter 2.0 overcomes common VM management challenges