Quarch: Power Studio for Testing of Storage Device
With software suite
This is a Press Release edited by StorageNewsletter.com on 2017.11.09
Power measurement technologies and techniques have changed very little over the last decade.
Zooming in on a power cycle within a longer trace

Click to enlarge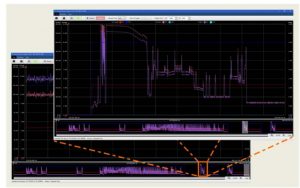 Engineers have had to trade off bandwidth against recording time, and there was little scope for automation until Quarch Technology Ltd. brought their first 'Programmable Power Modules' to the market in 2012.
Along with manual power testing, though, the bandwidth versus recording time trade off will soon be thing of the past: the company is ready to shake up the market again with the launch of Power Studio.
Andy Norrie, technical director, Quarch, explains "We know there is an increasing need to record high bandwidth power data over a long time period. Traditional measurement equipment doesn't tend to allow that, though. Quarch Power Studio is the result of drive designers and reviewers wanting to analyze power consumption over extended periods of time without compromising on resolution."
Power Studio has a graphical interface that allows users to highlight the data they want to examine with a click-and-drag action. A Timeline View makes scanning for and identifying trends and events of interest within multi-gigabyte data files effortless. Users can then zoom in to particular events or parts of the data in detail, even while still recording.
Using Power Studio with an XLC or HD PPM facilitates the capture of accurate power measurements on a storage device while running a variety of workloads or performance tests. This makes obtaining realistic data about the likely performance of the drive in real-life situations easily achievable-a fact likely to be of interest to both drive reviewers and manufacturers.
Users of this software can view live scope traces of voltage, current and power performance; record high resolution results continuously over multiple days; scroll through multi-gigabyte data sets and zoom in to the smallest detail; examine minimum, maximum, mean and RMS statistics; and export images and trace sections.
A number of customers are using the beta version of Power Studio.