Microsemi Launches Smart Storage SAS/SATA Adapters
Including Adaptec HBA 1100, SmartHBA 2100 and 3100 based on 28nm storage controller ICs
This is a Press Release edited by StorageNewsletter.com on 2017.11.09
Microsemi Corporation announced the production release of its Smart Storage SAS/SATA adapters.
Click to enlarge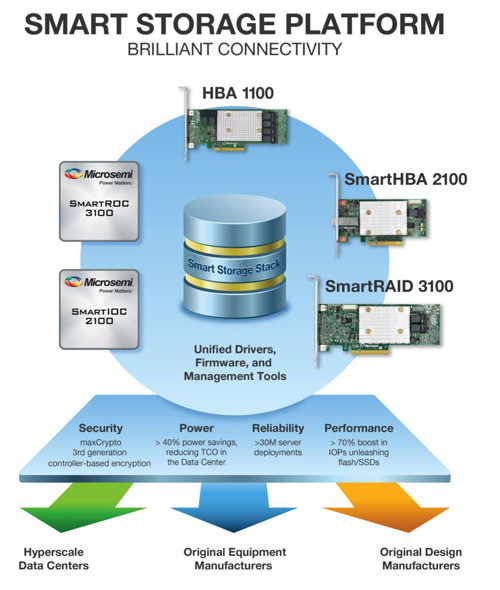 The addition of these Smart Storage adapters advances the company's offering for SAS/SATA server storage in data centers with full board-level solutions as well as silicon plus software for custom embedded solutions. The entire product portfolio, which includes the Adaptec HBA 1100 family, SmartHBA 2100 family and SmartRAID-3100 family, is based on the firm's latest 28nm SmartIOC 2100 and SmartROC 3100 storage controller ICs, and delivers performance, low power, reliability and feature-rich solutions tailored to a variety of server storage applications, including software-defined storage, cold storage and enterprise applications.
The HBA 1100 delivers performance and flexibility for SDS applications. The SmartHBA 2100 is an adapter solution which delivers the benefits of an HBA 1100 plus the option of basic hardware RAID on a selection of drives, for SDS applications with the desire for RAID for boot drives or SMB applications. The SmartRAID-3100 offers maximum functionality, acceleration through caching and a high data availability for demanding enterprise storage applications. Each of the three solutions offers port densities up to 24 ports in half-length, half-height form factors, and come in a variety of port configurations.
"Microsemi's unified Smart Storage stack offers one of the industry's most reliable and highest performing storage controller software platforms, boasting performance of up to 1.7 million random read IO/s. The production release of our Smart Storage 12Gb SAS/SATA adapters reflects our commitment to providing solutions for the specific needs of our server OEM, server original design manufacturer, hyperscale and system integration customers," said Pete Hazen, VP, business unit manager, scalable storage, Microsemi. "With a significant improvement in TCO, the inherent benefits of a unified firmware and software offering across the full line of products, a significant boost in performance and power savings of 40%, we are proud to offer to the market a highly differentiated portfolio of adapters to build upon the success of the Microsemi Adaptec Series 8 RAID solutions."
The Smart Storage solutions can be used in any server storage application with 12Gb SAS or 6 Gb SATA HDD drives or SSDs. SAS/SATA HDDs and SSDs are forecasted by market research firm IDC to represent 80% of all enterprise drives shipped on an annual basis through the end of the decade. The company's Smart Storage solutions are performance-optimized around SSD performance and power-optimized for HDD-based cold storage. Features are available for both deployment extremes in addition to many hybrid SSD/HDD applications.
"Cloud and hyperscale data centers continue to push the boundaries of storage capacity per disk and overall TCO per Terabyte of storage," said Brendan Collins, VP, HDD product marketing, Western Digital Corp. "Microsemi's HBA 1100 series, combined with the HGST-branded Ultrastar Hs14 enterprise SMR HDD, enables data centers to continue to address the explosive growth in storage capacity requirements with optimal power, performance and footprint."
Adaptec HBA 1100, SmartHBA 2100 and SmartRAID-3100 all leverage the unified Smart Storage Stack. Each family has differentiating features.
Adaptec HBA 1100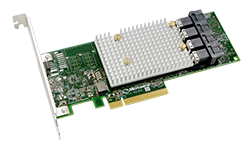 HBA 1100 is optimized for SDS, cold storage and raw performance connectivity.
It also includes:
Adapters with up to 24 ports using 28nm SAS/SATA-optimized silicon, offering an optimal power profile for the target applications

Support for host-managed and host-aware shingled magnetic recording (SMR) drives

Broad OS driver support, including inbox driver support

Performance of up to 1.7 million IO/s
SmartHBA 2100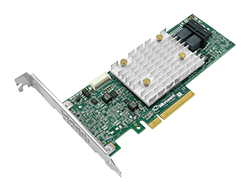 SmartHBA 2100 is optimized for SDS applications which desire hardware RAID
for OS boot drives as well as entry level RAID for SMBs.
It also provides:
Basic RAID without compromising on the requirement for a fully featured and functional HBA, which is required for multi-path IO and SDS applications

Mixed mode enables drives to be independently configured as raw drives or as part of a logical volume

Hardware RAID for RAID-0,-1,-10 and RAID-5

Industry's basic RAID solution with more than eight ports
SmartRAID-3100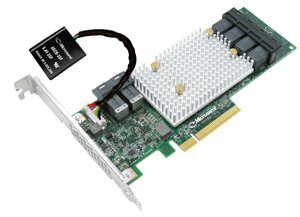 SmartRAID-3100 is optimized for enterprise storage applications
which require highest level of data availability and data center applications
which benefit from caching.
It also features:
Adapters with up to 24 ports using 28nm SAS/SATA-optimized silicon, offering an optimal power profile for the target applications

Zero Maintenance Cache Protection (ZMCP) with a cache size of up to 4GB and integrated cache backup circuitry for cost, thermal performance and operating efficiency

Board options without cache backup

maxCache 4.0 included on all adapters with up to ~2TB SSD cache

Roadmap to maxCrypto controller-based encryption
The combination of the company's Unified Smart Storage Stack, SmartRAID and SmartHBA, HBA product families and the firm's SXP family of SAS expanders provide a server solution for storage management and connectivity.

Unified Smart Storage Stack, as well as the fourth generation SmartRAID-3100, SmartHBA 2100 and HBA 1100 series board level product families, are available in volume production quantities.
Resources:
Adaptec SmartRAID 3100 Product Brief
Adaptec SmarHBA 2100 Product Brief
Adaptec HBA 1100 Product Brief
Adaptec Product Brochure
Optimizing SMR Drives in RAID Configurations Whitepaper
Hardware RAID vs Software RAID Whitepaper