India External Storage Systems in 2Q17 – IDC
Growth of 8.6% Y/Y at $70 million, HPE displacing Dell as market leader
This is a Press Release edited by StorageNewsletter.com on 2017.10.17
India's external storage market witnessed a growth of 8.6% Y/Y (in vendor revenue) and stood at $ 70.0 million in Q2 2017 as per International Data Corporation's AsiaPac Quarterly Enterprise Storage Systems Tracker, Q2 2017.
Significant spending from banking and telecommunication verticals drove incremental growth in the external storage market. Banking, professional services, telecommunications, manufacturing and government continue to be the key contributors in 2Q17. Increased acceptance of third platform technologies are pushing organisations to deploy new age storage solutions to address dynamic storage demands.
"The rapid explosion of the digital data, clearly poses organizations to variety of challenges which can be converted to significant opportunity. The challenge is to manage huge data volumes with right set of storage technologies to derive meaningful information for better decision making," says Dileep Nadimpalli, associate research manager, enterprise infrastructure, IDC India. "Information transformation is the core pillar of digital transformation journey to unlock the monetary aspects by generating new revenue streams."
High-end storage segment witnessed a high double-digit Y/Y growth in 2Q17 due to large deployments from banking and telecommunication verticals. Mid-range storage and entry-level external storage segment saw a marginal de-growth Y/Y in 2Q17.
Increased uptake of all-flash arrays(AFA), hyperconverged infrastructure and software-defined storage are the key technology trends witnessed in the market.
In addition, all the global cloud providers and 3rd party datacenter players are investing heavily to tap the increased uptake of cloud solutions.
"Overall enterprise storage market is seeing a significant shift in customer spending. Over the years the external storage market is seeing moderate growth, while ODM and internal storage markets are witnessing unprecedented growth Y/Y," says Sharyathi Nagesh, senior research manager, enterprise infrastructure, IDC India. "This is indicative of the growth potential available in cloud and SDDC markets. These growth drivers will eventually impact the traditional external storage market as well: entry level storage customer will see cloud as a compelling value proposition, midrange customers will see HCI as a compelling story while high end storage will see increasing competition from mid-range AFA storage. Storage vendors need to be cognisant of this market shift as this will impact their existing business models."
Major Vendors Analysis
HPE displaced Dell and emerged as market leader with a 32.4% market share in 2Q17. Large deals from banking and telecommunications drove the growth for HPE. IBM and Dell witnessed a double-digit Y/Y decline while HPE and NetApp saw a high double-digit Y/Y growth in 2Q017.
India Top 5 external storage system vendors, 2Q17 market share
(vendor revenue)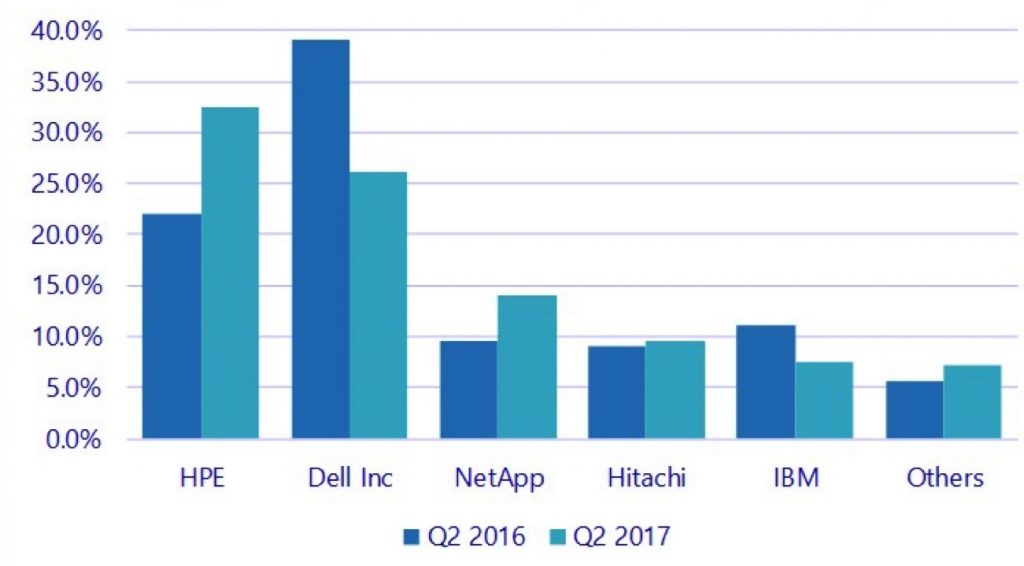 (IDC AsiaPac Quarterly Enterprise Storage Systems Tracker, Q2 2017)
IDC India Forecast
The external enterprise storage systems market is expected to grow in single digit in terms of CAGR for 2016-2021 time-period. Increased external storage spending is expected from banking and government sectors in the coming quarters. Emergence of SMAC technologies, IoT, machine learning, artificial intelligence, big data, etc. across verticals would rise demand for new storage technologies in near future.