NetApp Data Fabric Accelerating Data Protection and Application Performance in Hybrid Cloud
Solutions and services simplify and integrate data management across cloud and on-premises environments
This is a Press Release edited by StorageNewsletter.com on 2017.10.13
NetApp, Inc. announced that it has further enhanced the company's Data Fabric, already an integral part of over 300,000 systems and software deployments.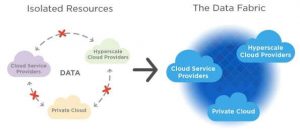 The Data Fabric is strengthened with software releases, including for SolidFire Element OS, StorageGRID Webscale, ONTAP, and OnCommand Insight software. As key elements to the company's Data Fabric, these solutions deliver consistent and integrated hybrid cloud data services to help customers accelerate and protect data, reduce costs, and easily build next-generation data center architectures.
"Proliferating application deployment models and data formats across hybrid IT results in organizational data being distributed across on-premises and cloud environments," said Laura DuBois, VP, enterprise storage, server and infrastructure software, IDC. "This creates challenges for IT staff that range from data access and visibility, to protection and application integration, to security and compliance, to labor-intensive processes for data placement. The NetApp Data Fabric offers a range of hybrid cloud data services to address these challenges and allow organizations to efficiently manage and derive value from the totality of their data."
Companies understand the need to become data-centric organizations to drive business value and to enable new customer touchpoints through technology. As a result, IT leaders are under pressure to transform, but they are required to accomplish this transformation with limited time, skills, and budget. The Data Fabric offers a holistic approach that is secure, efficient, and future-proof and that provides freedom of choice.
"At TechnologyOne, we've transformed through a pioneering cloud strategy that touches more than 1 million students, manages billions of dollars in assets and infrastructure, and brings hundreds of local governments into the digital age," said Iain Rouse, director, group, cloud, Technology One Limited. "NetApp helps us stay one step ahead of the tremendous data growth we experience as our customer base doubles each year. Together with NetApp, we have built a secure, reliable cloud in AWS, enabling organizations to move at the speed of their customers."
"As customers adopt cloud capabilities as part of their digital transformation, the need for managing data across traditional IT and multiple cloud solutions becomes critical," said Brett Roscoe, VP, product, solutions and services marketing, NetApp. "The dramatic increase in data centric workloads in the cloud is why the NetApp Data Fabric has become an important enabler of business transformation to create new customer touchpoints, new business opportunities, and greater efficiencies."
Build next-gen data center cloud architecture with Data Fabric
SolidFire Element OS 10 and StorageGRID Webscale 11 simplify the creation of a next-generation data center cloud architecture, extending the Data Fabric to unleash the potential of data across all the company's environments.
SolidFire:
Provides Data Fabric integration across OSs. SnapMirror integration supports data movement from Element OS systems to ONTAP systems across the Data Fabric. Remote data is available for disaster protection and recovery and for other use cases, such as development, analytics, or centralized archiving.

Helps customers align business goals to IT service levels. With SolidFire Element OS, companies can consume agile, software-defined storage in a way that best aligns with their business goals. Whether it's with SolidFire all-flash arrays, FlexPod SF, or the firm's HCI, Element OS enables customers to transform operations through on-demand scaling, API-driven automation, and guaranteed performance. New user-defined QoS policies further simplify management of guaranteed performance in rapidly evolving private clouds.
HCI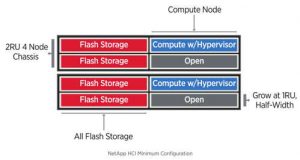 HCI:
Offers performance, scale, and cost savings. An enterprise-scale hyperconverged infrastructure (HCI) solution will be available in October 2017. Built on SolidFire, the company's HCI gives enterprises, midsize businesses, and service providers the confidence to easily consolidate all workloads and to scale in ways that won't strand resources. They can also deliver the performance that next-generation data center applications require.
StorageGRID Webscale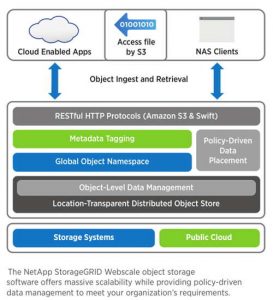 StorageGRID Webscale 11:
Empowers users. Tight integration with Amazon Web Services (AWS) enables easy implementation of hybrid cloud data pipelines with AWS. Customers can instantly mirror on-premises data with Amazon S3 by using StorageGRID Webscale CloudMirror technology.

Increases efficiency. Companies can leverage serverless computing through notifications for data services such as Amazon Elastic MapReduce, Rekognition, and Elasticsearch - even with on-premises storage.
Modernize storage through data management with Data Fabric
ONTAP 9.3 software helps companies modernize storage through data management with faster, simpler, and more secure software across the Data Fabric.
Click to enlarge

ONTAP 9.3 software:
Enhances performance. Performance assurance is easier with Adaptive QoS, which simplifies setup with streamlined application of QoS policies and automatically adapts QoS levels to changes in the workload. With software optimizations and path parallelization to deliver more IO/s and lower latency, ONTAP 9.3 offers 40% increased performance over earlier versions. This builds on a recent, world-record performance benchmark in which ONTAP 9 achieved top performance for SPEC SFS2014_swbuild.

Creates efficiencies and saves money. By optimizing deduplication, ONTAP 9.3 can help companies increase capacity savings by 30%. This improved ONTAP efficiency has been incorporated into the firm's 'all-flash' capacity guarantee, which provides assurance that customers will achieve workload-specific capacity savings or the company will make up the difference.

Enhances security and compliance. ONTAP 9.3 offers stronger security and new compliance capabilities with external key management for the firm's Volume Encryption and multifactor authentication. Users can also apply compliance policies for legal holds and event-based retention.
Harness power of hybrid cloud with Data Fabric
OnCommand Insight with new cloud cost monitoring provides a complete picture of an organization's IT infrastructure, regardless of where it resides, on the premises or in the cloud. This comprehensive view helps companies harness the power of the hybrid cloud by using Data Fabric.
With OnCommand Insight cloud cost-monitoring capabilities, companies can:
Monitor. Gain visibility of their cloud spending across departments, lines of business, and applications.

Control. Control, improve, and enforce cloud spending behavior across the organization.

Optimize. Lower costs by leveraging the most efficient vendor pricing structure.
Resources:
Data Fabric solutions and services.
ONTAP 9's performance benchmark for SPEC SFS®2014_swbuild
Blog: SPEC SFS®2014_swbuild benchmark