From Komprise, Intelligent Data Management Streamlines Hybrid Cloud Data Lifecycle Using Analytics
Pricing based on amount of data managed, and for $0.007/GB/month, include ongoing data lifecycle management across cloud storage tiers.
This is a Press Release edited by StorageNewsletter.com on 2017.10.11
Komprise, Inc. announced at NetApp Insight 2017 the availability of the Fall 2017 release of its software, Intelligent Data Management.
Click to enlarge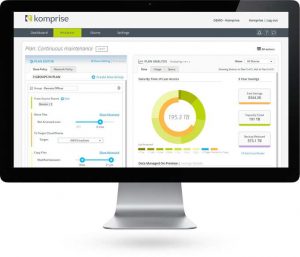 This release extends the company has established in using data analytics and data insights to archive, replicate and manage data across clouds by adding ongoing data lifecycle management capabilities that completely free data from storage lifecycle and enable it to be moved optimally across classes of on premise, and cloud storage without disrupting user or application access.
As data footprint continues to grow while IT budgets remain flat, IT leaders require new ways to manage data efficiently without compromising user access or losing the value of data.
The company is a provider of analytics-driven data management software. The solution analyzes and indexes metadata in a scale-out adaptive architecture to provide insights into data across any NAS, NFS, SMB/CIFS and Cloud/REST/S3 storage leveraging those insights to automate data archive, replication and management. It helps businesses understand the value of their data, identify hot and cold data no matter where it sits and transparently automates active archive, replication and data management strategies to reduce over 70% of costs without losing access or data value.
The solution is a data management software that scales out and works across storage without any agents, stubs, dedicated infrastructure, or changes to the hot data or control path; this enables a sustainable approach to manage the growing onslaught of data with a simple solution that require no changes to existing storage, processes, users or infrastructure.
Cross-cloud data lifecycle management and analytics capabilities
The company has grown since the launch of its first release last year, and the firm's customers today manage petabytes of data on the company's solution.
Based on customer demand, the company is releasing a version that build upon the core platform additional data lifecycle management and analytics capabilities to help businesses cut costs and optimize data retention:
Ongoing data lifecycle management: As data footprint continues to expand, both on premise and cloud storage providers are responding with hot, cool and cold classes of storage that offer vastly different levels of price and performance. The solution enables businesses to leverage these different classes of storage across different vendors and clouds by providing new data lifecycle management capabilities that enable initial movement of data to a target and also ongoing lifecycle management across storage. For instance, customers can move cold data from any on premise NAS storage to a cloud such as Amazon Web Services S3 or Google Nearline and after the data gets colder due to inactivity, move it to a less expensive tier such as AWS S3 IA or Glacier or Google Coldline. Customers can define ongoing data lifecycle management policies in the company's software that dictate this movement. All the moved data continues to be accessible exactly as before from the source regardless of the storage it sits on.

Data confinement: While most data continues to remain valuable to an organization, sometimes data outlives its purpose or retention period and needs to either be no longer accessible to users or even entirely deleted. As an example, many organizations are looking at ways to comply with the GDPR regulations in Europe. Historically, identifying such data and validating that it is indeed obsolete and no one is using it any longer has not been easy. The firm provides a capability where businesses can identify such data and based on customer-defined policies, the solution moves that data to a confined location outside the user and application namespace. IT can validate that users and applications no longer require the data before taking further action on it such as deleting it.

Analytics beta: The software analyzes data across storage and indexes metadata no matter where the data sits. Businesses can now leverage the power of this information and perform deep analytics on metadata to get various insights into how data is being used. For instance, businesses can identify 'zombie data' - data that belongs to users no longer in the company but still consuming expensive resources, using the firm's solution deep analytics. The solution manages metadata without central databases or in-memory resources that create single points of failure and cause scalability issues. Instead, the firm's Grid is a patent-pending distributed fault-tolerant scale-out architecture that indexes and analyzes data across storage and provides analytics into metadata without any central bottlenecks or in-memory databases.

Support for NetApp ONTAP 9: The software supports NetApp ONTAP 9 in addition to ONTAP 8, ONTAP 8/7 Mode, and ONTAP 7.
The Intelligent Data Management 2.6 is available and it is priced to deliver instant savings on every terabyte you manage. It pricing is based on the amount of data managed, and for $0.007/GB/month, you get the ability to analyze your data, manage and move it by policy, and replicate/copy it.
"Our customers today use Komprise for a variety of data management needs - to plan capacity and understand data with unprecedented visibility across their storage, to archive and cut costs by transparently extending existing storage to the cloud, and to replicate data to lower cost storage reducing operational backup and DR costs. As the usage of Komprise grows, customers are looking for additional capabilities that increase the variety of data management use cases we can address and Komprise Intelligent Data Management 2.6 is in response to these needs," said Krishna Subramanian, COO, Komprise.
"Komprise provides valuable insights into data across our storage that we previously lacked - such as how data is being used by our different departments, what data is cold and can be managed more efficiently, and Komprise has enabled us to optimize our data across storage regardless of vendor or cloud. The new features in Komprise Data Management 2.6 extend the usability of Komprise as an all-in-one data management solution for our needs by providing deeper insight and ongoing lifecycle management capabilities independent of storage," says David Kimball, director, IT, LJA Engineering and Surveying, Inc.