WW HDD Market Declining to 395 Million Units Shipped in 2017 – Statista
SSDs to increase to 190 million that same year
This is a Press Release edited by StorageNewsletter.com on 2017.10.10
This statistic shows shipment numbers for HDDs and SSDs worldwide from 2015 to 2021, according to Statista, a statistics company on the Internet.
Shipments of HDDs/SSDs worldwide from 2015 to 2021
(in millions)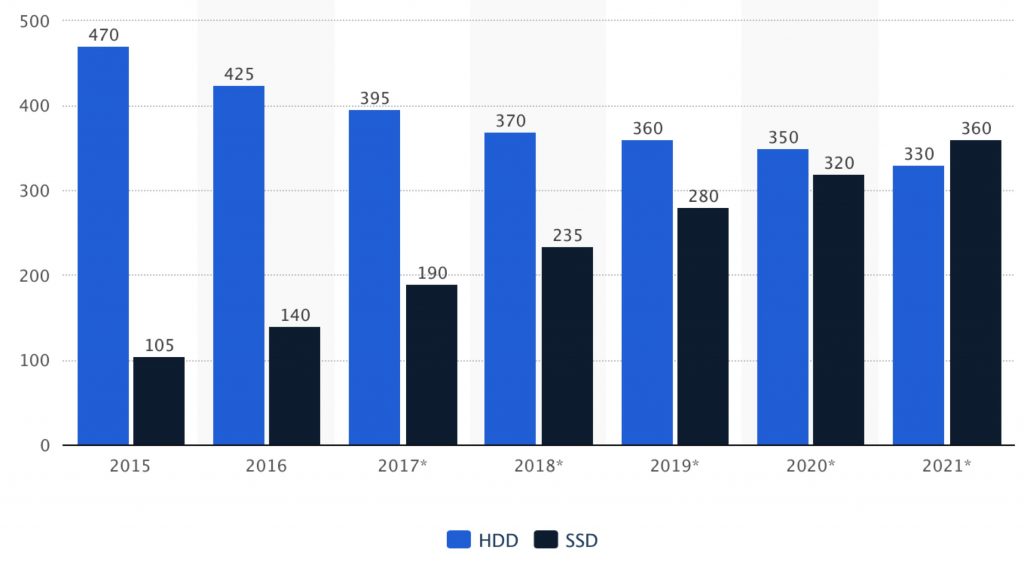 Estimates suggest that shipments of HDDs will decline, falling to 395 million units shipped in 2017. SSD shipments are expected to increase to 190 million shipped units that same year.
HDDs are storage devices used for storing and retrieving digital information. They are non-volatile memory, meaning that they retain data even when unpowered. The main competing technology for secondary storage is flash memory in the form of SSDs. Currently HDDs generally offer greater recording capacity, a better price per unit of storage, and a longer product lifetime, while SSDs are faster, generally more durable, and consume less power.