SoftNAS Software-Defined Cloud Data Platform for Performance Hybrid Cloud Computing at Petabyte Scale
Three editions: Cloud Essentials, Cloud Enterprise and Cloud Platinum
This is a Press Release edited by StorageNewsletter.com on 2017.10.09
SoftNAS, Inc. announced three editions of its Cloud Data Platform product line: Cloud Essentials, Cloud Enterprise and Cloud Platinum.
Cloud Essentials provides customers with the ability to access
native cloud object storage for secondary or cooler data using
standard NAS and SAN storage protocols without
the need to re-engineer applications.
Click to enlarge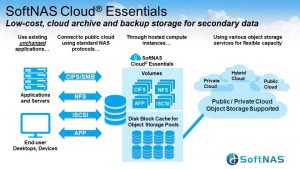 The products make migrating to the cloud ultra fast, flexible and cost effective and are tailored to meet specific solution use cases that address real-world problems including:
Cloud backup and DR

Migrating and hosting business application and user data in the cloud

Simplifying complex, global IoT and data integration projects
"The SoftNAS Cloud product line is transforming business in the cloud with a scalable, secure and fully integrated platform for data management and control. It simplifies use cases such as backup, archive and DR, SaaS - enablement of applications and migration of existing business applications to the cloud," commented Jeff Kato, Taneja Group. "SoftNAS is laying the foundation for enhanced agility as businesses implement a variety of cloud storage infrastructures across a range of needs at the right balance of cost versus workload performance."
"Global enterprises need instant access to massive amounts of data and file sets for their user bases. Our partnership with SoftNAS offers our users the comfort of a fast, agile, highly available, flexible, and cost-effective data management solution which we can then extend to users worldwide," said Charles Foley, SVP, Talon Storage Solutions, Inc.
The Cloud Essentials with patent-pending ObjFast technology accelerates I/O performance up to 400% faster than previous the company's 'Cloud' versions and approaches I/O performance levels approaching that of native cloud block storage using lower cost, durable object storage. The Cloud Essentials delivers TCO for secondary data: cloud backup, DR and cloud archive repositories.
Essentials use cases:
Basic file services

Cloud backup repository

DR repository

Cloud archive repository (tape to cloud)
The company's Cloud Enterprise (formerly Cloud NAS) protects mission-critical and primary, active/hot data while incorporating enterprise NAS features like cross-zone HA, Dual Controller HA (DCHA), NFS, CIFS/SMB, AFP and iSCSI protocols, deduplication, compression, encryption, Active Directory/LDAP integration, thin-provisioning and scheduled snapshots with rapid rollback. For organizations that SaaS-enable applications and need enterprise grade data protection and reliable, high-performance file sharing, Cloud Enterprise delivers these advanced capabilities.
Cloud Enterprise use cases:
Migration of applications to the cloud (Lift and Shift)

SaaS-enabling applications

File server consolidation

General purpose file storage for unstructured data

Data center consolidation
"As an AWS Advanced Consulting partner and MSP, Relus Cloud works with SoftNAS to enable our clients to migrate business critical applications to AWS without re-architecting. We are excited about the new features in this latest release and see great opportunities for our clients to realize even more benefit from their AWS cloud initiatives. In addition to the fact that SoftNAS provides great products, their support team is so knowledgeable and helpful. SoftNAS really sets its partners up for success," stated Mike Ostrowski, VP, cloud delivery, Relus Technologies LLC.
Cloud Platinum 'Lift-and-Shift'
Click to enlarge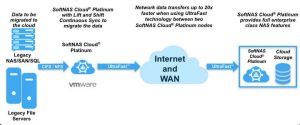 The Cloud Platinum completes the vision for software-defined performance hybrid cloud computing at petabyte scale. Announcing the public beta, it is a trailblazing product combining a software-defined, enterprise NAS virtual storage appliance with built-in design and configure hybrid cloud data management and movement.
Patent-pending 'UltraFast' technology increases data transfer speeds up to twenty times faster than standard TCP/IP networks to accelerate data migrations for cloud backups and bulk data.
Cloud Platinum's design and configure wizards enable IT to 'Lift and Shift' live data from an on-premises NAS or file server to the desired the firm's Cloud destination point, and then migrate the data quickly, whether to AWS, Microsoft Azure or VMware-hosted clouds.
The firm's 'Lift and Shift' enables live data migration, avoiding the need to freeze production systems for days, weeks or months while data volumes are offline migrated to the cloud.
With Cloud Platinum, customers leverage existing design and configure wizards or create their own data flows, processes, and templates, effectively ingesting and transforming any type of data.
"We are excited to have SoftNAS as a partner helping drive our Azure cloud practice growth. The SoftNAS hybrid cloud data management platform gives our hybrid and public cloud customers advanced data management and orchestration capabilities to accelerate their corporate initiatives," Mitch Feldman, chief digital officer, RedPixie Ltd.
"IT struggles with the exponentially increasing data generated by businesses from many different sources including Internet of Things. We developed the SoftNAS Cloud Platinum product to simplify control and management of rapidly growing data complexity and volume," said Rick Braddy, CEO, CTO and founder, SoftNAS. "SoftNAS addresses the impracticalities that plague real-world, broader hybrid cloud adoption, so IT can control its data destiny, make its cloud journey easier, safer and faster, and save hundreds of thousands of dollars."
A preview of Cloud Platinum beta features, including high-speed bulk data transfer, lift and shift of on-premises workloads to public cloud, many-to-one replication template and a commercially supported version of Apache NiFi, is available.
Existing customers that have upgraded to the company's Cloud version 3.6 can access the beta features from the StorageCenter.