2017 World Universiada Opts for Qsan Storage Systems
For online video editing solution broadcasted by China Television Service
This is a Press Release edited by StorageNewsletter.com on September 13, 2017 at 2:21 pm
QSAN Technology, Inc. announced as one of the storage equipment suppliers for the 2017 World Universiade in Taiwan broadcasted by China Television Service (CTS), providing reliable storage hardware for their online video editing solution.
2017 World Universiade was held between 19th August and 30th August and broadcasted by CTS. CTS established the World Universiade International Broadcasting Center (IBC) for its integrated multi-source resources which required a high-standard hardware equipment provider to build a HA, high-reliability real-time video editing system to meet the needs of online edit huge event video data. They decided on the QSAN XCubeDAS XD5316 storage solution to meet these demands.
HD audio and video has become the main stay for digital video quality requirements with a gradual increase to 4K level. The events video data will be generated and then sent via the IBC server to the QSAN XCubeDAS XD5316 is expected to reach the PB petabyte during the World Universiade.
With the XD5316's built-in 12Gb SAS ports, its 480Gb/s data bandwidth support and its dual-active controller design, the XD5300 series provided a huge amount of event media editing capability and also provide the event with a high available and reliable service.
"In order to achieve the best level of the delivery of the 2017 World Universiade broadcasting, IBC has adopted a very high standard in planning related hardware and software equipment. With the success stories of QSAN product solution, we are confident that QSAN's XCubeDAS series is highly efficient and stable, leading to recommend the use of the XCubeDAS XD5316 when planning for this event. In addition to the superior performance and HA of dual controllers, the XCubeDAS XD5300 series features both flexible expansion and supports up to 10x12Gb SAS ports, saving the IBC team a lot video editing time allowing them time to manage real-time event audio and video broadcast tasks", said Alex Shih. product manager, QSAN Technology.
Topology of video editing solution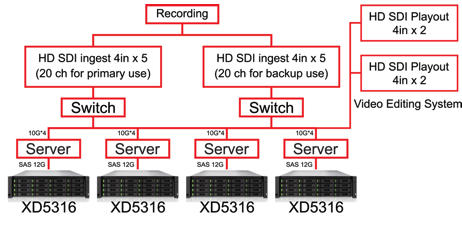 Built with interoperability for the most popular OSs, the XD5300 can be used for expansion of datacenter storage, archiving, cold storage, backup, large-scale surveillance, video streaming and editing. Compared to its tier 1 competitors, the XCubeDAS solution can be a more affordable alternative for all primary and secondary storage. It can provide more than a 50% increase in performance, thanks to QSAN's technology and the 24/7 free technical support.