Tintri All-flash EC6000 Enterprise Cloud Platform Series
From 19TB up to 40PB, supporting up to 480,000 VMs, connecting to public cloud, appliying machine learning to predictive analytics and slashing time for application migration
This is a Press Release edited by StorageNewsletter.com on 2017.09.12
Tintri, Inc. announced a series of massively scalable all-flash storage to enable enterprise cloud.

The EC6000 systems allow organisations to scale from 19TB to 40PB and manage up to 480,000 VMs on the same OS and management platform. This series will support workloads from small departments to company-wide enterprise cloud infrastructures.
Built to deliver the performance and agility of public cloud on-premises-the all-flash EC6000 series enables enterprises to build and run agile environments for cloud-native and mission critical applications in their own data centres.
"We have been a Tintri customer for several years-their products have already eliminated many of our application performance issues, slashed the effort needed to manage storage and reset our expectations of infrastructure," Jeff Wilhelm, CTO, Infused Innovations. "That makes the EC6000 series even more remarkable. We have run our heaviest virtualised workloads on , EC6000 and it runs up to twice as fast as other storage platforms we have tested. With the ease and elegance of scaling to petabytes, this is our chosen platform for enterprise cloud."
The EC6000 is comprised of four models, the EC6030, EC6050, EC6070 and EC6090, delivering performance up to 320,000 IO/s and with capacity options ranging from 19 to 645TB of effective flash capacity in two rack units (2RU). The series leverages the latest in 3D NAND technology and high density drives to offer organisaions both higher capacity and lower cost per gigabyte.
To ensure customers have more control of capacity and buy only what they need, the EC6000 series will offer non-disruptive capacity expansion on a per-drive basis. While other providers force organisations to expand capacity by adding multiple drives at a time, the company allows customers to expand capacity in a more granular way by adding one or more drives at a time until a system is fully populated. Expanding system capacity takes a click within the company's UI and requires no service interruption. Incremental flash capacity can be immediately provisioned for new virtual applications.
And expansion to multiple systems for greater capacity and performance is streamlined by the company's VM Scale-out. As storage nodes are added to the scale-out cluster, there is no need to cable them together (as is the case with conventional infrastructure); up to 64 systems can be treated as one federated pool of storage, spanning up to 20 million IO/s, 40PB of effective capacity and 480,000 VMs - an degree of scale manageable through a single pane of glass.

Every model in the EC6000 series offers autonomous operation to enable users to automate IT tasks and guarantee application performance. The company also provides predictive analytics for compute and storage based on a machine learning engine that forecasts resource needs up to 18 months into the future. EC6000 customers will benefit from the ability to connect with Amazon Web Services (AWS) and IBM Object Cloud Storage via the firm's Cloud Connector, allowing users to create multi-cloud services.
"A prerequisite to enterprise cloud is building a foundation that can scale. With our recent product releases-both today's EC6000 series and last month's Tintri Cloud Connector and analytics-we are offering our customers an unmatched degree of scale. And through the right use of automation and machine learning, we're simultaneously slashing the effort required to manage it all," said Ken Klein, CEO and chairman, Tintri. "We don't see these capabilities offered elsewhere, because only Tintri's building block architecture can enable true enterprise cloud."
"As our customers are building their enterprise cloud infrastructures, one of their priorities is scale. They recognise technology choices today affect their ability to grow to meet future needs," said Patrick Cronin, principal and co-founder, Kovarus, Inc. "That's why the EC6000 series will resonate-it scales with ease and uses a single OS, so that every added system is treated as part of a federated pool. That flexibility and scale allows our customers to invest with confidence for the future, and for us to keep on recommending Tintri."
The EC6000 series is available.
Drive-by-drive expansion will be available to all EC6000 customers in Q4.
Click to enlarge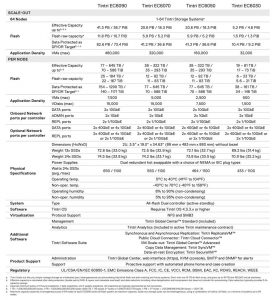 Resource:
EC6000 data sheet