1,200 Attendees at China Flash Market Summit
CFMS 2017: event beyond expectations for storage industry
This is a Press Release edited by StorageNewsletter.com on 2017.09.12
On September 6, 2017, the China Flash Market Summit (CFMS2017), hosted by Shenzhen Flash Market Information Co., Ltd., was held at the InterContinental Shenzhen OCT with the theme of China Storage Global Pattern.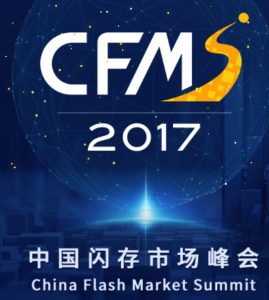 The summit attracted more than 1,200 attendees from all over the world, including VIP guests from Samsung, Intel, Google, Microsoft, Toshiba, Western Digital, SK Hynix, Tsinghua Unigroup, Yangtze Memory, Longsys, Huawei, Lenovo, ZTE, Tencent and other industry enterprises.
CFMS2017 brought the VIP industry guests together and established itself as an event of the storage industry.
Director of National IC Design Shenzhen Industrial Centre Zhou Shengming gave an opening speech at CFMS2017? He indicated that according to the international science & technology and industrial innovation center's positioning from the national plan for 13th five-year, Shenzhen is implementing a new round of innovation and development strategy layout. Shenzhen will focus on the core chip, AI, robotics, IoT, big data and other areas to overcome a number of core key technologies issues to transform the core technology from the catch up to surpass. This will give the IC industry a good opportunity for development, and also open up a huge market space to the storage industry.
Tai Wei, the GM of CFMS2017 organizers Shenzhen Flash Market Information noted that the company is a research institution focused on the storage industry, committed to providing information, and guide the development of the market.
ChinaFlashMarket is expecting that in 2017 the global NAND flash market size is about $40 billion, China consumes 30% of global production capacity, and in 2020 NAND flash will exceed the DRAM and the market size is about $65 billion, global SSD shipments will be more than 150 million units in 2017 as expected, the big data industry will provide SSD more innovative applications and market opportunities in the future.
Samsung, Micron and Intel's next-generation 3D technology
is aimed to accelerate the development of the market
Kenny Han, VP of Samsung NAND marketing, said that in 2017 its company is producing the fourth generation 64-story V-NAND, the fifth generation V-NAND is under development, capacity of single die is 1Tb, IO speed reaches 1,200Mb/s. Samsung will introduce 128TB QL-SSD based on 1Tb V-NAND, Z-NAND technology, low latency/high density/high speed transmission.
Micron VP Jonathan Shaw introduced the audience its 3D NAND technology from the 32 layers 32GB all the way to 64 layers of capacity to 64GB. Shipments in the end of 2017 will be very considerable, samples based on QLC are ready, and will be put to the market in the future. Micron is also optimistic about the growth of SSD market, along with the rapid development of 3D NAND technology and said that SSD will continue to replace the HDD market.
Bill Liu, GM of Intel's non-volatile storage business department, demonstrated that 3D-Xpoint technology products, Optane. It has performance, is made to meet the requirements of big data, PC, games, artificial intelligence, real-time data processing and other applications. He spoke about how 3D-Xpoint innovation technology would be accepted by the market, and to achieve more applications innovation, the challenges Intel would face.
Longsys' acquisition of Lexar is to strengthen global strategic layout
and improve international market influence
Cai Huabo, chairman of Longsys, said that his firm is aimed to root deeply in China, but also adopt international operations. On August 31, Longsys acquired Lexar. He said that Lexar positioning for high-end storage brand, through the Lexar brand can enhance brand value of Longsys, improve the development of international enterprises. The company combines its own R&D technology and service capabilities with the Lexar brand, further enhancing the influence in the international market. Longsys is transforming from technology-product to technology-brand company.
In addition, Longsys released the world's smallest size of the BGA SSD. Huabo said that BGA SSD reflects company' comprehensive technical capabilities, and insight of seeing the needs of high-end market. Because the size of BGA SSD and UFS are the same, it is possible to bring BGA SSD into the mobile phone application market. So how to achieve it quickly? Huabo confessed that the concise answer is that if the technical specifications, size and price can be as well as expected, Longsys can do PCIe BGA SSD and SATA SSD with the same price, even in less than half a year. It can do BGA SSD and UFS with the same price. It will continue to strengthen product technology and business model innovation, expand the storage products to overseas, accelerate the pace of international development.
Yang Zhiping, head of Google hardware department, said that, achieving the BGA SSD in the mobile terminal application requires solving the problems related to cost, size, compatibility, performance, intelligent heat management, low power consumption and others. He also expressed expectations of the NVMe BGA used in the smart mobile phone application, indicated that the BGA SSD will be one of the most important storage choices in the future. For intelligent terminal product development, the user experience will be a big step forward.
Marvell, SMI and SiliconGo tightly grasp SSD market opportunities
to enhance business value
Michael Wu, VP sales, GM, Marvell China, said that his firm mainly focuses on three areas: storage, networking and connectivity. The storage business accounted for 60% of overall revenue. In the last few quarters growth of Marvell SSD storage is nearly 60%. The firm will also focus on cloud, data centers, businesses, consumer, smart cars and other fields in the future.
From SATA to PCIe, SMI SSD controller so far has been selling 100 million units, said Nelson Duann, SVP of product planning at SMI Mobile Storage department. Over the past 10 years, the number of controller launched was more than 5 billion units. SMI will continue to meet the customer needs and provide better storage controller products and services for market applications.
David Wu, GM of SiliconGo, said that his company has been a decade-old chip design company. It is not a product company, it will continue to focus on embedded storage and SSD storage controller technology. SiliconGo has been rooted in the Chinese market and applications, with a pragmatic attitude, it provides local technical support and application development to Chinese storage enterprises and customers in the long term.
Automotive electronics will be important application for future storage,
and monitoring storage requirements is improving
NVIDIA autopilot China business department Arthur He indicated that autopilot has a large market possibility. It invests nearly $1.8 billion a year into autopilot R&D. It also introduced artificial intelligence technology into autopilot, with the ADAS system to provide autopilot services to humans. Needs of the vehicle-mounted storage is rising, and now storage requirement is 64GB eMMC, autopilot will give storage industry more growth space in the future.
In addition to the automotive market, monitoring storage demand is also increasing. Take a 1080P device for example, it creates about 40GB of storage needs each day, HIKVISION storage GM Sun Chenghua said the consumer SSD market competition is fierce. The HIKVISION storage will take video surveillance as the core application, continually developing data center business, focusing on flash applications.
In addition, Sino IC Capital VP of investment Gao Songtao said that Sino IC Capital is China's largest semiconductor special fund and has accumulated and invested in more than 40 projects, through the market-oriented mechanism, specialized investment system. Sino IC Capital makes invested enterprises bigger and stronger, thus generating economic benefits to further expand China's IC market.
AGIC Capital president Henry Cai indicated that with the rapid development of intelligent, new materials and things such as the Internet, we are in a rapid changing 'big times'. AGIC Capital is hoping to use the power of capital to grow together with more enterprises and there would be more outstanding enterprises in China in the next 10 years.
The chairman of the original FMS summit, chairman of Coughlin Associates, Inc., Thomas Coughlin believes that the continued growth of storage is a trend. Ways to store these data, the rapid analysis of these data, and low-cost storage are three key factors. He said that we need to achieve better integration, better computing power, deal with more data and mining more value data.
China Flash Market Summit Enterprise Awards:
Best Market Performance Award: Samsung storage has grown rapidly, continues to maintain the leading market share in the world.
Best Market Brand Award: Intel as one of the world's largest semiconductor companies, high-performance solutions of high quality
Best Industry Promotion Award: Sino IC Capital investment is promoting the solid development of China's storage industry.
Best Business Innovation Award: Through a series of product and business innovation, Longsys is 2017 China's storage market' highlights.
Best Application Platform Award: As the world's largest HDD and SSD controller manufacturers, Marvell is committed to providing customers with solutions.
Best Supply Service Award: Micron has grown steadily in the market in recent years.
Best Embedded Application Award: SMI as an independent flash memory controller manufacturers, is to provide integrated chip integrated solutions.
Best Technology Innovation Award: In the field of smart car and artificial intelligence chips, NVIDIA is a global leader.
Best Market Innovation Award: HIKVISION storage committees to innovation, boldly advance the industry storage market.
Best Application Service Award: Ten years honed, SiliconGO is a local storage controller supplier.